Nibble on this TWD: Gingered Carrot Cookie
Labels: cookies, events, recipes, TWD
·
Posted by

Sihan
at 8/03/2010 01:12:00 pm


This week's TWD sees Natalia of
gatti fili e farina
choosing gingered carrot cookie.
With carrots being a constant stock item in our pantry; this recipe was a breeze to pull off. Bless my laziness that comes hand in hand with summer, heading out in the heat of day to round up ingredients at the supermarket isn't exactly first thing on my list of agendas. Hence I'm grateful for this round. Easy breezy Carrot cake cookies (omitted the ginger hence the revamped name)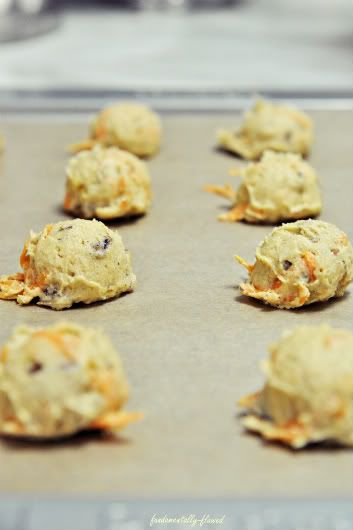 These cookies came out crunchy with the occasional surprise of smokey bursts of flavor from the toasted pecans within. However, they didn't stay that way very long perhaps because of the moistness of the plumped raisins. So my advice would be to make a small batch and consume it hot and fresh off the rack! For carrot cake lovers, this cookie is a great substitute for the real deal itself and constantly tickles it's consumer with the sneaky bits of bright orange that peeks out from underneath its brown surface.
Carrot Cake Cookies
adapted from Dorie Greenspan's Gingered Carrot Cookie recipe
makes 25 cookies
1 cup all purpose flour
1/2 tsp baking powder
1/4 tsp salt
1/2 tsp ground cinnamon
pinch of freshly grated nutmeg
82g unsalted butter, room temperature
1/3 cup light brown sugar
1/6 cup white sugar
1/2 large egg
1/4 tsp vanilla extract
1/2 cup shredded carrots
1/2 cup moist plump raisins
1/4 cup toasted and chopped pecans
Preheat the oven to 190 degrees celsius, line baking trays with baking parchment or silicon baking sheets.

Cream the butter till creamy and light. Add in sugars and beat for 2 mins.

Add in the egg and beat for 2 mins.

Beat in the vanilla extract.

Whisk the dry ingredients together in a bowl.

Beat the dry ingredients into the butter/sugar mixture just till flour mixture is no longer visible.

Fold in the remaining ingredients. Make sure not to over mix.

Scoop out your cookie dough onto the baking sheets and bake for 14-16mins.

Allow the cookies to rest on the tray for a good 10mins before transferring to a cooling rack.

Enjoy your lovely carrot cake cookies with a good glass of fresh milk!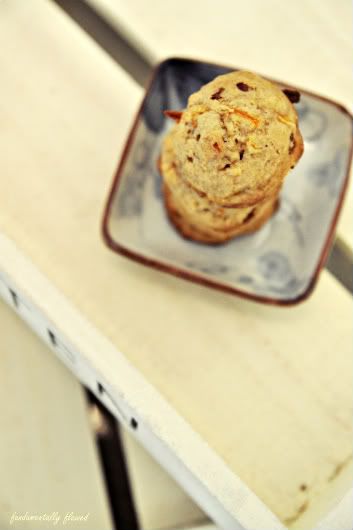 And one more shot of the cookies, just because I can't resist it.