NYE @ Part I cafe
Labels: cafe, food, restaurants
·
Posted by

Sihan
at 1/01/2010 07:51:00 pm


To think that we actually debated having popiah for NYE's dinner before heading down to this humble hole in the wall of a cafe. Located along the picturesque Jasmine road, one can only relate a scene of unadulterated peace of mind with a name like that. And so, it was. Not just so because, I was close to you.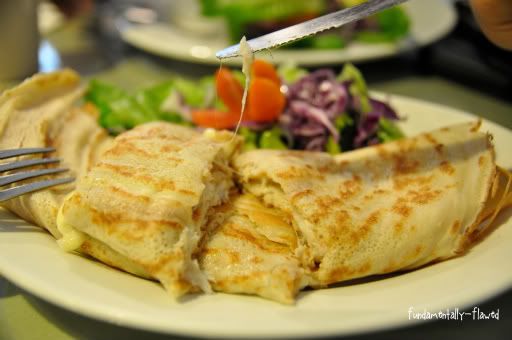 little's crabbe crepe ($13.90)


Note to caution: though this was spectacular in all its rights with a good bite thru the crabmeat shreds and mozzarella cheese. However it all got a little overwhelming towards the middle. My advice would be to do a good deed and share.



Appropriately named, the cafe assumes a casual yet surreal role. And with decor like that to boot, I was mesmerized. We're talking a whole wall spread full of photo frames, potraits filled with happy faces, of all shapes, shades and sizes sprawled across the blank wall. Memorabilia from all walks of life filled every nook and cranny, shelf and vintage cabinets. Ancient weighing scales, dial telephones.. it was like being in a house that required serious decluttering yet held its grounds and its insane charm just by being the way it is.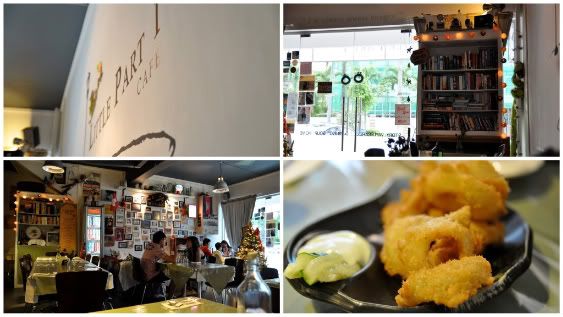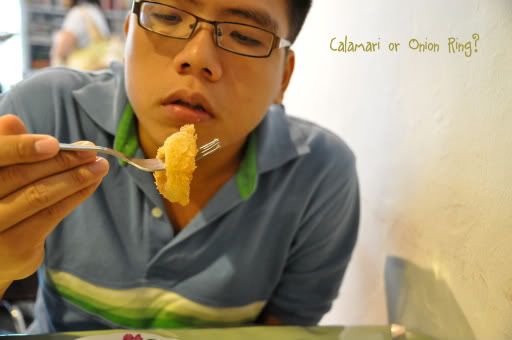 To start us off, we had Little's homemade Onion Rings ($6.90). Perhaps it had been our drugged sleep before, strangely enough, we were muttering about the calamari being excellent as we chewed through our first few munchies. I reckoned it must have been the misleading wasabi mayo (that had quite a kick to it) served alongside that lead to the disillusion. Sorted out, we chomped down on the remaining rings, mostly pleased with its notorious crunch.

Mains was the crabbe crepe for me and the little's chicken schnitzel ($18.90) for him. Both were delish, mediocre but still good to eat albeit for the dish washing drenched salad on the side. Go easy on the lemon dressing the next time, the thought of masticating a bunch of soapy tasting leaves isn't that appealing. Credits goes out to the homemade mash for the innovative addition of pulverised corn to the mix that contributed quite a bit of texture.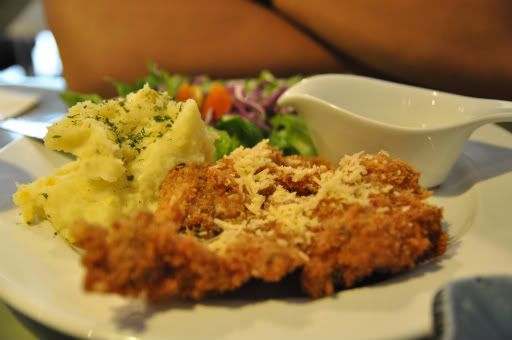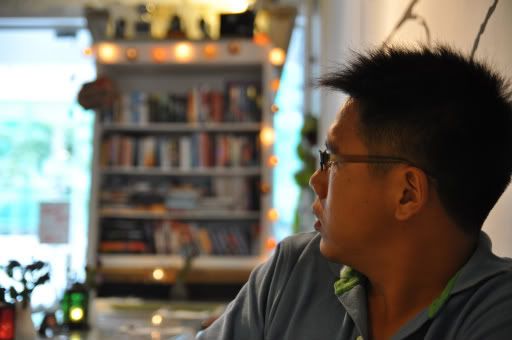 Sweet endings to our meal comprised of warm apple crumble with ice cream ($7.50). This one made me giggle, laugh and gobble like a turkey through its crispy sides to its warm apple-y core then back up to the luxuriously thawing vanilla ice cream. Just like the makeup of the cafe, this dessert was a perfect spokesperson. Humble yet overflowing with generosity. I knew I would return for this someday.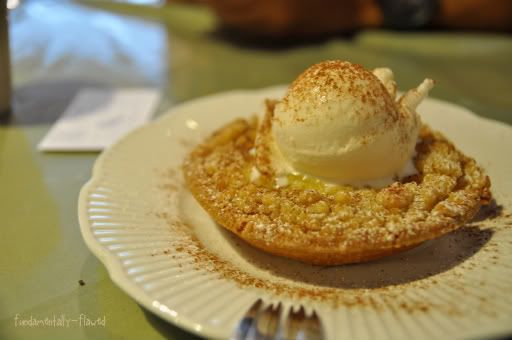 And with this meal, marked the end of the year 2009, and my short trip back to Spore. In just a few hours, I was shot off to the airport, ushering in the new year with a quiet message from the airport manager to all passengers and visitors, followed by a relentless hug of desolation at the gates. Here, I would like to thank babe for spending time with me the last few days. They had been been in all ways, wonderful and crazy sweet. Blessed new year babe. May we hold fast to our resolutions...

To everyone else, Happy New Year!





This is the closest thing to crazy I have ever been
Feeling twenty-two, acting seventeen,
This is the nearest thing to crazy I have ever known,
I was never crazy on my own...
And now I know that there's a link between the two,
Being close to craziness and being close to you.