TWD: Mocha Almond Marbled Bundt Cake
Labels: bundt cake, cakes, TWD
·
Posted by

Sihan
at 4/06/2010 01:51:00 pm


Yet another week of baking along with the TWD Bakers.

Having baked this cake before, I was guranteed of an amazingly moist cake with the intense aromas of chocolate and coffee swirled through the creamy vanilla batter. A little bit of three nirvanas in a slice of humble cake.

And this week with 2 additional aunties and one perpetually hungry boy in the house, finishing the cake looks a whole lot easier!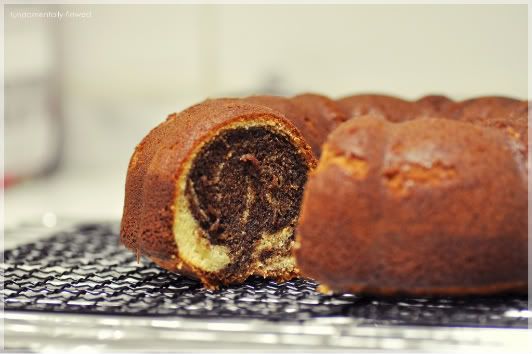 For more, check out Erin's blog here!

Mocha-Walnut Marbled Bundt Cake Recipe
Adapted from Baking: From My Home to Yours by Dorie Greenspan


2 1/4 cups all-purpose flour

1/2 cup finely ground almonds

1 tsp. baking powder

1 tsp. salt

2 sticks plus 2 tbsp. unsalted butter, room temperature

3 oz. bittersweet chocolate, coarsely chopped

1/4 cup coffee, hot or cold

1 tsp. finely ground instant coffee or instant espresso powder

1 3/4 cups sugar

4 large eggs, room temperature

2 tsp. vanilla extract

1 cup whole milk, room temperature

Preheat the oven to 350 degrees F.
Use a 12 cup bundt pan. Don't put it on a baking sheet – you want the heat to circulate through the Bundt's inner tube.

Whisk together the flour, ground walnuts, baking powder and salt.

Set a heatproof bowl over a pan of simmering water. Put 2 tbps. of the butter into the bowl, along with the coffee, chocolate and instant coffee. Heat the mixture, stirring often, until melt and smooth and creamy. Remove from heat. (I do this step in the microwave, stirring every 20 seconds. It doesn't take long.)

Beat together the remaining butter and the sugar at medium speed for about 3 minutes – you'll have a thick paste; this won't be light and fluffy. Beat in the eggs one by one, beating well after each addition. The mixture should look smooth and satiny. Beat in the vanilla extract. Reduce the mixer to low and add the dry ingredients and the milk alternately, adding the dry in 3 portions and the milk in 2 (begin and end with the dry).

Scrape a little less than half the batter into the bowl with the chocolate mixture and, using a spatula, blend thoroughly.

Either layer the two batters or alternate spoonfuls of light and dark batter in the pan. When all the batter is in the pan, swirl a knife sparingly through the batters to marble them.

Bake for 60-75 minutes or until a thin knife insereted deep into the centre of the cake comes out clean. Transfer the Bundt pan to a rack and let cool for 10 minutes before unmolding, then cool the cake completely on the rack.