Just like one dollar indian tea chai tea ice cream
Labels: ice-cream, recipes, tea
·
Posted by

Sihan
at 4/27/2010 09:14:00 pm


"The tea here is 10 times the price of the tea in the back alley!" exclaims my aunt as we ended our late afternoon stroll along the crab littered shores of Muttrah with a short interlude at a local cafe. Despite the first-rate views of the port district, the faerie lights illuminating the dusky waters off the coasts; my mind drifts to the 10cents tea we had in the afternoon at the dingiest of restaurants. An Indian restaurant you would normally associate with the quick flow of the Indian labourers during lunch hours, the three of us (my two aunties and I) found ourselves enveloped a sea of contradicting intense flavors as we dined, feasted and lingered on the tikka masala and tandoori chicken dished out on cheap metal dishes. The tea that ended the meal though, was worth the extra mention. Sweet, rich and incredibly satisfying, we then understood where these Indian laborers got their energy from. Remember the tea.

One recent afternoon, with the digits slowly creeping up on the thermostats, the urge to bake came along. And in a quiet suppressive move, I made a decision to make ice cream instead, in a silent admittance to the overwhelming power of the weather. The 10cents chai tea came to mind, my inspiration. When the churning paddle came to a stop, whining a little as though in verification of the richness of its contents, I felt compelled to eat it. With my first spoonful, you could hear guttural noises of approval emanate from deep within. Chai tea Ice Cream, remember the tea.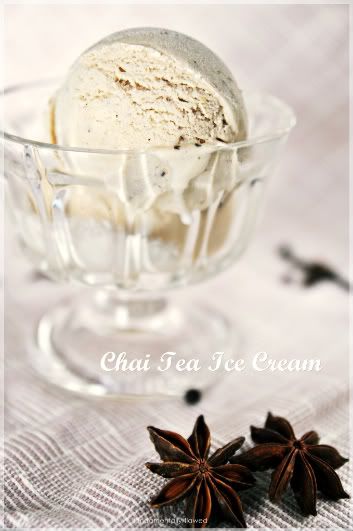 Just like one dollar Indian tea

Chai tea Ice Cream



2 cups milk
1 cup cream
5 egg yolks
2/3 cup sugar
2 black tea bags (Darjeeling, English breakfast, etc...)
1 cinnamon stick
6-8 cardamon pods
4-6 all spice (whole)
4-6 cloves
1 star anise
1/4 piece whole nutmeg

1. Boil the tea bags in the milk and cream in a pot. Remove from heat and put in the spices and allow the mixture to infuse for 20 minutes.
2. Strain the flavored milk and cream mixture and bring it to simmer again.
3. Beat the sugar and egg yolks together until thick and pale yellow.
4. Beat the milk into the eggs and sugar in a slow stream.
5. Pour the mixture back into pan and place over low heat. Stir until the custard thickens slightly (around 70C). Use a thermometer, as at 75C the eggs will scramble!
6. Allow the custard to cool in an ice bath.
7. Freeze using a domestic ice cream machine.