Coconut Jam Bars and Mariah Carey
Labels: recipes
·
Posted by

Sihan
at 4/02/2010 07:48:00 am


Ever felt a burst of energy for having to write a post after listening to a song?

I got my batteries recharged after tuning in to Mariah Carey's 'Through the Rain'. Not the best of her songs in terms of the raspy quality gathering in her voice but I guess the lyrics do have their plus points.

So moving on, more coconut bakes for the incoming summer! And I gather that I'm starting to actually enjoy it quite a bit. Perhaps I will give Bill Granger's Coconut Bread a go the next time round.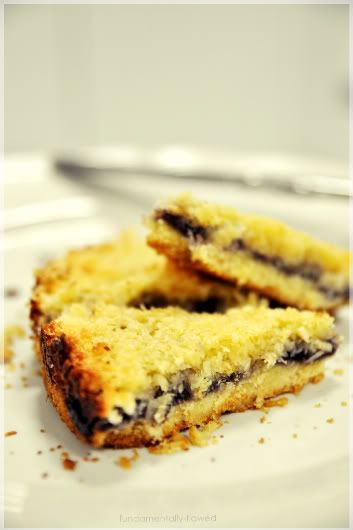 Coconut Jam bars.

Am i supposed to describe that?

perfection.

a buttery biscuit base complimented with a thin spread of blueberry preserves and finally topped with a sweet crunchy layer of baked coconut.

Sinking your teeth into a slice is perhaps the closest thing I'll get to having Mariah serenade me in real life. Might as well do with the cheaper, stomach gratifying experience no?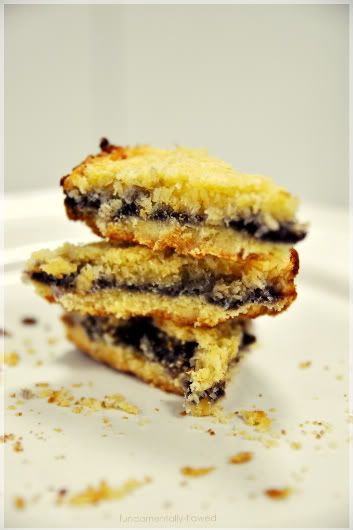 Coconut Jam Bar
makes one 9-inch square tin

1 cup plain flour
1/2 cup self raising flour
150g butter, chopped
1/2 cup icing sugar
1 egg yolk

1/2 cup strawberry jam

1/2 cup caster sugar
3 eggs
3 cups dessicated coconut

1) Line a lightly greased shallow 9 inch square tin with nonstick baking paper overhanging two opposite sides. Preheat the oven to 180 degree celsius.

2) Put the flours, butter and icing sugar in a food processor and pulse to mix until fine and crumbly. Add the egg yolk and process until the mixture just starts to come together. Press the dough into the tin and chill for 10 minutes.

3) Bake for 15 minutes until golden brown. Cool, then spread with jam.

4) Beat the sugar and eggs together, then stir in the coconut. Spread over the jam, pressing down with the back of a spoon. Bake for 25-30 minutes, or until lightly golden. Leave to cool, then cut into pieces to serve.