Coconut Tea Cake
Labels: bundt cake, cakes, recipes
·
Posted by

Sihan
at 3/30/2010 05:50:00 pm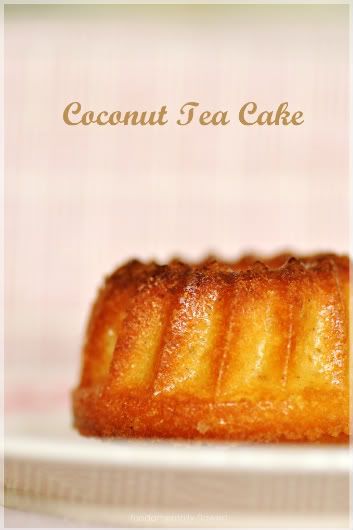 Being displaced from the TWD bakers is upsetting. But let's face the facts, with my shift to the UAE, I just can't cope with the weekly task of having to bake up these glorious treats. Kudos to those who have managed to sustain the practise from the very start till now.

I admire your discipline (of which mine is short-lived).

Yet despite my grudges, deep down inside, a part of me misses the action with Tuesday's with Dorie. The occasional challenges posed by the more ardous unapproachable recipes,somehow seemed a little accessible with the backing of a wonderful team of bakers.

So being the stalker that I am, I decided to bake along with the group this week. Partially also because I found the coconut tea cake recipe irresistable. Who could dispute a summery combination of toasted coconut and more rich coconut milk? I couldn't for sure.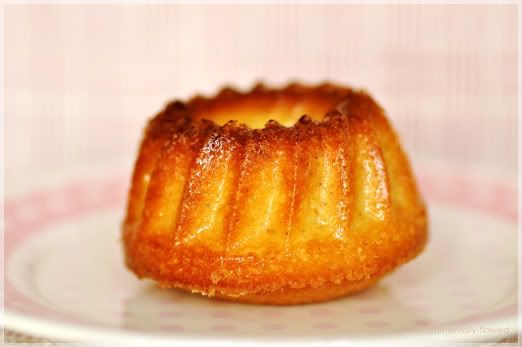 Coconut Tea Cake
adapted from Dorie Greenspan

2 cups all-purpose flour
1 tsp baking powder
1/2 tsp cinnamon
Pinch of salt
3/4 cup shredded unsweetened coconut
1 cup canned unsweetened coconut milk (shake well before opening)
4 tb (1/2 stick) unsalted butter
4 large eggs
2 cups sugar
1 tsp vanilla extract

Preheat oven to 350 degrees F. Butter a 9- or 10-inch Bundt pan.

In a bowl, whisk together the flour, baking powder, cinnamon, and salt.

In a small, dry skillet, toast the shredded coconut over medium heat until golden-brown, 2 to 3 minutes. Remove from heat and let cool, then whisk into flour mixture.

In a small saucepan, combine the coconut milk and butter; heat over medium, stirring occasionally, until butter is melted. Remove from heat.

In the bowl of a standing mixer, beat the eggs and sugar on medium-high speed until pale and nearly doubled in volume, about 3 minutes; beat in vanilla. Reduce mixer speed to low and add dry ingredients, mixing just until combined. With mixer running, stream in coconut milk mixture and beat until batter is smooth. Pour into pan and bake for 60 minutes, until top is golden and inserted cake tester comes out clean.

Let cake cool 10 minutes, then invert onto cooling rack to come to room temperature.