The post about the Cinnamon Rolls
Labels: Bread, cakes, recipes, spice
·
Posted by

Sihan
at 3/16/2010 06:41:00 pm



Want to hear a joke? When you mix flour and water, you get glue. When you add eggs and sugar, you get cake. Where did the glue go? It's what makes the cake stick to your butt. Funny isn't it?

*is greeted by the disapproving stares of the thousands of cake lovers* Oh gosh... Let's move on.

this shall be a simple exhaltation to the humble cinnamon rolls.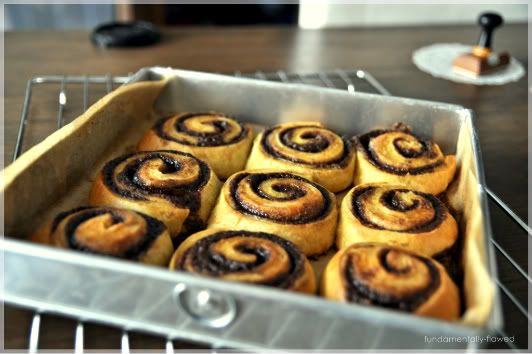 You see, these pillowy striped wheels of spiced goodness not only resemble the scrunches of material on the front of Charlize Theron's gown for the Oscars this year *comes to a screeching halt*, which I thought really accentuated those parts of her body by the way. So... these cinnamon rolls are essentially useful in curbing the pre-lunch hunger pangs (note: having lunch at 4 30 pm everyday can get quite cruelsome after awhile), not forgetting breakfast and perhaps an after dinner treat? Want a warm sweet treat? Nothing that a quick toss of the cinammon rolls into the oven can't solve.

What I like best about this experience is the flexibility of the yeasted sweet dough that can be whizzed out in a jiffy and made into a variety of baked goods for example sticky buns, scalloped chocolate pecan strip, and the woven apricot almond strip. A quick job and a slap of dough into the fridge for some cool blasting. And when you're ready, just take it out from the fridge and roll it out,slosh the sticky mixture of cinammon, sugar and butter all over the dough (at this point, you can scatter your pecans, chocolate chips or whatever crazy ingredient you have in mind). Roll it up carefully and chop them up into even slices, place them on a buttered baking tray. Proof and bake! WAH LA! you've got bits of sticky cinnamon mix on your front tooth. Haha.

So without much further ado, here's an parade of snapshots in reverence of the bashful yet so indecently titillating cinnamon rolls.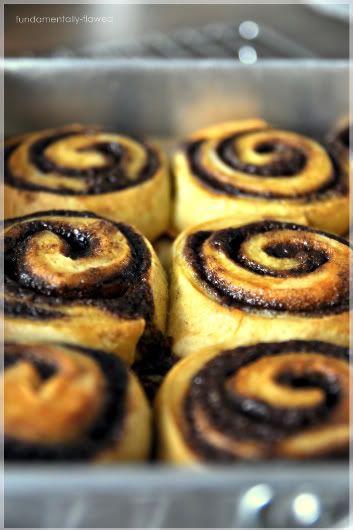 Fresh out of the oven.
Getting the vanilla glaze ready for its crowning reveal.

then splashing it on. Deliriously.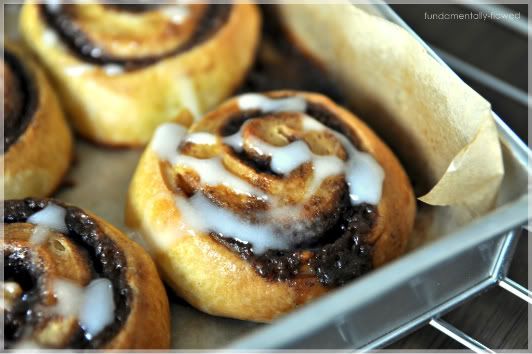 Plating one up for immediate demolition!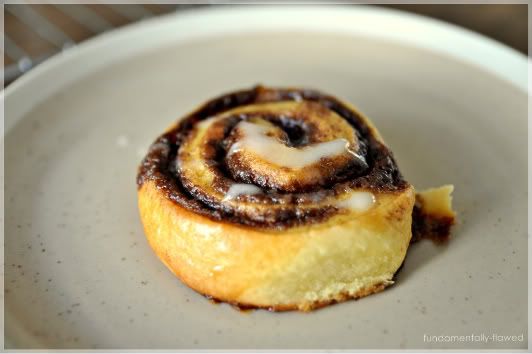 Thank you Carole Walter for bringing us such a wonderful recipe!

Well, to all those raring to give these beasty treats a go. Do check out the recipe for the simple sweet dough here!