where the wild things are
Labels: dubai, food, restaurants, travelling
·
Posted by

Sihan
at 3/21/2010 02:41:00 pm


Shogun is a restaurant tucked away in the hustle and bustle of mid town Deira. Its' location speaks in amplified modes about the diners that tread into the shop (mostly with reservations under their belt to avoid the disappointment of a no vacancy decline). Firstly, the food must be good cause you're talking about braving mad world traffic just to get here. Secondly, these customers are here for the honesty and brilliance of the food only, since the layout and decor of the shop is somewhat dodgey and almost primitive. No glimpse of the Dubai glitz and gimicks here.

Traversing the dining area to your table, you trod across a murky fish tank holding a dozen large fishes, cramped within its dark realms. At the seats, you will frown at the slightly obscene painting on the wall with a woman with her bosom exposed for the better of the world to see. Makes for quite a conversation topic of course.

Ordering is a quick affair, my advice is to stick to the Korean BBQ instead of experimenting with the Japanese and Thai Seafood options they offer.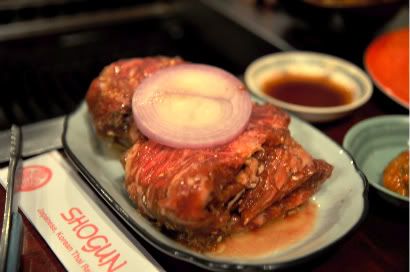 With the efforts of Luyi and friends, James and Giovanni, we managed to tackle the Bulgogi, Beef spare ribs (*Swoons*) and the seafood pancake. Not to mention the copious amounts of kimchi that were soon to deck to table. These are refillable by the way, so eat your heart out. Till this day (despite the late review), my heart still titilates back where the pickled eggplants were, DELICIOUS!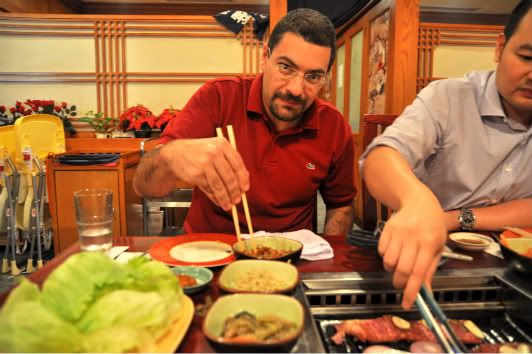 The beef spare ribs were slightly fatty but provided a melt in the mouth, almost sartorial experience. Especially when chomped down with the accompanying paste of unknown origins. As usual in the accompaniment of good food, I fall into a silent mode, mind soley focused on enjoying the fantastic chow in front of my failing vision vignetting on the sides.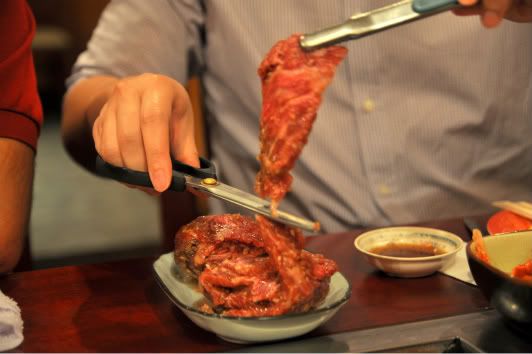 After dinner, we headed down to Dubai Creek Yacht and Golf Club, home to the more popular eating ,The Boardwalk and QD's; located as promised.. on the breezy banks of the Dubai Creek.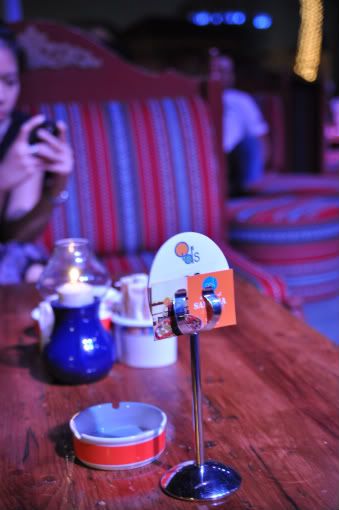 With a winning location such as this, it's no wonder the bar looked evidently crowded with throngs of wavy people basking under the twilight moon. You struggle against intoxication as wafts of Shisha float by, carried by the ominous cool breezes. The blue neon lightings overhead adding to the zoning out experience.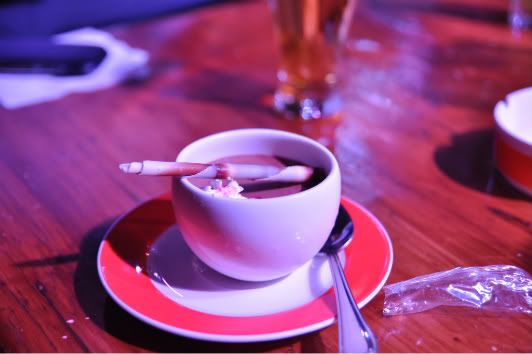 Dessert was a shared panna cotta (pronounced with Italian flair, it's an insider's joke), and a Arguani Chocolate Mousse, a pint of beer and a glass of red wine to finish.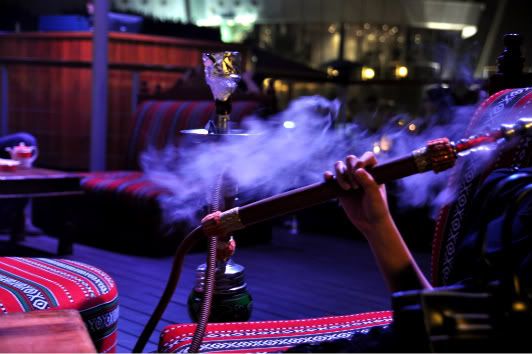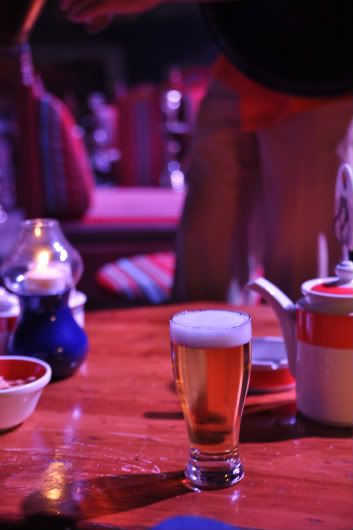 All in all, a good night with a more than gratified stomach and appeased emotions. I could use more nights like that...

Shogun Restaurant
Al Gurair Centre 3rd Floor
Tel: 2285568

QD's
Dubai Creek Yacht and Golf Club
Tel: + 971 4 295 6000