Sweetie of the week: Strawberry Cheesecake Ice Cream
Labels: berries, ice-cream, recipes
·
Posted by

Sihan
at 3/08/2010 06:49:00 pm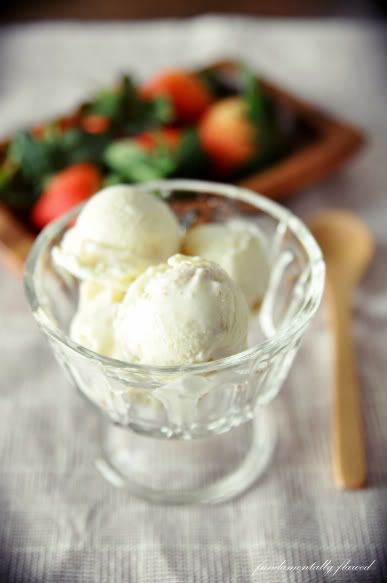 Mention ice cream and how many of you would launch into a nostalgic journey down memory lane? As much as I would like to indulge myself with all of you in these beautiful recollections, I have to politely decline. Only because my life claims a void in this aspect, a general absence of ice cream only explained by my seasonal bouts of asthma.

Gradually with age, my relationship with ice cream took a sharp turn. Like a revelation to my restricted dietary knowledge, it dawned upon me that this smooth icy dessert could be my best friend. And so a love affair ensued... ice cream to appease the angst, ice cream for a scorching hot day, ice cream on a first date. A different flavor to mark a significant event in my life, even those that appear seemingly infinitesimal but were elevated soley by the experience of lifting the dessert to my lips. Beginning with pure curiousity and flourishing into a passionate desire.

Here's an ice cream experiment dedicated to the strawberry cheesecake flavor lovers out there. *wink*. You know who you are.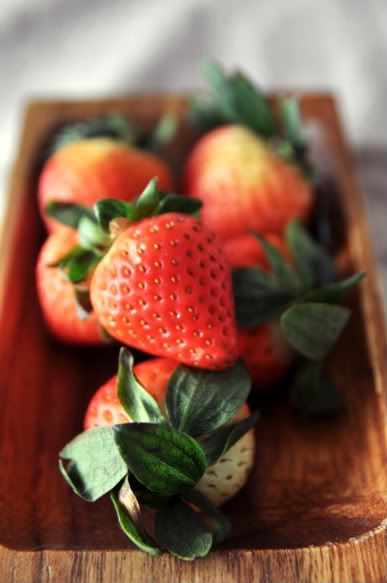 Strawberry Cheesecake Ice Cream
makes 1 pint
1 cup heavy cream
1 cup milk
1/4 cups sugar
2 egg yolks
1 tsp vanilla extract
1 cup strawberries, cut into small pieces ( a good idea would be to puree this)
2 ounces cream cheese, cut into small cubes
cheesecake crust! (use your own! If not
this
works out just fine.)
1) Heat the cream, milk and sugar to boil. (approximately 15mins)
2) In a heat-proof bowl, whisk the egg yolks till pale yellow and thick.
3) Pour a little of the heated milk mixture into the egg yolks and whisk them FAST, just to temper the egg yolks. Slowly pour the rest of the hot milk into the egg yolk base, making sure to whisk furiously to avoid getting scrambled eggs!
4) Pour the custard base back into the pot and cook on low heat till the mixture reaches a thick consistency that is sufficient to coat the back of your spoon.
5) Immediately remove the custard from heat at this stage and rest in an ice bathe.
6) Stir in the vanilla extract at this point.
7) Cool custard base overnight before placing in a icecream maker.
8) In the last 5 minutes of the churning, pour in the strawberries, crumbled cheesecake crust bits and cream cheese cubes.
9) Enjoy your Strawberry Cheesecake Ice Cream!
I'm so grateful to you.
I'd have lived my whole life through.
Empty as the sky.
Never knowing why.
Lost forever,
if I never knew you.