Gourmet Abu Dhabi: Part 2
Labels: dubai, events, food
·
Posted by

Sihan
at 3/01/2010 11:19:00 am


Smoke breathing dragons and a cloud of mist. What more can you expect out of a Paco Roncero masterclass?




The second part of my experience at the highly acclaimed event Gourmet Abu Dhabi (as so in foodie world), Paco Roncero's masterclass. This legendary Spanish, two Michelin Star chef has been on my radar after reading about Elaine's amazing dining experience with the olive oil maestro at Atlantic dining room. (you can read about it here!). Molecular gastronomy has always been a topic less trodden on for me since I unintentionally lean towards the more rustic traditional methods of culinary arts. However, an unexpected dinner with molecular gastronomist Pierre Gagnaire opened my doors to the arty yet scientific based cooking. I was hooked.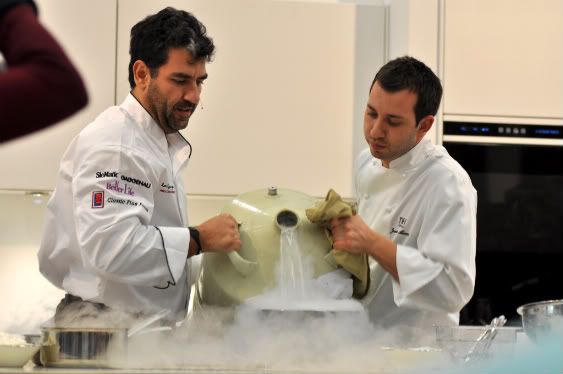 So what did the masterchef have installed for us this session? My eyes took a quick scan thru the recipes. Bleach, calcium gluconate, begonia flowers, algin (algae extract)and liquid nitrogen?!? Intriguing... yes. Go on... take a swim in the icy misty realms of liquid nitrogen. Be careful though, immediate freezing guaranteed. Ladies and gentlemen, we're talking about a perilous -182 degree solution over here. Raspberries turn to crisp bits after a quick dip in the stainless steel bowl, a milky turkey bacon cream sees the likes of a beautiful convex shaped bowl with a smooth dip of a ladle into its icy depths. The audience, captivated and amazed by the endless possibilities arising from such a simple setup, simply ooo-ed and ah-ed, clapping in delight.




Then Chef Paco Roncero pulled out all the stops with a quick flick of his wrists. dishing out a beautiful martini glass filled with iced yet creamy Pina Colada. My eyes nearly fell out of its sockets.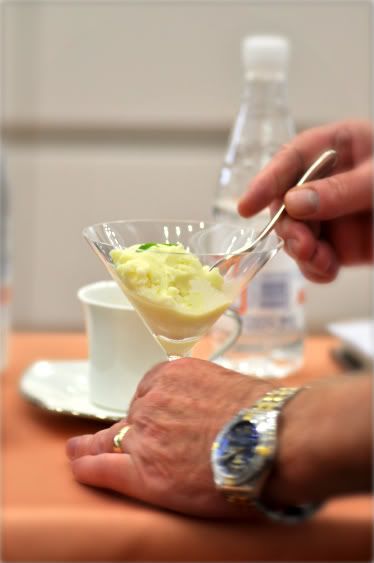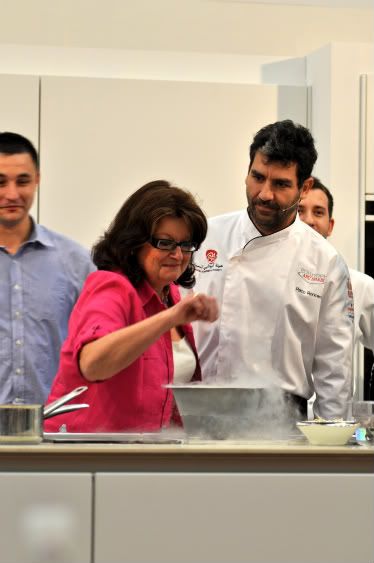 The rest of the class commenced at lightning pace, the use of copious amounts of algin was apparent in most of his dishes where he prefered the containment of generally liquid substances within a gelatinous wall, assuming a tricky and often misleading shape. It was almost like watching a magician at work, conjuring up the most beautiful dishes in the end as well. Garnished with dibbles and dabbles of sauce concentrates and littered with mini begonias; the final product was a work of art worth fighting over. Apologies for being unable to recall the exact ingredients listed in the dishes below, but I must say the green little nibblets are filled with the most gorgeous 3 cheese combination with a hint of fresh basil. Delightful to the max.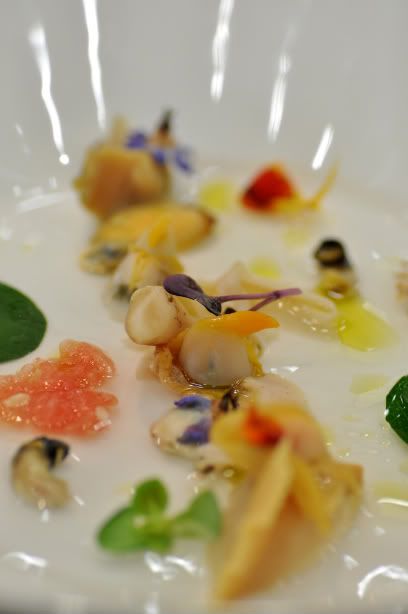 Taking my hats off to this culinary genius, my eyes now sparkle at the sound of molecular gastronomy. Now, anyone knows where can I get my hands on savoury candy floss? *pondering*