Dining out: Almaz by Momo
Labels: dubai, food, restaurants, travelling
·
Posted by

Sihan
at 3/12/2010 05:53:00 pm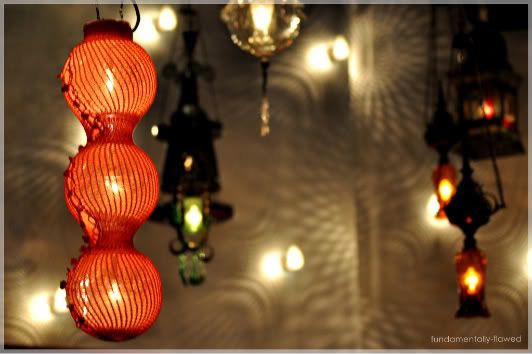 Second time(in the restaurant) and I'm still smitten.

Yes, that was the first and last thought that crossed my mind during the course of a dinner affair.

The visual reason are apparent.

Beautiful lanterns float across the dark ceilings. Flushed with brilliant colors, a mish mash of seductive reds and mysterious blacks; I can't help but stare at the ceiling all the time. Not that it mattered much to my dinner partners anyway as I've been less known for my abilities to hold a decent meal conversation. *Shrugs*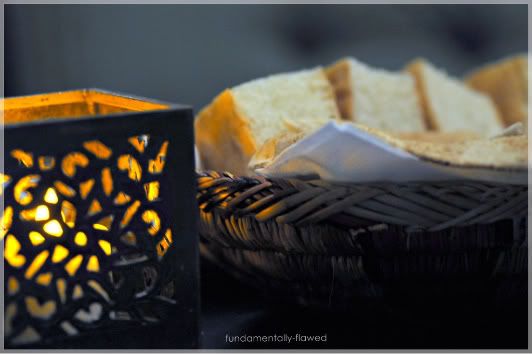 Dinner started out with baskets of fresh bread and an array of olives on a lonely dish. For starters, we had the Cheese Briouat (cheese wrapped in brick pastry and deep fried), pigeon pastilla (brick pastry stuffed with pigeon, cinnamon and almonds), and chicken livers in prune sauce.

The first arrived, a simple stack of golden triangles in a bowl. Deceptive of course as the tiny package delivered a blast of orgasmic cheese into the diner's mouth with a vengance, immediately liftng the spirits of the feast to an immaculately high position. The pigeon pastilla, marked with a star (of sorts) on the menu, had recieved numerous praise from me during the last occasion and my companions faced this with immense anticipation. Pity that I felt it displayed a little lack lustre this time around, probably due to the novelty factor slip. Note to all the impending diners out there, please enjoy your pigeon pastilla on first try cause you may probably never feel that impact again!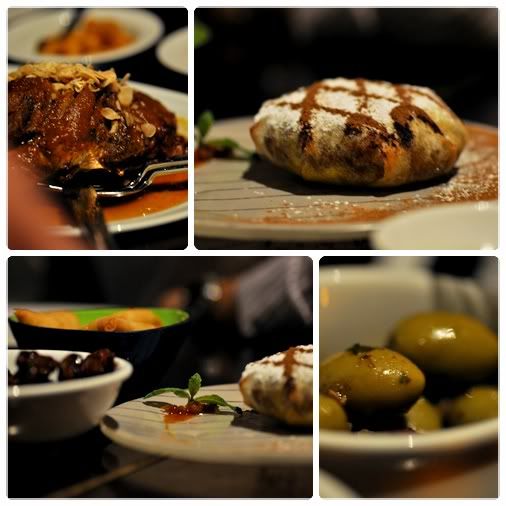 Moving on, the bobbing along to the intoxicating tunes spun by the in house DJ certainly helped a bit with the digestion. Playing a mix of subcontinental beats, I swore I've never heard Arabic music played this way before. And to be fair, it was all pretty good. This statement made with the reinforcement of the occasional dance and sing-along put on spontaneously by the jovial staff.




For mains, we chose to share the chicken tagine and slow cooked lamb shoulder for two. The food was spot on, our only grudge, the tricky portion sizes. Even with 4 of us seated at the table, we struggled with the copious amount of lamb shoulder plated up. The couscous was cooked perfectly, light and fluffy with the bowl of vegetable gravy providing perfect company to the dish. The lamb was perfectly executed, the tender flesh revealing a smorgasboard of spices within. The chicken tagine was a delight as well albeit a little neglected due to the richness of the lamb shoulder.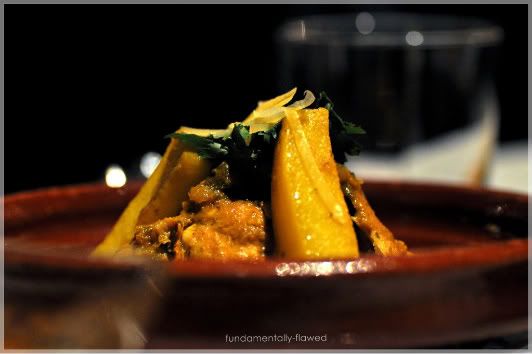 Almaz by Momo, offers diners an irresistible gourmet experience in true Maghrebin style. With such creativity and high standards in food and service on top of the sophisticated (albeit a little gimicky) ambience, it's no wonder that the restaurant is packed even on a Tuesday night. In true respect, the honest cuisine of generous proportions and fair price tags warrants for another visit, and another and another.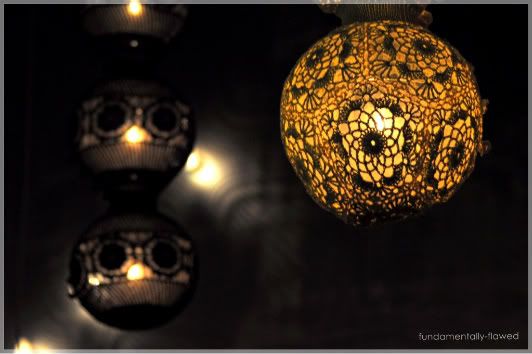 Almaz by Momo
Mall of the Emirates, Barsha, Dubai
Tel: 04 409 8877