TWD: Quick classic Berry tartlets
Labels: berries, recipes, tart, TWD
·
Posted by

Sihan
at 5/11/2010 04:42:00 pm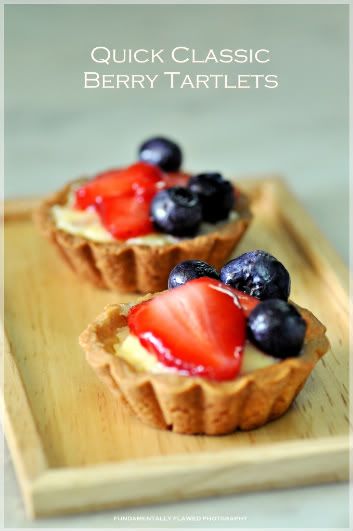 To say that these tartlets where 'quick' is an understatement. These were practically speeding little demons. Disappearing behind lusty lips as quickly as they took to put together.

Thank you

Christine

of Cooking with Christine for picking this weeks' recipe!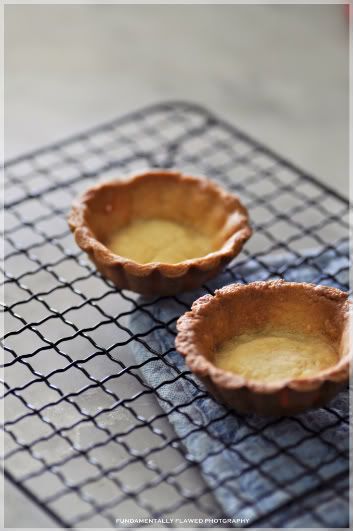 and since I totally love this rendition of Dorie's pastry cream, I'm going to share the recipe with you guys and hopefully, you'll make a second batch to fill up these lonely tart shells of mine!



Pastry Cream




adapted from Dorie Greenspan's 'Baking, from my home to yours.



makes about 2 cups.

Storing: The pastry cream can be kept tightly covered in the refrigerator for up to 3 days.

2 cups whole milk
6 large egg yolks
1/2 cup sugar
1/3 cup cornstarch, sifted
1 1/2 tsp pure vanilla extract
3 1/2 TBSP unsalted butter, cut into bits at room temperature


Bring the milk to a boil in a small saucepan.

Meanwhile, in a medium heavy bottomed saucepan, whisk the yolks together with the sugar and cornstarch until thick and well blended. Still whisking, drizzle in about 1/4 cup of the hot milk- this will temper, or warm, the yolks so they won't curdle. Whisking all the while, slowly pour in the remainder of the milk. Put the pan over medium heat and, whisking vigorously, constantly and thoroughly (making sure to get into the edges of the pot), bring the mixture to a boil. Keep at a boil, still whisking, for 1 to 2 minutes, then remove the pan from the heat.

Whisk in the vanilla extract. Let sit for 5 minutes, then whisk in the bits of butter, stirring until they are fully incorporated and the pastry cream is smooth and silky. Scrape the cream into a bowl. You can press a piece of plastic wrap against the surface of the cream to create an airtight seal and refrigerate the pastry cream until cold, or, if you want to cool it quickly - as I always do- put the bowl into a larger bowl filled with ice cubes and cold water, and stir the pastry cream occasionally until it is thoroughly chilled, about 20 minutes.