Dining out: Vapiano @ Dubai Mall
Labels: dubai, pasta, restaurants
·
Posted by

Sihan
at 5/31/2010 01:25:00 am


Behind that hideous facade of fire engine red chairs resembling the uncomfortable snug fit of a baseball glove round a ball in the front of the shop, lies an oasis of soothing tones and gentle textures. Upon being led thru to the back of the restaurant, I was amused and slightly pleased at the gradual transformation. The words 'cheesy' giving way to 'sophistication'

And if I must say, the bar stools were incredibly comfortable. Providing just about the right leverage over the beautifully swirled wood grained countertops.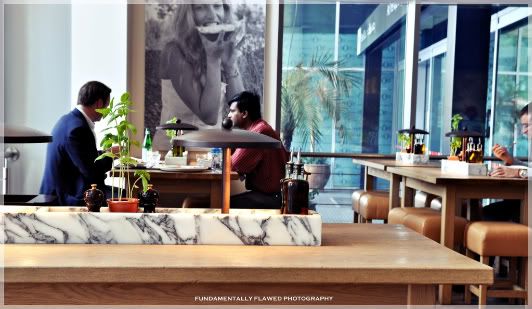 The concept of ordering on the card was soon explained to us by a rather reluctant looking waitress who vanished swiftly soon after. With a bit of a struggle, I reduced my choices down to the chicken alfredo since it had the likes of sauteed mushrooms complete with a creamy sauce. Although seated at the corner revealed a marathon of freshly made pizzas running through the oven at top speed during the lunch hour that surely tantilized my taste buds. Next time perhaps...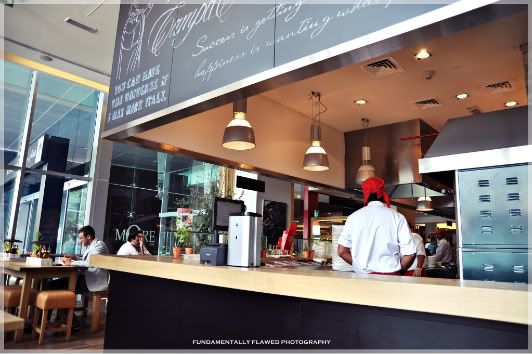 more photos of the interior of Vapiano.

I profess my love for the odd center pieces on the tables.




I also loved the pasta at Vapiano. The springy linguine proving to be perfect nesting ground for the well seasoned cream sauce and the grilled chicken imparting a subtle charred flavor that made you wish there was more.

Shopping in Dubai Mall and looking for a casual dining space with affordable Italian food, head down to Vapiano today!




Vapiano
Dubai Mall LG,
Shop number 92
Dubai,UAE