We touch, I feel the rush.
Labels: food, restaurants
·
Posted by

Sihan
at 10/10/2010 09:27:00 am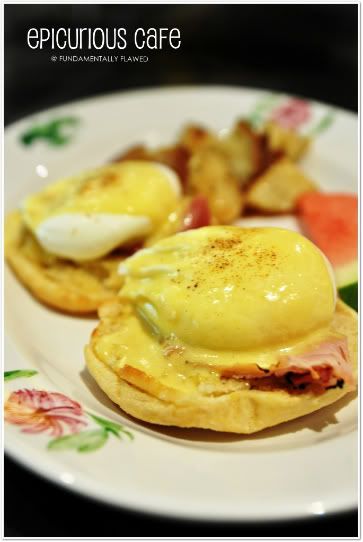 It's 11:20 and I arrived at the crime scene, a whole 20 minutes late for my reservation. Seated amongst a bustle of activity, one can't help but feel a bit overwhelmed.

The breakfast parfait piqued the interest of my dearest dining companion whereas I settled for my brunch staple of eggs benedict. I know you must be shooting the glare now...an accusation of my freaking boring palate. But hey, it was all good in the end with the baked potatoes on the side stealing the show. The only glitch would be the over toasted muffin bases that proved a little too crispy to sink my knife into.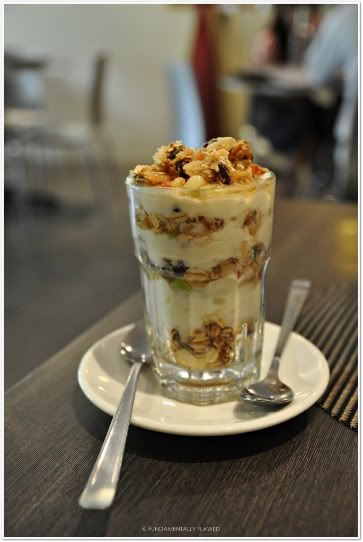 The breakfast parfait ($6.50), a towering layered treat of homemade granola, maple syrup, yogurt and fresh fruit was an absolute delight. The piece de resistance being the bits of dried coconut strewed throughout the granola chunks that boosts amazing flavor and texture. Simple comfort with every spoonful.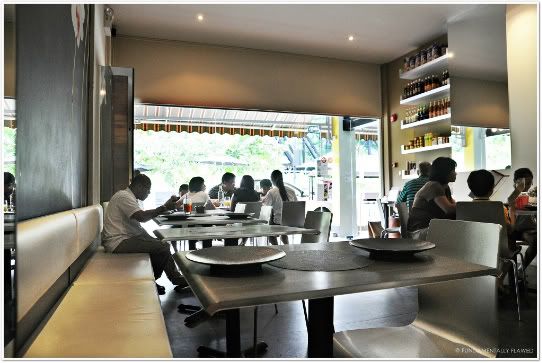 Mum remained silent for a good half of the meal, interrupted only by random snorts of delight and nods of approval. Her beef fajita (pronounced as fa-hee-ta)arrived dressed to kill with a lovely generous piece rib eye steak straddling the generously buttered slices of white batard. I gathered that it was delicious with an empty platter being my witness.




Looking for a place to enjoy brunch on a lovely weekend morning? Why not try out Cafe Epicurious? While you're at it, give the Epicurious burger a shot, think monster-sized beef patty, melted emmental cheese and topped with a sunny side egg. Sink your teeth into one of these beauties and your heart will sing a joyful tune well suited for a laid back Saturday morning.



Cafe Epicurious
392 Upper Bukit Timah Road
The Rail Mall

Opening Hours
Mon–Fri: 11.30am–2.30pm, 5pm–10pm
Sat–Sun: 9am–4pm, 5pm–10pm