Battle of the Crabmeat Linguine: La Cantina in Venezia
Labels: italian, pasta, restaurants
·
Posted by

Sihan
at 11/27/2012 12:30:00 am


I won!!! Please bear with me... *does a triumphant chicken dance, twists in the air, finishing off the awkward sequence with a fist pump*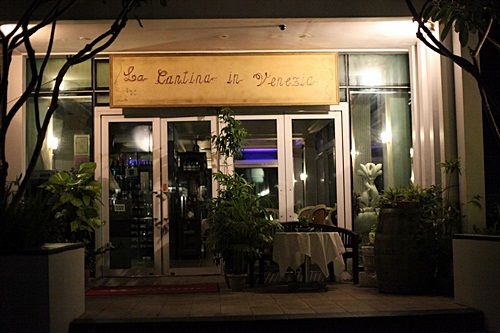 Basically, the story goes that the boyfriend and I had a challenge to find the best crab-meat linguine in town. his vote went out to Etna's linguine with crab-meat in pink lobster sauce whilst mine went to the under-dog, La Cantina in Venezia's Linguine Al Granchio.

Etna at Duxton was our first destination for the throw down. After all the hype and anticipation built up back from our Australia days (the bf often boasts about his find since way back); I was ready to savor a taste revolution in my mouth. Unfortunately, none of that happened, the dish was without a doubt, good, however, it wasn't outstanding. The cream sauce a little under-seasoned in my perspective, lacking edge. On the other hand, the Margherite al Pistacchio Bronte, ravioli stuffed with walnuts and a blend of four cheeses slathered in Sicilian pesto sauce stole the limelight, stealing our focus from the real reason we visited the restaurant. With a technical play on textures and flavors, the dish scores with a combination of crunch from the toasted pistachios, the creaminess yet herbaceous vibe of the pesto sauce and the smoky richness of the stuffing. I had to hide my guilty face as i mopped up the remains of its sauce with relish.

Back to the challenge; the both of us managed to steal the ride over a weekday night to the quiet town of Changi village. Located in such an obscure location, best accessed by private transportation, I was surprised by the bustle of the area as we rolled in somewhere around 7 in the evening. However, as expected, La Cantina was an oasis of tranquility. We started of with the Parma Ham on Rock Melon ($18.50) and the pizza with olives and salami and finished off with a curtain call for the diva-ish Linguine Al Granchio ($26.90). A fusion of tomato and cream base sauce, it was having the best of both worlds, the punch of acidity from the tomato easing out the lavishness of the cream. With a generous hand of freshly cracked black pepper, and huge stashes of succulent crab meat, it certainly made for a fine meal.



the Parma Ham on Rock Melon served as an excellent starter. peculiarly sweet rock melon served with parma ham in delightfully sizable portions. No bickering over who gets more of the pie here!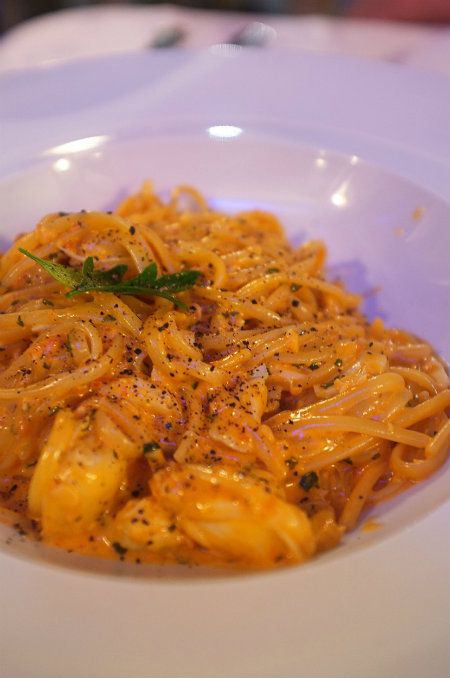 And as I've asserted my choice before in the year 2008, I still proclaim with much conviction that La Cantina has the most awesome Crab-meat Linguine. The bf can't help but nod in unison as he tucked in greedily into the dish. Spinning classes for linguine on forks. His last personal compliment to the chef herself about the "pasta being divine" sealed the deal for me.

It was a landslide victory. Next challenge: Soup Bak Chor Mee.



Etna Italian Restaurant and Pizzeria
49/50 Duxton Road
Tel: 62205513

La Cantina in Venezia
Changi Village Hotel, 1 Netheravon Road
#08/09-02, Singapore 508502
Tel: 6546 9190