Dining out: Qantas Sydney First Class Lounge
Labels: australia, restaurants, thoughts, travelling
·
Posted by

Sihan
at 11/16/2012 11:49:00 pm


As December approaches and November fades into a faint image of its original self like something out of the movie the time travellers wife... I start to panic.

as Gerald Butler's character narrates in the latest movie 'Chasing Mavericks', "fear and panic are two separate emotions. Fear is healthy, panic is dangerous." and thus evoking torrent of thought bubbles through my head. Okay, maybe I should release the catch to the panic button.

Recollections of this past years ridiculous acts come crashing down on me. A collation of memories so vivid yet so distant from the current reality of my now imprisoned world. and ohh.. the upcoming holidays.. Christmas and Chinese New Year.. daunting celebrations for any pastry chef when the prospects of over-bearing orders weighs down heavily. I reckon my new year will be non-existent.

As for new year resolutions... it's time to brainstorm a few. Not that I think I need any adjustments from the previous years except for a relocation. One thing's for sure, its time to pick up the pace. Adventure racing, holidays to Bali with the girlies, business proposals in the pipelines and maybe more self-exploratory backpacking trips. Let's not get ahead of myself though, as far as we know the month of November will disappear in a flurry of meetups and December in a sweet ripple of cream and sugar. It's safe to say that today will be a quiet and simple friday night. So let's take this day to tally the feeding session that led up to my arrival in town.

flight delays... ahh..a turf i'm rather familiar with. Sorry dar for dragging you into the murky waters with my shadow of bad luck. An incessant pursuer. Thank goodness with some strings pulled, we managed to get ourselves into the Qantas first class lounge. A real upgrade given that we were homebound on a budget airline.



preflight gluttony, I wasn't sure of what I was getting myself into. But within minutes of stepping into the lounge, met with a cold gush of fragrance laden air, I was intimidated. These people that we see lounging around with their expensive hand carriages and state of the art hand held technologies, are willing to spend thousands of dollars just for a plane ticket. In some instances, not only for themselves but for their 6 year old daughter still innocently cradling a bunny stuff toy. And here we're only talking about taking a plane, a mode of transport we deem so trivial; that we use it as the biggest avenue for budget cuts when it comes to making travel plans. Golly... Thank goodness for the lovely hostess from Singapore, a personal friend of our chef acquaintance who made us feel so at home.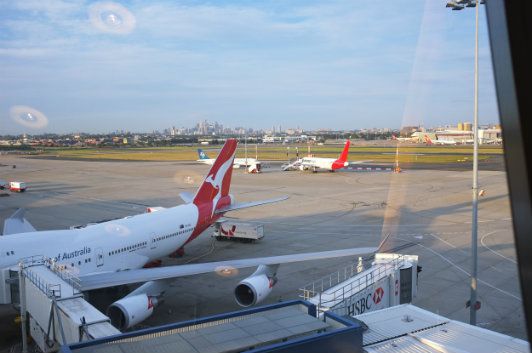 Presenting us with a menu each and the authority to order anything we please. It was like setting a bunch of monkeys loose in the streets. We went at it like ravenous rabbits. Add Neil Perry to the equation and we knew we were in good hands.

Not to mention, the enchanting views of Sydney City across the tarmac naturally enhanced our appetites. Gorgeousness when paired with the radiance of the setting sun.

For starters we had the Sashimi of Bluefin Tuna with organic soy dressing. This was absolutely delicious. The complexity of the dressing covering up for any inadequacies in terms of freshness of the fish.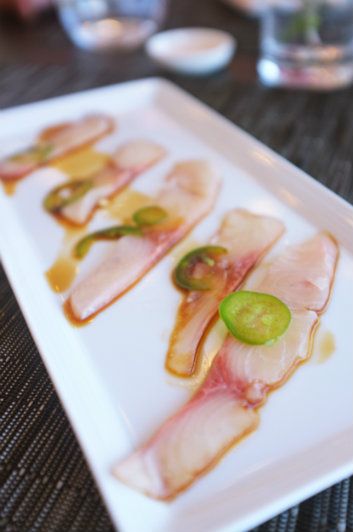 Then we went on to devour another pretty dish. The Shaw river buffalo Mozzarella with spring greens and lemon oil. With such delicate flavors on the plate, the creaminess of the handmade mozzarella really stood out. The crispness of the zucchini flowers reinforcing it's richness.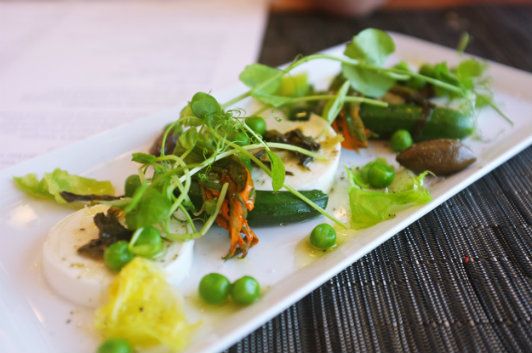 My favorite dish of the night had to be the salt and pepper squid with green chili sauce. Fried to perfection, the batter stuck to the firm yet juicy flesh of the squid. Paired with the spicy Thai inspired chili sauce and a dollop of aioli for the nudge of sour tang, it was just a symphony of bright notes on the palate. An excellent dish.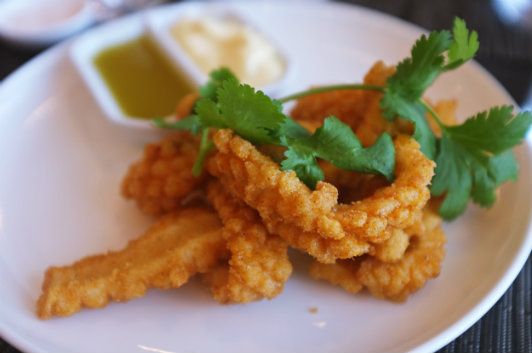 Mains were the Tasmanian Salmon, caper, lemon and anchovy butter with pancetta crisps and leeks for me. Paired with a glass of Heemskerk Riesling 2001 from Tasmania. And the Lamb Cutlets with rosemary and Parmesan crumb for the boy. These were mediocre albeit for the sides that were thoroughly engaging. The leeks were cooked beautifully and I wished I had a whole plate of that to chow down on. Whereas the classic slaw that came with his dish had top notch seasoning in the works.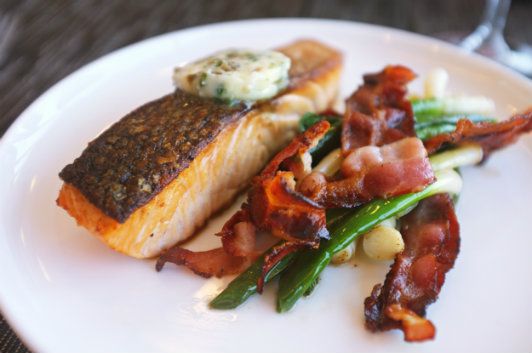 As we sat by the couches, the lights being dimmed to a pale amplitude, we waited for our delayed plane to begin boarding in silent contemplation. I pondered. I reckon this will be the first and last time I ever step into a first class lounge. Not because I don't think I'll ever be able to afford it. Besides, what are the odds being a pastry chef and all? And even so in some parallel universe I do earn a fortune, I would never bear the investment of throwing it all on a first class ticket whilst I can instead spend more on a luxury hotel stay or even an out of this world adventurous experience. Priorities my dear...



Still, it was a surreal experience not to be forgotten.

Note: Some of the photos in this post are courtesy of Fabian Brimfield of Fly me Funky. Thank you very much for the wonderful shots.