drinking out: @ Penny University
Labels: brunch, cafe, desserts, hidden finds, pie, prawn mee
·
Posted by

Sihan
at 11/19/2012 01:19:00 am


My journey to the east. Something that I take pride in doing now so very often since my boyfriend conveniently resides in the east. Honestly, I'm not that fond of the alleged "Long-distance-Relationship" but in such circumstances, I make do. Using food as an incentive to travel halfway across the island.

Breakfast came in the form of Prawn noodles. Originating from the pioneer stall at Beach Road, this brunch clearly has acquired a steady fan base with the entire coffeeshop filled with patrons tucking into their steaming hot bowls of mee. Located next to the stall is a Ngor Hiang stall apparently operated by a relative. Despite the heat, I braved the impending doom of an inherently unglamorous look after the meal, armed with a pack of tissue paper and a cup of lime juice. Pardon me but acclimatization I reckon is still a bitch.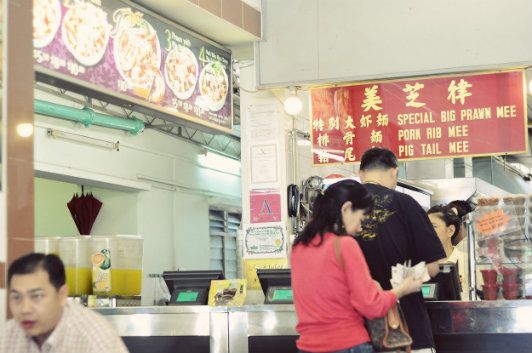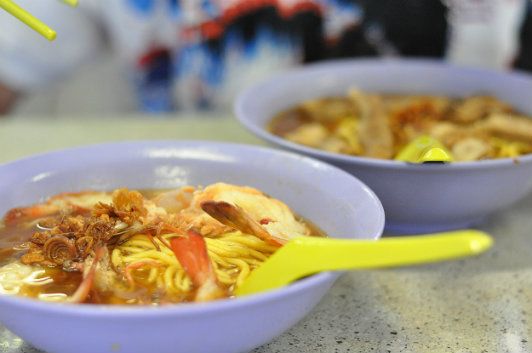 I went for the $5.50 option. Portion wise, it was thoroughly disappointing with two mediocre sized prawns slit into halves parting the brown seas of rich broth and yellow noodles. For that price, I would have expected much more. As a result, raised my expectation for the broth. That turned out to be alright, not as va-va-voom as I would have liked. I shrugged it off with the alluring sight of coffee land beckoning from a distant.

From there, we trudged down the street to the new kids on the block. Penny University. A term that was derived out of poetical sense, from a coffee house where even the poorest of university students could pay a mere dollar for a coffee to linger in a place with immense prospects for enlightenment since these places were known to house many people from different levels of society. If you ask me, the concept of the name itself embodies the spirit of the business, a casual place where social interaction was the main focus and key factor in pulling in the crowds. Brilliant.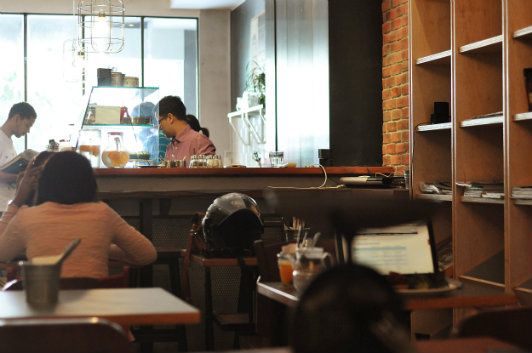 At Penny University, Oriole's Raven Blend and Nylon's el Primero seasonal espresso blend are deployed for action. Being a big fan of Oriole, I had no qualms about the final product. The espresso with 5oz milk was absolutely perfect. Sinister and deceivingly warm to taste with an edge at the end. A possible citric note. The pie we ordered on a whim to keep the lonely cup of joe accompany was surprisingly dazzling on its own. From windowsill pies , the morello cherry pie was exactly like it should be. With every forkful, the crisp puff pastry crust, tanned from it's arduous hours in the oven, crushed under the pressure of the crimson red sour cherry filling. The large sugar crystals littered on the crowns adding to the tenacity of it's structural integrity. If the crust were only a little bit more fresh, I would have pulled out a 10 on this one.

Penny University calls a long shot by opening on the far side of singapore. A smart move considering that its the first of its kind, appealing to the true coffee addicts to be stationed in the far east. But a little deranged given it's positioning within a part of singapore teeming full of famous food stalls and local food. I sincerely hope it does well given that it feeds my buzzing addiction on my repeated visits.

Note to oneself, that same stretch of east coast road seems to be laden with many "undiscovered" eateries, still undeniably foreign to a cross country traveller like me. Al Forno, Two fat man and many more... another trip awaits..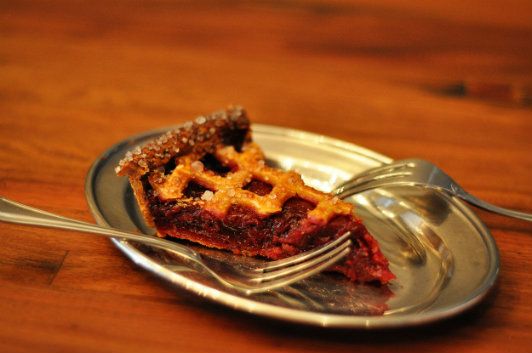 Beach Road Prawn Noodle House
370 East Coast Road
S428981 63457196
8am-4pm daily
Closed on Tuesdays
Penny University
402 East Coast Road
Tue - Fri, 0830 - 2130
Sat - Sun, 0830 - 2230
Closed on Mondays