21 on Rajah: Gather and Share
Labels: food tasting, HGW, mediterranean food
·
Posted by

Sihan
at 2/26/2013 08:06:00 pm


Not so recently (I know.. I'm sorry) I was invited to a food tasting session at Days Hotel in the Balestier region. Part of the Wyndham Hotel group, the largest hotel group in the world with brands like Ramada Hotels and the more humble Travelodge under its belt, they announced the development of Days Hotel in 2010. Fast forward to year 2013, and there I was entering the warm interiors of the reception area after being caught in a heavy rainstorm whilst making my way to the tasting. Just my luck... fortunately, the processions of the evening coupled with good company made up for the shivering discomforts.

21 on Rajah as it is called, pays homage to the 21 Mediterranean countries hugging the large expanse of the Mediterranean Sea (a fact that I only found out upon introduction from the General Manager). Hence diners presume that the menu will be inspired by Mediterranean favourites. So true... and better still, it was based on "family communal dining"; a concept I came to love after dining at Cocotte.

We started off the meal with 4 starters amongst us ravenous diners. The Prawn and Bacon Roll, Crostini of Smoked Eel, Grilled Chicken Satay in Balinese Spices and Poele of Duck Liver with Sweet Pears. My favourite was the prawn and bacon roll, encrusted in a lovely golden crisp batter revealing a tasty succulent prawn within; the surf and turf concept exemplified in this dish. The Chicken Satay was worth a special mention too as despite it's rather odd local tribute in a sea of Mediterranean dishes, this was flavoursome and utterly moist.

The main event was a parade of four signature dishes once again.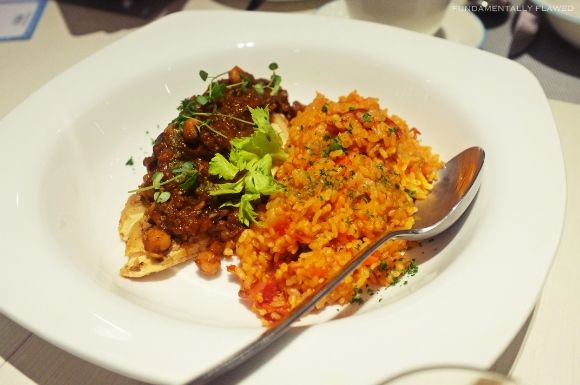 The Moroccan Harira with Chicken and Garbanzo Beans


Marseilles Seafood Bouillabaisse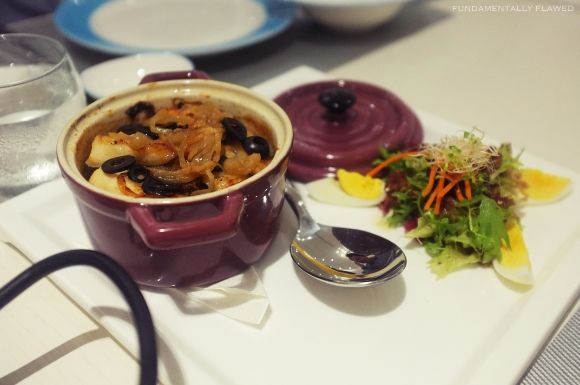 Stewed Fillet of Danish cold Water Halibut "Lisbon"style


and finally the Jumbo Prawns with Dill and Saffron Paella


Having to comment on these dishes, I would have to say that my favourite was the Moroccan Harrira chicken dish. Tasting mildly Middle eastern with a wave of spices in tow; ginger, cumin and pepper; I was pleasantly surprised by the aroma and texture of the chicken. Served with a bed of fluffy sweet rice tossed in tomato puree and a touch of chopped herbs, this dish could have easily satisfied my voracious yet finicky appetite. A close runner up is the Seafood Bouillabaisse which tasted authentically provencal in nature. Robust in flavor with the colour of roasted pumpkins and warm sunsets, the dish proved a winner with a generous serving of well cooked scallops, prawns, mussels and fish within. Skip the Paella for better renditions and more competitive prices at some other Spanish joints. I would also give the Stewed Fillet of Halibut a miss, despite it's beautifully cooked fish; the dish was one noted and failed to leave an impression.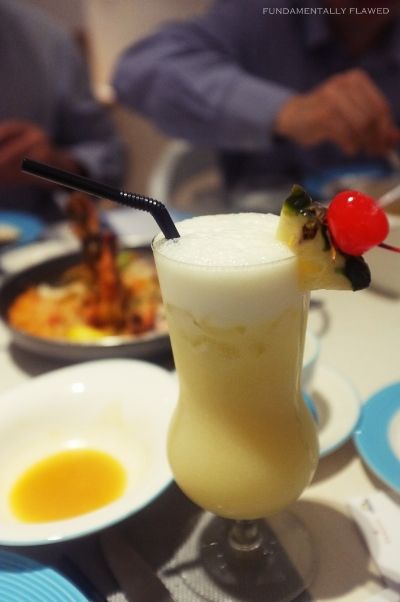 Dinner drew to a close with two desserts, the Pannetonne Bread and Butter Pudding with Dates and the Dark Chocolate Fondant with Raspberry Coulis. Innovative use of the Italian Christmas bread since it's porous nature and presence of dried fruits within contributes significantly to the flavor. The Crisp crust followed by sweet and hot innards within was a real turn on; strange how the dates seem to be absent though. The latter dish I feel was a bit of a failure, the molten chocolate cake, which consisting of so little ingredients is mostly judged on the use of its chocolate. In which case, it lacked resonance probably due to the use of poor quality chocolate. I'm a snob after all.

21 on Rajah in my opinion would be a bliss haven for executives looking for a vibrant yet professional space to dine. Service standards are tip top where wait staff anticipate your moves and do their best to meet your needs. Be sure to try out their well crafted tapas selections to share amongst friends and family.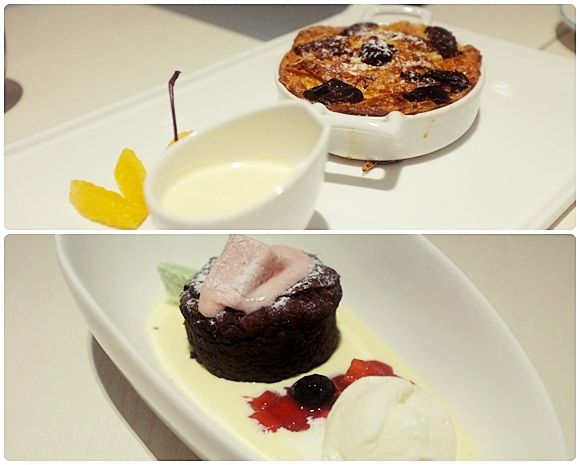 21 on Rajah
1 Jalan Rajah Road
Days Hotel
Tel: 68086838