Patisserie G: sweets for snobs
Labels: cafe, cakes, desserts, Milennia Walk, pastry, patisserie
·
Posted by

Sihan
at 2/21/2013 12:01:00 am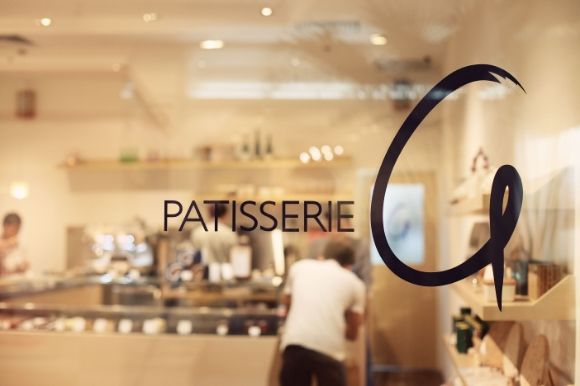 I admit that I may be a snob at times. Turning my nose at the lesser known chocolates brands and enjoying eye widening moments when the music as I hear it in the form of Valrhona, Amedei and Askinosie strums close to ear. Michel Cluziel is one example of this harmonic range of sweet sounds. Upon enquiring the service staff and hearing that the chef owner takes pride in using only this chocolate in her confectioneries; my interests were piqued.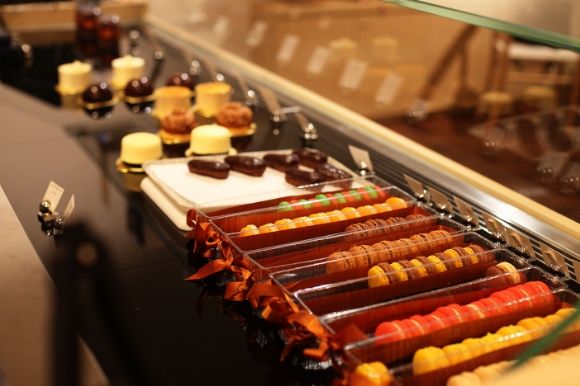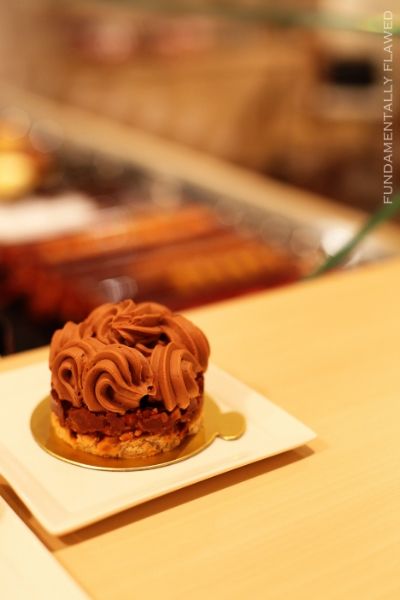 Patisserie G in Milennia Walk draws customers in with their simplistic Japanese decor and très chic spread of viennoiseries and petite gateaux on display. My favourite design detail would have to be the unique individual serving trays each carrying a different fabric or impressionistic pattern.

After much deliberation, the boyfriend and I settled down to a single petite gateaux and 2 macarons to share. The Douceur Chocolate ($8.50/slice) was a safe combination of milk chocolate mousse, milk chocolate hazelnut praline crunch on hazelnut dacquoise. Despite my familiarity and slight boredom instilled by this classic combination (we serve an identical version of this at my previous workplace in Sydney); I must say that this rendition was executed perfectly albeit for the lack of crunch in the lower depths of the dacquoise layer. Otherwise, the Michel Cluziel milk chocolate added a perfect touch of bittersweet in the cloudy wisps of mousse. The quality of the ingredients itself speaking volumes.

The two macarons ($3 a pop), the Salted Caramel and Pistachio were picture perfect with sexy feet and smooth unwrinkled shells. Taste wise, these were matured for the right amount of time, soft and chewy in the centres. The pistachio was my preferred choice out of the two given the salted caramel lacked depth and smokiness. Still, a very decent effort given the large masses of disappointment I've acquired over the past few months while hunting down macarons in Singapore.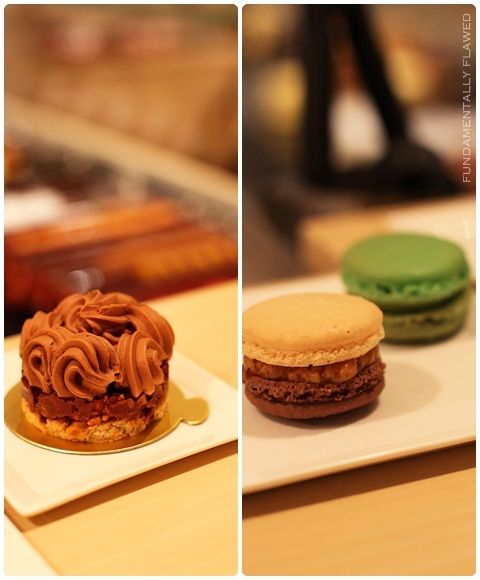 Pastry Chef Gwen Lim's desire to promote the artistry of fine ingredients in pastry is definitely inspiring, her passion transcending with immediate effect into her pastries. With such fine quality and clean execution, I'm sure (and hopeful!) that this young Patisserie will see much success in the near future.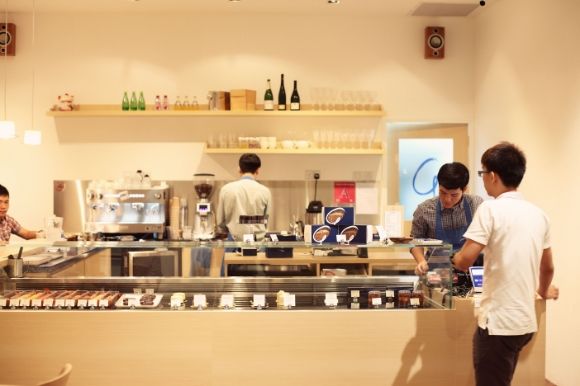 Patisserie G
9 Raffles Boulevard
#01-40 Millenia Walk Singapore 039596
Website: http://patisserieg.com/