Baker and Cook: Asian Persuasion
Labels: bakery, brunch, bukit timah, cafe, coffee, hidden finds, pastry
·
Posted by

Sihan
at 3/14/2013 11:04:00 am


When tucking into the mild discontent of what is my dry slice of toast in the morning, I wish I had Baker and Cook at my doorstep.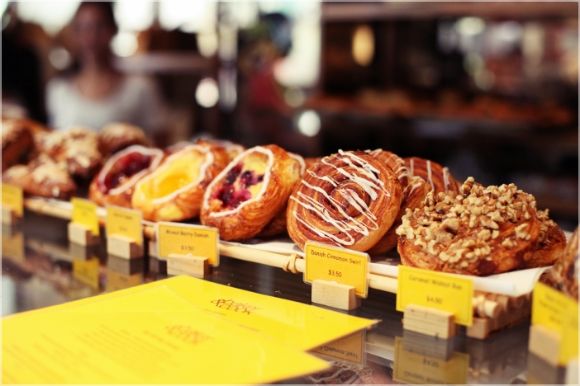 Here you are treated to a rainbow of baked goods. Pastries of all sizes, types and textures. Hot Cross buns, quiches, tangy lemon tarts, rustic pain au levain; you name it and they've got it.

What founder, Chef Dean Brettschneider does so beautifully in this scenario is his willingness to reconsider design and menu options in order to cater to different neighborhoods. Evidence clearly observed from his Shanghai outlets where his global baker approach has seen the sales of unique offerings such as Red Bean & Sesame Fougasse. Here in the quiet neighborhood of Hillcrest (took a walk down memory lane as we turned the corner past the back entrance of National Junior College, my alumni), Baker and Cook offers a peaceful respite for residents. Surveying the shop front whilst sipping on my coffee in the morning, the bakery, a beehive of activity, I realised how effectively it has stolen the hearts of many.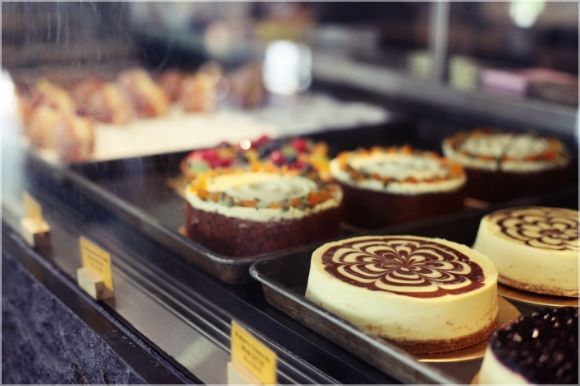 We started off the morning trying to fix our sweet urges with a Custard Bombolini ($3.30) and the Chocolate Almond Croissant ($3.50). My mother polished off the former, stopping halfway thru to comment that the bread like texture was a refreshing change to the pillowy soft versions stowed away from neighbourhood bakeries. The chocolate almond croissant was disappointing, a stodgy affair breaking into the center, the measly coating of almond creme on top, baked to a hard and chewy texture; my jaws working extra hard on the waning corners of the pastry. I turned my focus elsewhere.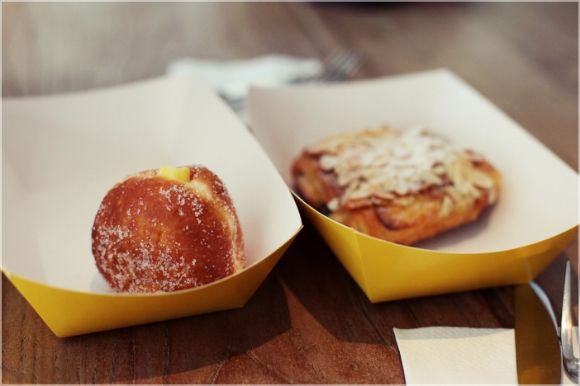 The Spanish Omelette ($16.00) filled with peppers, cheese and chorizo was mediocre, if not forgettable. It's texture, not fluffy enough, lacked seasoning and more importantly, lacklustre in comparison to the delicious spread of pastries we were immersed in. We rescued the accompanying bread slices with some divine homemade raspberry jam found on the communal tables for sharing. My other choice of Moroccan Lamb Roll ($9.00 with side salad) proved a huger success, well executed with delicious puff pastry and savoury minced lamb thick with the aroma of the exotic middle east, it's appearance at the table managing to calm my irritation derived from the slow crawl of my cappuccino ($4.50) to the table.

Coffee from New Zealand's Allpress Expresso was disappointing by the way. Bring your coffee cravings over to somewhere else should you be a puritan.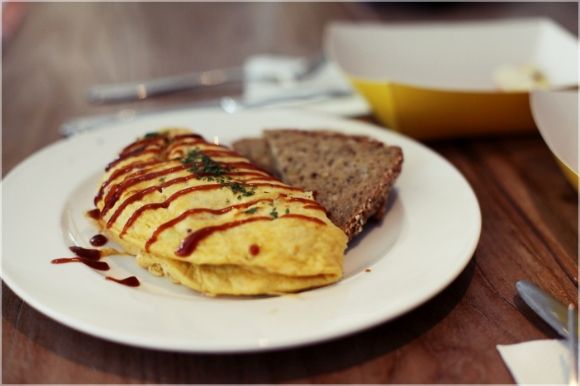 That being said and done, Baker and Cook is definitely a gem of a bakery, a position further highlighted by it's quaint location. Service standards at the counters was exemplary, however, table service leave much to be desired. No smiles, I wish I could give the poor lads a tickle or two. And please... I suppose bending down to pick up the loaf of bread that had taken a plunge from the counter top is much better an act then just stopping in your tracks to comment to the next service staff that "I think the bread drop on the floor."

"Yup, I think the bread dropped on the floor.", replied his young colleague.

Doh.


Baker & Cook
77 Hillcrest Road
Singapore 288951
T: 6469 8834

Sun-Th: 7am-8pm
F-Sat: 7am-10pm