La Pizzaiola: Diversion Wonders
Labels: italian, jalan riang, pasta, pizza, restaurants, serangoon
·
Posted by

Sihan
at 3/09/2013 01:01:00 am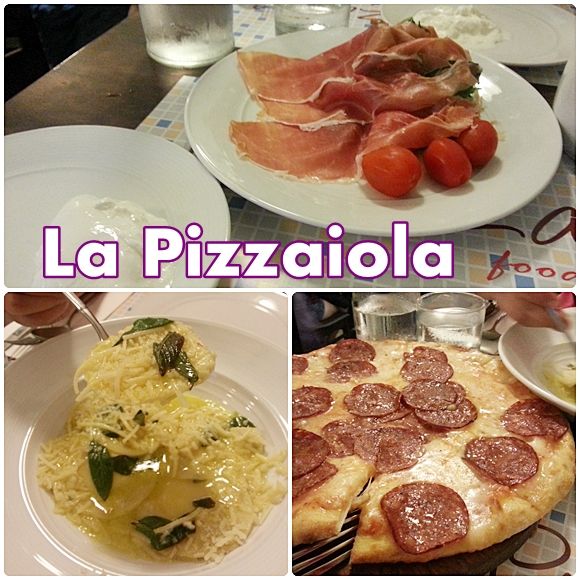 It was pouring buckets.

Our plans to head to town took a backseat once the boyfriend and I stepped out of the bakery; a cascade of side sweeping rain and ominous dark skies greeting us sinisterly.

I can't help but wonder whether its a miracle as our random second dining choice turned out to be quite a blessed discovery.

La Pizzaiola set in the sleepy linear settlement of Jalan Riang has quite a good following, as observed by yours truly, from the full-housed dining area almost every lunch and dinner service. Stepping into the comparatively warm settings of the restaurant, we knew we were in good hands.

For starters, we picked the Burratina Con Prosciutto Crudo($16.90) to share. It arrived at our table in elaborate fashion, the imported fresh cheese scooped onto two individual plates served separately from a platter of mixed leaves with gorgeously sweet tomatoes and a good portion of parma ham. Highlight of the night by all means.

Our mains of Diavola Pizza $14.90 and hand-made pumpkin ravioli Tortelli Di Zucca ($13.90) arrived swiftly at our cramped table. The former was pretty good given its reasonable price tag, well balanced tomato sauce on a crispy based pizza, generous amounts of cheese and spicy salami. Simplicity at its best. The latter however was a greasy affair. The little parcels of pumpkin and cheese mixture bathing in a pool of butter in the bowl. Despite its inclusion in the menu description, the fattiness of the sauce took away from the natural creaminess of the pumpkin filling. Disappointment sets in as I recall my last legendary ravioli experience. I need a revival of sorts...

Will be back for more pizza someday.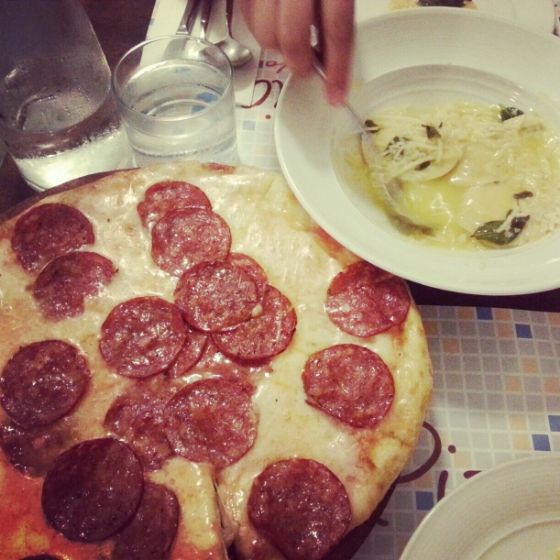 La Pizzaiola
15/3 Jalan Riang
Tel: 62825031
pictures taken using my samsung galaxy S3