Pass me the Bacon( Ice Cream)!
Labels: desserts, ice-cream, recipes
·
Posted by

Sihan
at 12/22/2009 07:27:00 am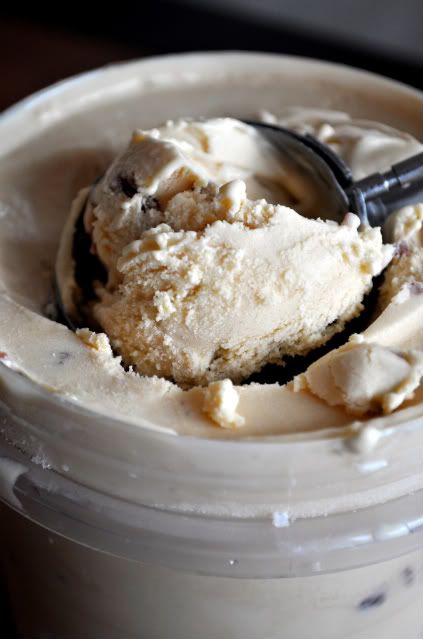 Who am I kidding. You guys probably won't be reading the nonsense I've written after looking at the first shot. Let me add to the awesomeness of the photo...



Candied Bacon Whisky Ice Cream (*contains alcohol and pork)



and if in a restaurant here in Dubai, that's the dish you would go for most indefinitely just because of the sacred words stowed behind the dubious sounding dish. I kid you not, this ice cream is everything in your wildest dreams and abstract fantasies. Let me walk you thru...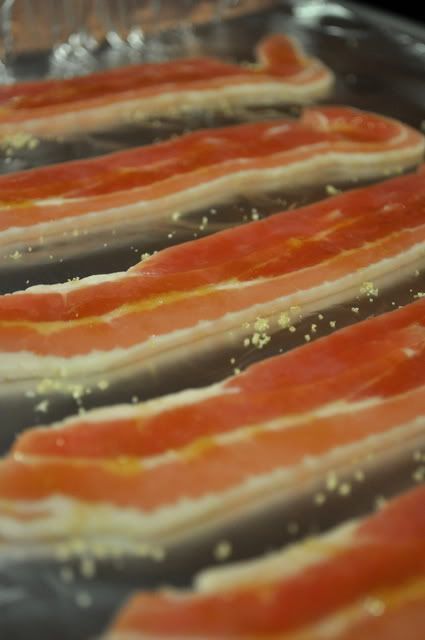 First, you take the bacon. Not beef bacon... BACON bacon. I shun the very existance of the former, tossing the option aside in favor of chicken. So back to the dream confection, yes, you take the bacon strips and lay them flat on baking sheet lined with foil. Sprinkle a generous dose of brown sugar over the top and watch it sizzle its way to crispness in the oven.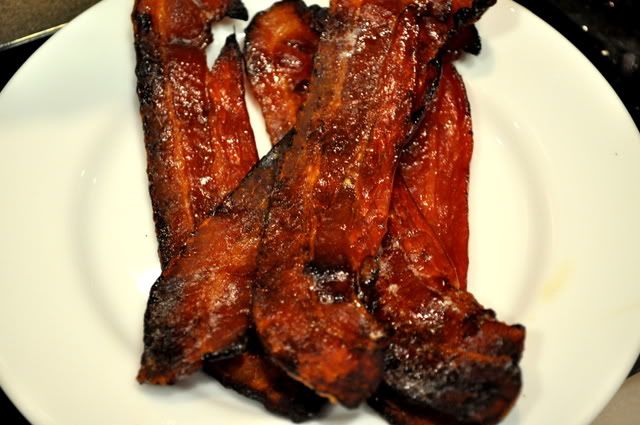 Lovely...ain't it.

Cook up a magical custard with the richness of brown sugar once again and doused in a magical waterfall of aged whiskey (oh yes, nothing but the best). Wait for it to chill off a little in the fridge before transferring it into an auto-cooling ice cream machine. After the first 10mins of churning, pour in the chopped pieces of bacon crisps and continue churning.

What's left to do? Easy..

watch, lick the spoon (just cause no one is watching) as you are transferring the soft serve into a container for further chilling, wait a little longer for the mixture to stiffen, be impatient, abandon all resolutions and start digging your spoon into the ice cream. Simple!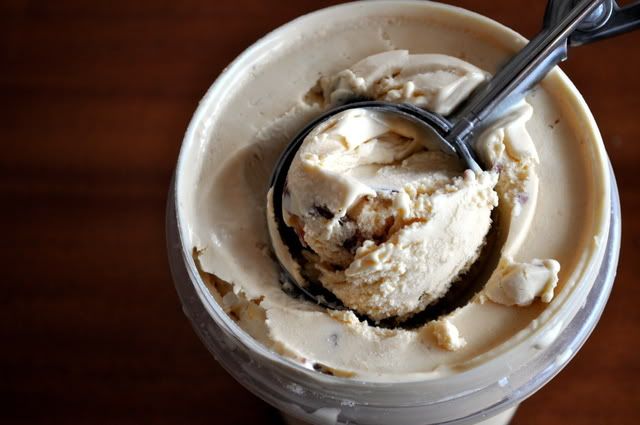 and just to prove how lovely dynamite the ice cream was, here's another shot! Sweet, with bits of salty crisps scattered throughout, the whiskey providing perfect balance to the smokiness of the bacon. fantastic!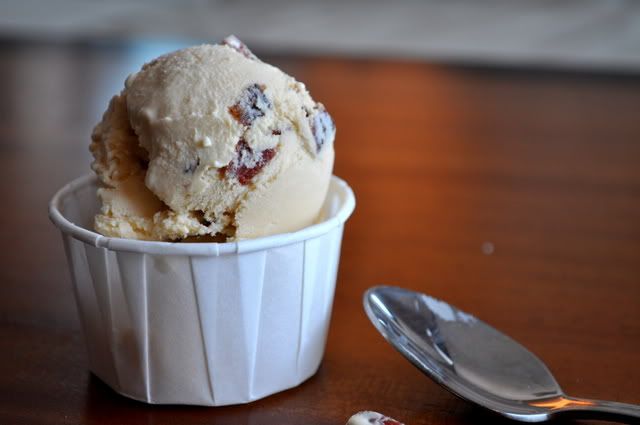 Bacon Ice Cream


adapted from David Lebovitz


About ¾ qt (¾l)



For the candied bacon;
5 strips bacon
about 2 tablespoons light brown sugar
For the ice cream custard:
3 tablespoons (45g) salted butter
¾ cup (packed) brown sugar (170g), light or dark (you can use either)
2¾ (675ml) cup half-and-half
5 large egg yolks
2 teaspoons dark rum or whiskey
¼ teaspoon vanilla extract
optional: ¼ teaspoon ground cinnamon

1. To candy the bacon, preheat the oven to 400F (200C).

2. Lay the strips of bacon on a baking sheet lined with a silicone mat or aluminum foil, shiny side down.

3. Sprinkle 1½-2 teaspoons of brown sugar evenly over each strip of bacon, depending on length.

4. Bake for 12-16 minutes. Midway during baking, flip the bacon strips over and drag them through the dark, syrupy liquid that's collected on the baking sheet. Continue to bake until as dark as mahogany. Remove from oven and cool the strips on a wire rack.

5. Once crisp and cool, chop into little pieces, about the size of grains of rice.
(Bacon bits can be stored in an airtight container and chilled for a day or so, or stored in the freezer a few weeks ahead.)

6. To make the ice cream custard, melt the butter in a heavy, medium-size saucepan. Stir in the brown sugar and half of the half-and-half. Pour the remaining half-and-half into a bowl set in an ice bath and set a mesh strainer over the top.

7. In a separate bowl, stir together the egg yolks, then gradually add some of the warm brown sugar mixture to them, whisking the yolks constantly as you pour. Pour the mixture back into the saucepan.

8. Cook over low to moderate heat, constantly stirring and scraping the bottom with a heatproof spatula, until the custard thickens enough to coat the spatula.

9. Strain the custard into the half-and-half, stirring over the ice bath, until cool. Add liquor, vanilla and cinnamon, if using.

10. Refrigerate the mixture. Once thoroughly chilled, freeze in your ice cream maker according to the manufacturer's instructions. Add the bacon bits during the last moment of churning, or stir them in when you remove the ice cream from the machine