Eating out: Aappa Kadai
Labels: dubai, restaurants
·
Posted by

Sihan
at 9/05/2010 01:15:00 pm


Hey guys.. i'm back after my long long hiatus from the net. For those who haven't got the story. Basically, I've came down with viral meningitis, which is a brain infection that results in the inflammation of the meninges (protective membranes of the brain and spinal cord). As a result, have been suffering from tormentous bursts of migraines, bouts of fevers and vomiting fits. Sounds bad.. FEELS ten thousand times worse. Even the presence of a blinking blue light amidst a dark room can trigger painful effects through the head. Well, good news though, I'm on the road to recovery now in the comforts of home after my short admission into National University Hospital and sooo grateful for it as well. A major thanks going out to be loving family who have been so tolerant regarding my condition and my incessant whining whenever one thing is out of my reach or causing me the slightest discomfort. *hugz*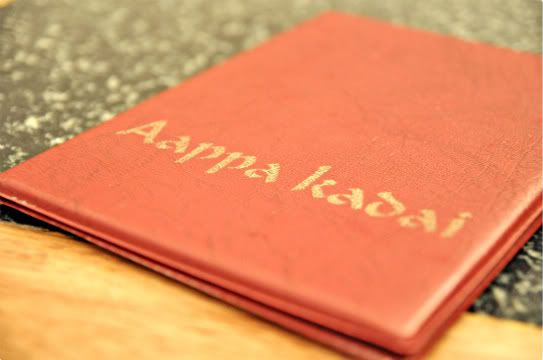 and for my come-back post or rather.. very late to update post; I'm featuring Aappa Kadai, a lovely restaurant joint in Karama that I've come to know and love. Thanks to my friend Amir who happily showed me the roads, with an added flair of v-i-p treatment thrown in...*sniggers*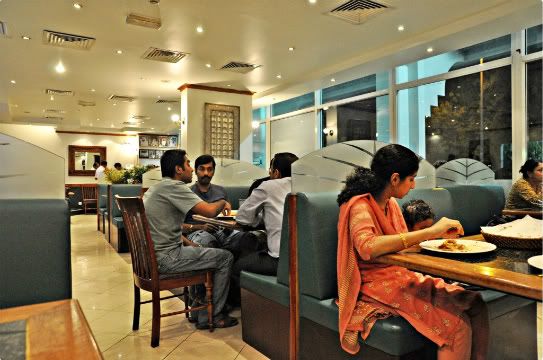 So what shall start the meal off with? Why.. without a doubt, give their appams a shot. With the commis chef at his make-shift cooking counter, five pans in line, you're guaranteed a entertaining evening, even if you've got the most boring date seated opposite you (no, that wasn't a hint). Watching him in action, in a sequential fluid movement, pouring the batter, circling the mini wok like pans, then popping the lids on, moving on to the next one and finally returning to the first one with no time to spare and releasing it from it's steaming mould, certainly leaves one wondering how long it takes to master this art.
The Egg Appam (3 DHS each) was amazing. Crisp round the edges and holding a slightly runny egg in the center was an excellent base for dipping into the varied dips and curries offered by at the kitchen.
We also had the Mango Fish Curry, Butter vegetables and Vegetables Khorma.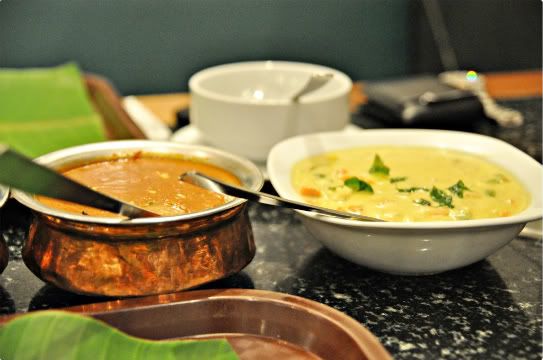 The star that stole was definitely the Mango Fish Curry. Tangy, Spicy with that little ounce of heat to it, I was hooked on this dish and enjoyed both dipping the softer side of the appam into the luscious full-bodied curry, and chomping down a spoonful of rice drizzled in it's melodic sauce. Fruit curries.. ingenious I must say.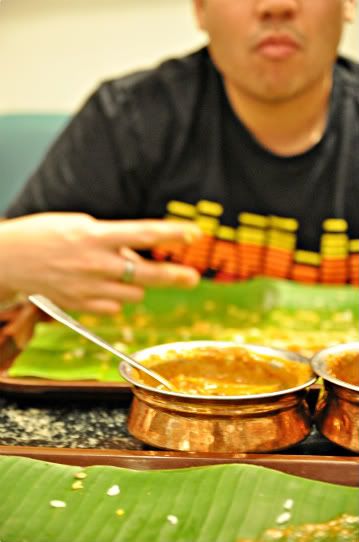 We rounded off the meal with a warm blast of freshly brewed masala tea (3 DHS each), seemingly more traditional than the usual cups of chai tea that one would indulge in at a Indian laborer's cafe here in Dubai. The Masala Tea's unique charm rested in it's strong blend of.. what else but Masala spice alone. Like bidding a warm goodbye, the tea sets off signals of delicious memories, good company and an urge for many more visits to come.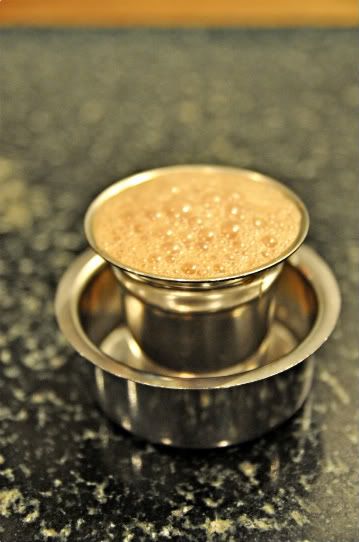 Aappa Kadai Restaurant
- Karama
Delivery orders: 04-3848030
Opp. Lulu Centre; Other side of the park