Open Sesame!
Labels: cakes, recipes
·
Posted by

Sihan
at 9/17/2010 10:06:00 pm


At the mention of sesame seeds, my brain

(which has fully recovered from my recent unfortunate spate of events with an infection)

launches into a tussle between it's Chinese and Arabic relations. Not that I'm shunning the American version with sprinkled toasted sesame seeds on bagels and freshly grilled burger buns leaking the lovely aroma of butter. Yes.. everything is better with a stick of butter; a mantra of Southern cooking kitchen goddess, Paula. Wait... let's focus on the sesame seeds. So, when I think sesame seeds, Chinese stylised, I envision a king's worth spread of assorted dim sum; imagine a platter of crispy sesame balls, a mould of sweet green bean filling underneath it's shattery sesame coated exterior shielding a spongy inner layer. Bliss in every bite. Then, my mind jumps the fence to the Arabic usage of sesame seeds in their cuisine; a thick, luscious curd like tahini; a ground sesame seed paste used in main middle eastern dishes such as my favourite hommus.

In all aspects, the sesame seed played a pivotal part in many of my favourite foods and I lusted after the chance to use it in a western baked item. So without further ado, here's presenting to you the sesame seed pound cake in adoration of the unassuming flowering plant! A moist and slightly under baked version; the cake carried the dominant kick of sesame supplemented by the addition of not only tahini paste but sesame oil and pan-roasted sesame seeds as well! A fusion of chinese and western cooking ingredients, this recipe called for intriguing results with an even bolder dash of flavor.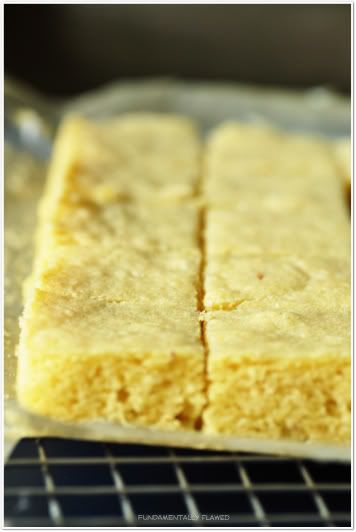 Sesame Seed Pound Cake
recipe adapted from Cake Keeper Cakes

4 large eggs
1 tsp pure vanilla extract
1 tsp oriental sesame oil
1 1/2 cups all purpose flour
1 tsp baking powder
1/4 tsp salt
1 1/2 sticks unsalted butter, softened
1/2 cup well stirred tahini
1 cup sugar
6 tblspoon sesame seeds, pan roasted


Preheat the oven to 170 degree celsius. Butter the inside of a 9 by 5 inch loaf pan and dust with flour.
Combine the eggs, vanilla, and sesame oil in a glass measuring cup and lightly beat. Combine the flour, baking powder, and salt in a medium bowl.
Combine the butter, tahini, and sugar in a large mixing bowl and cream with an electric mixer on medium high speed until fluffy, about 3 mins, scraping down the sides of the bowl as you go. With the mixer on medium low, pour the egg mixture into the bowl in a slow stream, scrapping down the bowl once or twice. Turn the mixer to low and add the flour mixture, 1/2 cup at a time. After the last addition, mix on medium speed for 1 min. Stir in sesame seeds.
Scrape batter into prepared pan and smooth the top. Sprinkle the remaining 2 tblspoon sesame seeds on top. Bake until cake is golden brown and skewer comes out clean, about 1 hr and 20min. tenting the cake with foil after about 1 hr to prevent it from overbrowning. Let the cake cool in pan for about 10mins, invert it onto a wire rack and then turn in right side up to cool completely.
Store for up to 3 days or wrap in plastic and refrigerate for up to 1 week.