TWD: Coffee-Break Muffins
Labels: muffins, recipes, TWD
·
Posted by

Sihan
at 9/21/2010 11:05:00 pm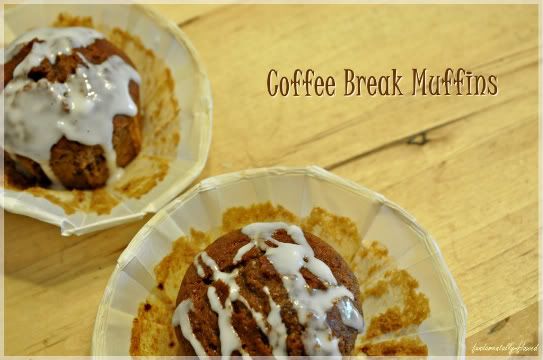 Coffee, an indispensable drink in my endless list of consumables. Provocative yet affable at the same time, this darling keeps me on a tight leash. Recently, I have heard that if a coffee addict were to abstain from coffee for 6 days at least before having his first cup; the effects - pleasure derived would come ten fold! As much as I would like to execute this plan, resistance has been futile and the lure of coffee remains my greatest enemy.

For this week's edition of Tuesday's with Dorie, the tribe has spoken and the torch for Coffee-Break Muffins has been lit. An ode to coffee, these muffins are moistened by the addition of black coffee instead of the usual milk. With the addition of espresso powder to the batter as well, these tiny babies pack quite a punch; much to my delight of course.



Coffee-Break Muffins

1 cup all purpose flour

3 tblspoon sugar

1/2 tblspoon instant espresso powder

1/2 tblspoon baking powder

1/4 tsp ground cinnamon

pinch of salt

3 tblspoon light brown sugar

1/2 cup strong coffee, cooled

1/2 stick unsalted butter, melted and cooled

1/2 large egg

1/4 tsp pure vanilla extract


Preheat the oven to 200 degrees celsius. Butter/spray the 6 moulds in a regular size muffin pan. In a large bowl, whisk the flour, sugars, espresso powder, baking powder, cinnamon and salt together. In a large measuring glass, whisk the coffee, melted butter,egg and vanilla together until combined. Pour the liquid ingredients over the dry ingredients and with a whisk, stir to blend quickly. Divide the batter evenly among the muffin cups. Bake for 20mins, or until knife inserted in the center comes out clean. Transfer to a pan to rack and cool for 5 minutes before carefully removing from its mould.