pucker your lips for me
Labels: cakes, lemon, recipes
·
Posted by

Sihan
at 11/25/2010 02:14:00 am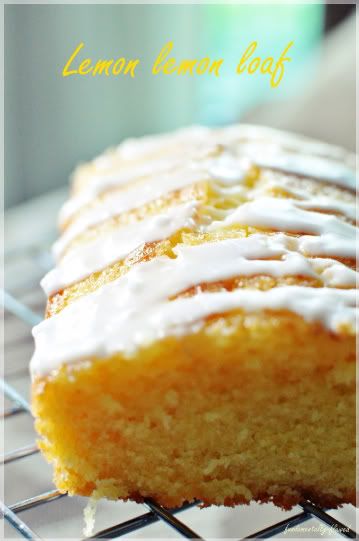 Dear family and friends,

I'll be headed to Melbourne for the next 10 days for my dearest older brother's graduation. Needless to say, I'm ultra proud of his accomplishments as we all know of it's level of difficulty and amount of commitment required. That being said... I'm so looking forward to the 10 days of fun filled activities, trekking, visits to the hot springs and so on and so forth, not to mention the feasting and the wonderful coffee there! *shudders in excitement*.

Before I depart, I shall leave you all with a sunshine recipe for a Lemon lemon loaf, recipe adapted from BAKED new frontiers in baking which produces a moist and slightly dense lemon cake filled with puckery goodness in the form of lemon juice, zest and sipped in lemon syrup. A sure keeper if you're a big chaser of the lemon.




Lemon lemon loaf
recipe adapted from baked


makes one 9x5x3inch loaf



lemon cake3/4 cups cake flour
3/4 cups all purpose flour
1 tsp baking powder
1/8 tsp baking soda
1/2 tsp salt
1 1/8 cups sugar
4 large eggs, room temperature
1/8 cup grated lemon zest (2 lemons)
1/8 cup fresh lemon juice
220 g unsalted butter, melted and cooled
1/4 cup sour cream, at room temperature
1 tsp pure vanilla extract

lemon syrup1/6 cup fresh lemon juice
1/6 cup sugar

lemon glaze1 cup confectioners sugar, sifted
2-3 tblspoon fresh lemon juice

1) Preheat the oven to 180 degrees celcius. Oil and line the loaf pan with parchment.
2) Sift both flours, baking powder, baking soda and salt together in a medium bowl.
3) Puse sugar, eggs, lemon zest and lemon juice in a food processor and pulse until combined. With motor running, drizzle the butter in through the feed tube.
4) add sour cream and vanilla and pulse until combined. Transfer mixture to a large bowl.
5) Sprinkle in flour mixture, a third at a time, fold in gently. Do not overmix.
6) Bake for 20mins. Reduce temperature to 170 degree celsius and bake for another 30-35 mins until toothpick comes out clean.
7) Let cool for 15mins. Meanwhile, prepare the lemon syrup by cooking the sugar and fresh lemon juice till dissolved then cook for another 3 mins more. Poke holes on top and sides of the cake and brush lemon syrup over the cake. Wait for 5 mins then brush again and let cakes cool completely.