This is how i roll
Labels: cakes, recipes
·
Posted by

Sihan
at 11/11/2010 08:25:00 pm


A chocolate mousse cake that eventually evolved into Swiss roll. What are the odds?

Yes, it was a swift change of direction once a perfect sponge cake emerged from the oven. Given the temperaments of my rusty old machine, I was elated to see the emergence of an evenly browned surface from its realms. What better way to showcase this than in a Swiss roll?

Okay, so I admit I got lazy in the midst respite blooming ideas of mocha buttercream and toasted walnuts mingling in between. Instead I settled for a quick vanilla whipped cream filling with a generous drizzle of sweet sweet caramel sauce all over. A quick trip to the fridge before slicing a piece for a bit of saccharine satisfaction; thus the rough edges... This is how I roll.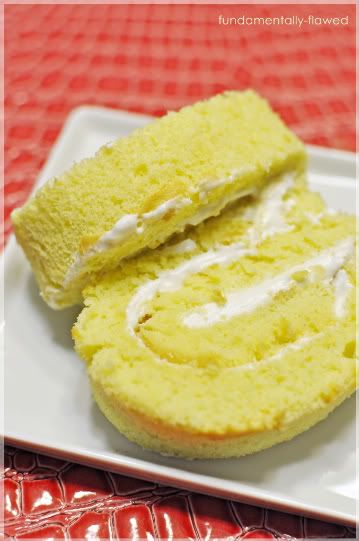 see the bits of brown caramel sticking out. those are the best parts!!!
Caramel Swiss Roll
Swiss Roll Sponge Cake
adapted from Everyday Treats by Anita & Sanny @ Jam Bakery
Meringue | egg white -- 120g
| Granulated sugar -- 60g
Egg yolk -- 80g
Granulated sugar -- 20g
Vegetable oil -- 60g
Milk -- 60g
Plain flour -- 80g
Baking powder -- 1/2tsp
Baking soda -- 1/4tsp
1) Whisk egg whites with electric mixer till foamy. Add in the granulated sugar gradually and whisk until soft peaks are formed.
2)Whisk egg yolks with electric mixer at medium speed till foamy. Add granulated sugar gradually and whisk until pale yellow and stiff.
3)Pour in milk and vegetable oil and whisk well.
4)Sift in plain flour, baking powder and baking soda and mix well with mixer.
5)Add in 1/3 meringue mixture and fold well with a spatula.
6)Add in the remaining meringue mixture and fold in gently to incorporate.
7)Pour the mixture into a baking mould (13x8 inch tray lined with parchment) and smooth the surface with a scraper. Bake for 12-15 mins at 180°C.
8)When its baked and cooled, lift the cake up and peel off the baking mat.
9)Fill the roll with any flavored cream you want!
Caramel CreamBrown Sugar 50g
Whipping Cream 50g
1) Make Caramel Cream. Place sugar and cream in saucepan and bring to a boil at high heat for 3mins, constantly stirring. Lower the heat and simmer for another 2mins. Take off the heat and allow to cool.
Whipped CreamWhipping cream 120g
castor sugar 1tbsp
1) Whip cream and sugar in a chilled mixing bowl until stiff peaks form
Assembly
To assemble Swiss Roll, turn cooled sponge onto a clean work surface. Peel off parchment paper from bottom of sponge. Spread an even layer of whipped cream over one side of the sponge.
Drizzle the caramel sauce over the whipped cream layer. Making sure to reach every edge of the cake. Gently roll up the sponge to make a Swiss roll. Chill in the freezer to set. Slice into even pieces before serving.