Melbourne Feasts III: Timboon Railway Shed Distillery
Labels: australia, travelling
·
Posted by

Sihan
at 1/10/2011 02:41:00 pm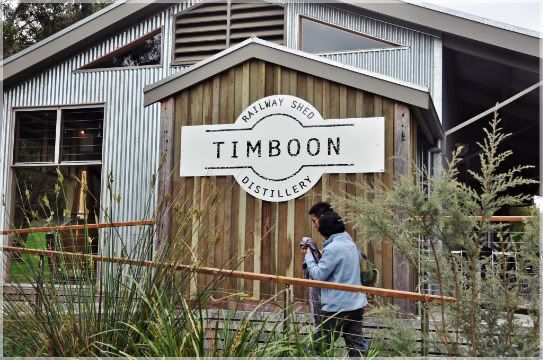 Despite the peckish antics that we had adopted during the strawberry picking session, there was still room for more! I reckon it must have been the chilly temperatures that punctured a bottomless pit in our tummies. So off to Timboon Railway Shed Distillery we went in search for some lunch.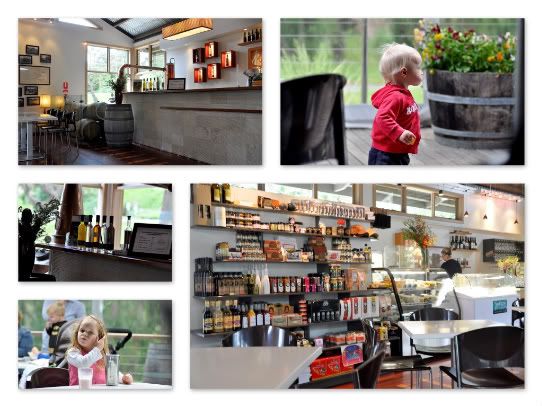 Situated right smack in the center of the tiny town of Timboon is a beautifully modern shack, home to a distillery and restaurant offering modern gourmet fare. With shelves stocked full of local produce, the Timboon Railway Shed Distillery prides itself in promoting smaller businesses around the region and this helps immensely in raising the status of the restaurant as a stopover for my many tourists passing through the area in search of a gourmet escapade.

Looking at the solo female chef act through the glass windows on the way to the loo; I was comforted by their strict stance on slow food, preserving traditional and regional cuisine. Alas, the food did take a long time to reach our tables and starving lips, but in the end, we concluded the wait worth it.

The fish and chips (flat head)served with garlic aioli on the side had a crisp light batter, scattered with herbs for that additional oomph. The steak-cut fries were gorgeous, juicy chunks of potato fried to crisp on the outside with soft innards for contrast.




The red duck beef and porter pie served with spanish onions and greens was an excellent choice too, albeit a bit heavier in flavor which may not be such a bright idea for a diner in the genre of nibbler.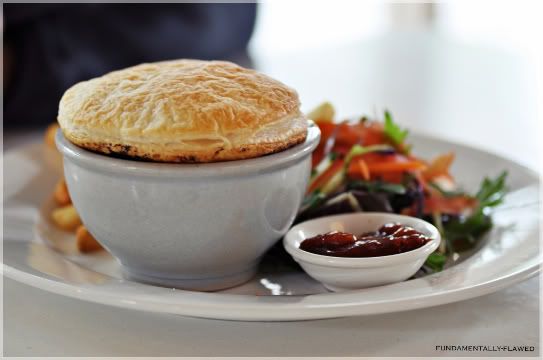 Next up, the Mediterranean vegetable lasagna with chilli Napoli and apostle whey blue cheese sauce was in my opinion, the best dish of the lot, with the word I used to shun 'vegetarian' being highlighted and elevated to new heights. This was gorgeous, with a mixture of vegetables scattered through the al dente layers of pasta, courgettes, carrots and what nots. Then layered with a blue cheese sauce instead of the usual bechamel sauce, that provided a more provocative edge to the dish. As intriging in flavor as it was pretty to look at.




my own dish which so happened to be the special of the day was the crispy pork belly with red cabbage slaw and red wine jus. LOoking more like a heap of vegetables then a meaty dish, I was delighted at the right proportion of fatty goodness to the lovely crunch of veges on the plate. Still, the five spice proved quite an annyoing addition with a hard crunch every now and then whilst working the plate. *ouch*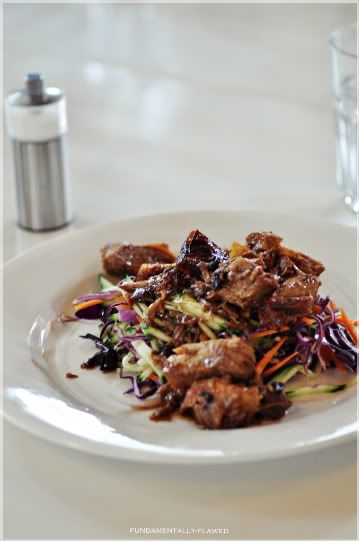 All in all, Timboon Railway Shed Distillery with it's fantastic location right smack in the center of the cross junction will surely draw the driving crowd heading inland from the great ocean road; it's delicious food and friendly service will prove to be the major draw factors for diners to this beautiful restaurant. Coupled with self distilled alcohols such as the limoncello and coffee liquer (*thumbs up*), it is a sure fire hit with locals and travellers alike. Do try and make a booking during the weekends and holiday seasons to avoid disappointments.



Timboon Railway Shed Distillery
The Railway Yard, Bailey St. Timboon. Victoria
Phone 03 55983555