Melbourne Feasts IV: 3 bags full
Labels: australia, food, restaurants, travelling
·
Posted by

Sihan
at 1/18/2011 08:55:00 am


Just in the nick of time for breakfast. Hope you guys aren't sick of my frequent brunch posts already. Besides, one can't get enough can they - words from a close egg-fanatic friend.

This time around, we venture to the industrious surroundings of the Richmond settings in Melbourne city. Clustered with grey concrete wall buildings and an even more grim parking situation, who would expect to find a hole in the wall cafe in it's midst?




As do most famous cafes in Melbourne are, Three Bags Full (armed with a cute name) had the most amazing interiors, bare striped down walls in an effort to integrate into it's laborious surroundings, harsh large light bulb fixtures dangling off the ceilings. Only the use of designer Eero Aarnio adding a bit of artistic touch to the otherwise muted design theme. Not to mention, the lingering flavors of freshly brewed coffee tinting the cold air... warms the lungs immediately upon inhalation.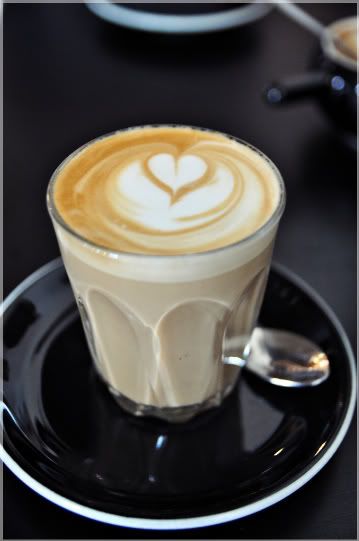 Drinks we had ordered arrived swiftly at the table in a myriad of colors and patterns, the mocha - thick and luscious; the flat white - brewed to perfection with a hint of caffeine; the cappuccino - titillating the tired senses.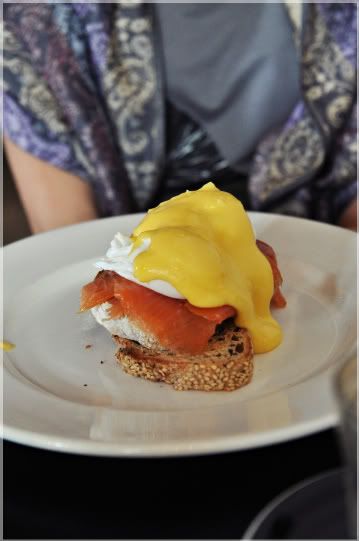 poached eggs, smoked salmon, hollandaise sauce on sourdough toast

We ordered a trio of different dishes off the breakfast menu, the most epic of the lot being the scrambled eggs on organic toast given the fact that I hated scrambled eggs, probably linked to some past experiences of being force fed eggs at Ronald Mcdonald's breakfast table it was impressive that I could come to terms with this dish. Who could deny it anyway, luscious curdled mountains of fluffy egg perfumed with the bits of feta cheese and herbs generously mixed thru. I yielded to it's alluring form and took a bite, washed away in a riot of emotions. lovely. period.



scrambled eggs with herbs and feta on toasted organic sourdough bread

The ricotta hotcakes were somewhat of a disappointment. Mostly because I hate oranges, it's powerful tastes makes it finicky in the flavoring of food, and I must prefer mine on its own, not having bits and pieces strewed through the ricotta on the side. The pancakes, possibly spongier and lighter from usual from the use of ricotta in the batter, soaked in the berry juices gregariously; making a wet mess of face cringing sour mouthfuls.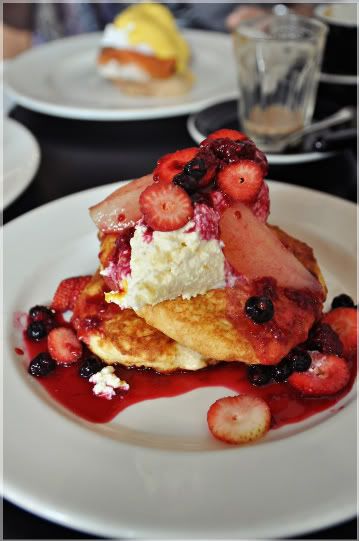 ricotta hotcakes served with poached seasonal fruit, honey and orange infused ricotta.

A great breakfast among the almost all to standard eggy fare, three bags full proves itself to deliver with good quality coffee, excellent eggs on toast and a eclectic deco to match. It's no wonder the younger crowds flock to this place even in the dead of winter.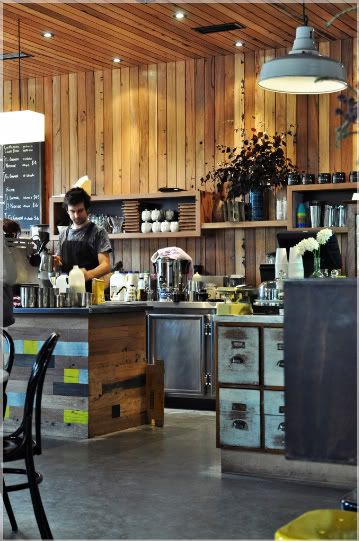 Three Bags Full
Richmond
56 Nicholson St
Abbotsford, 3067