Bishamon Sapporo Ramen: looks are decieving
Labels: great world city, japanese, ramen, restaurants
·
Posted by

Sihan
at 1/12/2013 03:30:00 pm


Weekends are for...

looking through your never-ending archive of backlogged photos and trying your best to set some sort of regiment to getting these fresh off the press. It's a hopeless case. Many times, this results in an unproductive mixture of self destructive things, hanging out hopelessly on facebook/instagram whilst eating my weight in kok zai (watch this to get in the action). I hang my head in shame.

This weekend.. I made a difference. Mainly because tomorrow I'll be sweating it out in the Safra Avventura hence I need to indulge in a little stress relief on paper keypad before hand. Do drop me a note tmr to find out if I've survived the experience.

Bishamon Sapporo Ramen located at Great World City being my subject of scrutiny.



The Sashimi salad was our first dish that set my experience on a downward spiral. Sad slices of coarsely sliced discolored fish on a salad that was limp on every level.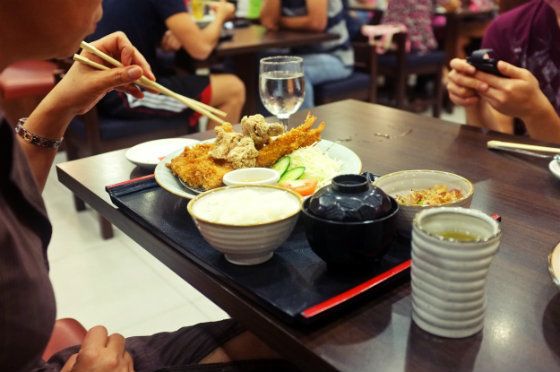 My auntie's Bishamon Combo set came with a flurry of Chicken, Fried Prawn and Rosu Katsu. Not too bad... but I would definitely pick the superior Tonkichi's Version over this anytime.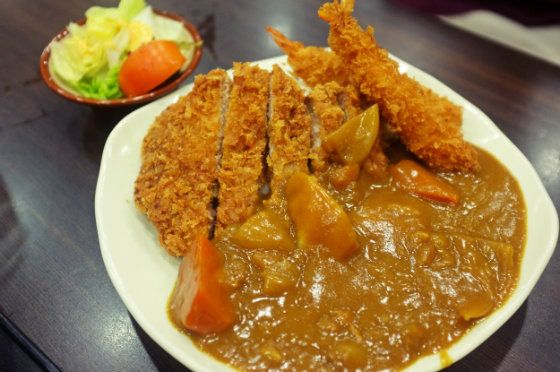 Apparently, the curry rice fared the best out of the lot. Shift your attention to this low-key player should you be dining here. The pork katsu curry rice had a substantial portion of breaded and fried katsu that was surprisingly tender; the curry, sweet (as it should be) had a robust flavored unlike some of the water-ed down versions spamming the island.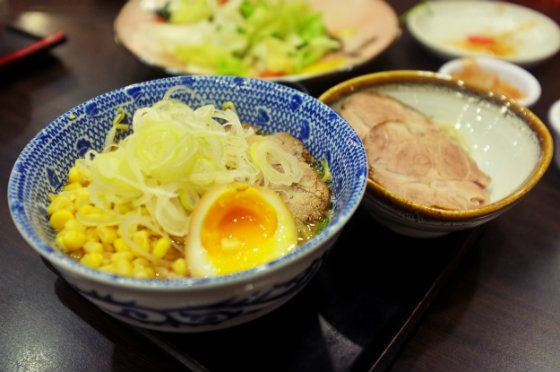 let's talk about Sapporo Ramen, I left feeling like a miserable rat. You would expect a top notch rendition giving the establishment's name and it being the signature dish. However, my mini miso sapporo ramen was a sad picture. I didn't complain about the lack of puddling soup only because it tasted so diluted and lacked the slightest hint of Miso even. Portion sizes were miserable, for $3 I got an extra single piece of cha shu that was dry and marginally tasteless. Heed my advice and avoid the ramen at all cause.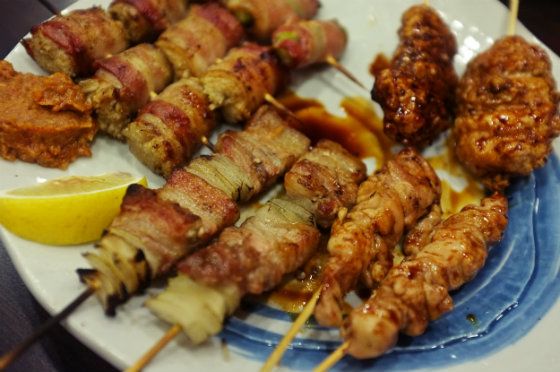 The saving grace of the day came in the form of a mixed plate of Kushiyaki. I was struck by a bout of food allergies closely after. I suspect the oh-so-good peanut sauce on the side to be the culprit. That aside, the bacon wrapped enoki mushrooms and grilled pork belly with leek shone as real stars in an otherwise depressing dinner. I left the place miserable still... I hold grudges, what you going to do about it?



Bishamon Sapporo Ramen
1 Kim Seng Promenade
01-21B Great World City
Tel: 62352890