Pile it up high: Fruit Paradise
Labels: desserts, restaurants, tart, vivocity
·
Posted by

Sihan
at 1/31/2013 09:23:00 am


And a month has slipped by, the Chinese New Year Season wearing me thin. I spend my nights dreaming smells of toasted chinese almonds, my hands twitching from the instinctive dough-pinching techniques employed at work. Somewhere I see a glimpse, a tiny twinge of hope in the hippo campus of something greater. I'll soon be moving off.

The last day of the month warrants a sweet ending. Hence, my write-up on Fruit Paradise.

Fruit Paradise first stimulates its customers with a blinding spread, a melange of immaculate looking tarts, little snow mountains of fresh cream and topped off with beautifully arranged fruits. For me, this evokes a thought of unnatural sweetness and a grotesque experience of having a mouthful of cream. However, the in-house Japanese Patissiers beg to differ on their slogan that their fruit tarts are made with lightly sweetened cream meant to be highlight the natural goodness of the fruits.Enough said, my interest was piqued.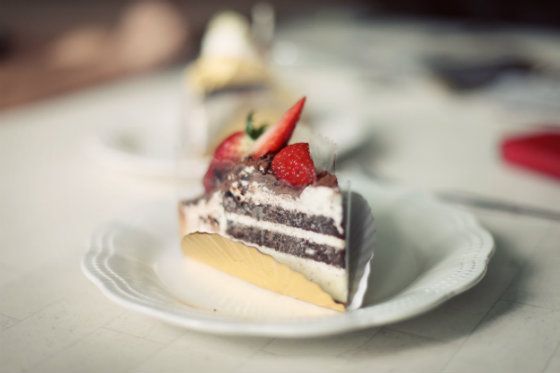 Away from the hustle and bustle of the shopping crowds, the mother and I managed to steal away two slices of tarts for a more comfortable home-bound session. Upon whipping out my camera, flashbacks of the movie "Crazy Stupid Love' came to mind. "Seriously!? It's like you're photoshopped." Yeah, the slices were perfect. The first, a strawberry tiramisu with custard base ($6.80/slice or $43/8-inch cake) tasted barely of cheese, in my opinion, the bestowed title of Tiramisu was seriously pushing it. What I adored the most was the shortness of the tart base, a mean feat achieved given the fresh custard filling just above.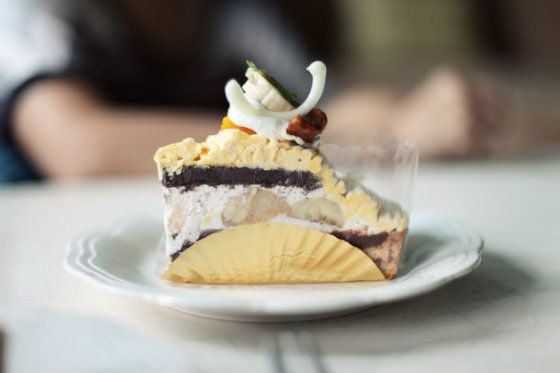 Our second choice was more adventurous, on promotion was the Pumpkin Custard featuring sweet japanese pumpkin discs, bananas and crunchy caramelized nuts nestled on a carefully laced pumpkin custard top, luscious cinnamon apples and bananas sandwiched between layers of chocolate sponge and ganache and soft chocolate mousse ($7.80/slice or $50/8-inch cake). Again, this lacked the resonance I was hoping for. Sure it wasn't a mouthful of sweet cream. But still, that's a hefty price of pay for a mediocre dessert. It does however win customers over with it's somewhat 'healthy indulgence' play on things, incorporating a very neutral flavor and fresh fruits. Try it if you must, it makes a lovely dessert for sharing over tea time.




FRUIT*PARADISE

Plaza Singapura
68 Orchard Road, #04-01, Singapore 238839
Tel: 6333 9286

Raffles City Shopping Center
252 North Bridge Road, #B1-44F, Singapore 179103
Tel: 6333 4849

Vivocity
1 HarbourFront Walk, #01-#01-59, Singapore 098585
Tel: 6376 9978