{GIVEAWAY} Food Panda: The Mexican fiesta and a Giveaway
Labels: delivery, foodpanda, giveaway, mexican, takeout
·
Posted by

Sihan
at 5/26/2013 11:52:00 am


Recently, I had the fortune of doing a write-up for a food delivery service which had launched its domain in quite rampant attack in Singapore. Started off in Berlin, the small team had the intention to provide an all-rounded service and the most powerful online tool for food delivery in the universe (Love their ambitiousness). At present, the team has expanded to cover more grounds; namely, 15 more countries in a just a few short few months!

Here in Singapore, Food Panda has managed to rope in a staggering 129 food outlets to collaborate with, consisting of quite a few Indian restaurants, Mexican joints and some other more exciting establishments like Chilis, Outback Steak House and more. With this figure constantly on the rise, I was sure spoilt for choice when it came to deciding on a single establishment to satiate my hunger. Having secured an in-house dinner companion for the lovely Sunday evening, I proceeded to order for the both of us.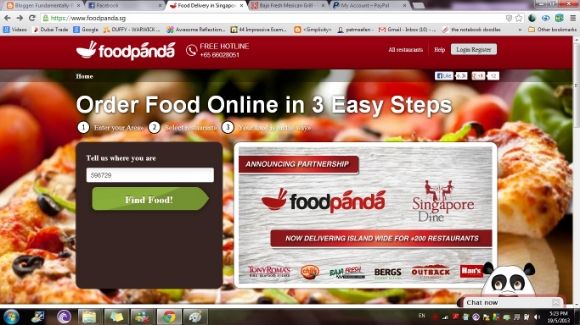 Honestly, navigating the system couldn't be any more foolproof. Steps are as documented on the site. Upon entry into the site, you are prompted to key in the postal address of your current locality so that the servers can rank and better isolate the food providers nearest to you (hence resulting in shorter delivery times). After that is done, go ahead and pick from the wide array of choices of restaurants and browse its menu even! Save for my whims for Mexican food that night, I surely would have been lost debating my choices that night. Fresh Baja it was.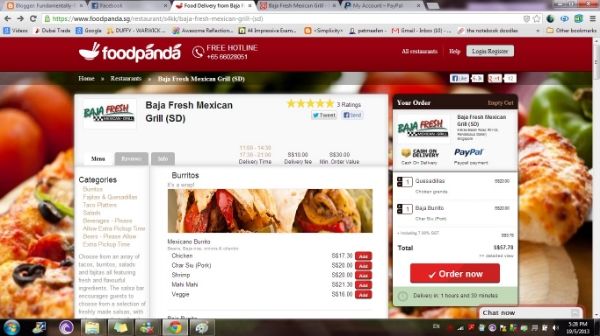 Upon confirming and submitting my order (Hit the button 'ORDER NOW', and payment can be made via cash upon delivery or paypal!); I was hit by a barrage of messages (SMSes and emails, two pronged attacks), containing the legit details of my payment confirmation, order receipts and all. How assuring... despite it's excessive nature. I received a call shortly that really took the icing off the cake. From a Gavin from the Food Panda team, the call was a verbal confirmation of my order and a query regarding my queer message to be given notice should the order be delivered earlier to my doorstep instead of the stipulated 1.5hr as suggested on the site. He took to explaining that a window of 30mins should be allowed given that the pre-orders were taken before the kitchens open for dinner hence leaving them questionable to food delivery times should there be and influx of pre-orders coming in. The level of commitment to provide a smooth food delivery from Food Panda was sure looking very impressive at this point of time. All even before I took my first whiff of the food!



Sadly, the night's arrangement met with a slight hiccup when my dining companion called off the appointment, leaving me stranded with an enormous surplus of food on my hands. Imagine my disappointment delight, when I found out that I was being left alone with all that Mexican fiesta of a meal after a tedious heartbreak (don't ask) on a lonely Sunday evening. Things couldn't possibly get any better.

The wait for the food ensued, and sure enough, the food arrived in a little over an hour. Packed neatly into bags and containers of different sizes, unwrapping all these was similiar to a Christmas day. I ordered the Chicken Grande Quesadilla ($20) and Char Siu (pork) Baja Burrito ($20) for tasting. To my delight, both turned up spiffingly hot at my doorstep. the former with accompaniments of sour cream and homemade guacamole on the side.



The Char Siu Baja Burrito was more to my liking, the succulent braised pork amidst it's wrap with freshly sliced lettuce, pico de gallo (salsa fresca), a dallop of guacamole and all that melted Monterey jack cheese plastered warm flour tortilla. The orchestra of flavors creating a blanket of warmth, one that I familiarise myself with only on my single rest day in the week. The same can't be said about the Chicken Quesadilla, the char-grilled chicken hidden below the pressed tortilla in stingy portions and to make matters worse, parched dry. I was not a happy camper with this one. That aside, the dips that came with the tortilla chips were excellent. Though barely unrecognisable to me, I singled out some sort of olive tapenade, another red pepper type dip amongst the riot of flavors and colors.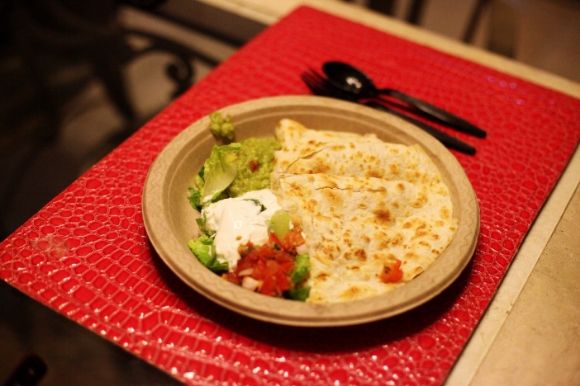 In all honesty, this isn't probably the best representation of Mexican food you can get around here. To satisfy your Mexican cravings, turn to Piedra Negra at Haji Lane or head on down to MexOut for their fabulous cochinta pibil corn tacos.

Food Panda, as a food delivery service however has sure knocked my socks off. Offering a staggering selection of food establishments, one can be sure of finding something appropriate for that stay-in Sunday or that small office party. Takeaways have never been so convenient nor flavoursome.




Feeling like staying in tonight with some take-away Indian food? Take a break with me and enter this sweet Food Panda Giveaway for a chance to win a $30 voucher for online payment via PayPal. Note, I will only be giving away one voucher which can be used easily on your next intended Food Panda delivery! Omar Shariff's Indian food is calling my name. But maybe you'll be more enticed by the ribs from Outback Steakhouse? Either way, I'm glad I don't have to choose.

To enter, just leave a comment on this post with your name and email (button is right below the date of blog post on the top left corner) just above answering the following question.


What's your favourite take-out cuisine? (Thai, western, Chinese, etc...)
Which restaurant would you like to try at Food Panda Singapore?

Deadline to enter is Friday, May 31st, at 8:00pm (Singapore time) Time's Up! Winner is announced below. 1 winner will be chosen at random and announced sometime Friday on this post. Stay tuned folks!


------------------------------------------------------------------------------------

The winner is #5. Congratulations to AnAn, you are getting that $30 cashback voucher courtesy of Food Panda! Will contact you soon regarding the details. Thank you all for participating!