Mis En Place: the new kid on the block
Labels: East Coast/ Joo Chiat, food tasting, hidden finds, restaurants
·
Posted by

Sihan
at 5/08/2013 04:41:00 am


I think we should introduce a new restaurant. I think it's time.

Let's talk about Mis En Place. A diner along East Coast Road, has it not caught your eye yet? Perhaps the more bodacious neighbour, Rabbit Carrot Gun has stolen a glance or two from you passer-bys. But don't be fulled by it's humble and muted ambiance; Mis En Place has a similarly straightforward menu with many classics done right, good enough to leave the most of us enthralled and titillated.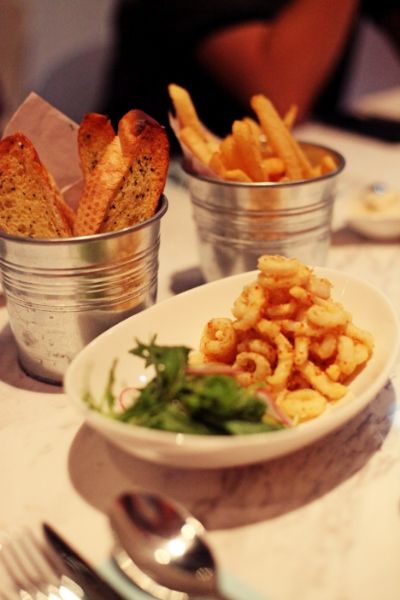 Kick starting the meal, we had the Garlic Toast ($3), Truffle Fries ($8) and Spiced Squid ($8). Did not try the former hence no comments, the truffle fries I must say are terribly addictive, full fledge dipping into the side of aioli just made the whole deal much more delectable. Unlike most other places, Mis En Place do theirs chunky and not shoestring style, totally up my alley! The spiced squid on the other hand came a bit limp as though the frying took place at an incorrect temperature. However, the light coating of herbs and spices improved the dish's chances by leaps and bounds.



Baked Escargot ($13) - Portobello mushroom caps filled with escargots baked with roasted garlic butter and Parmesan cheese.

Not a big fan of this dish as I would have preferred either the mushroom or escargot flavors to have been predominant. Both of which were washed out by the robust notes of garlic.



Caesar Salad ($10)

A very light edition of the usual suspect. I adore the complexity of the cream anchovy sauce that the romaine lettuce was tossed in. Complete with herbed croutons and plump cherry tomatoes



The main affair was a medley of signatures from their menu (to be honest, I reckon we savoured almost 90% of its offerings, much to my delight of course.) Starting off with the Roast Chicken($16). for it's simple uncanny menu description, I was half expecting a crispy skin roast chicken to appear, however, MEP's rendition beared a closer resemblance to a braised chicken than not. Still, with succulent flesh and served in a flavoursome jus derived from it's slow roasting; this made for a pretty wholesome event.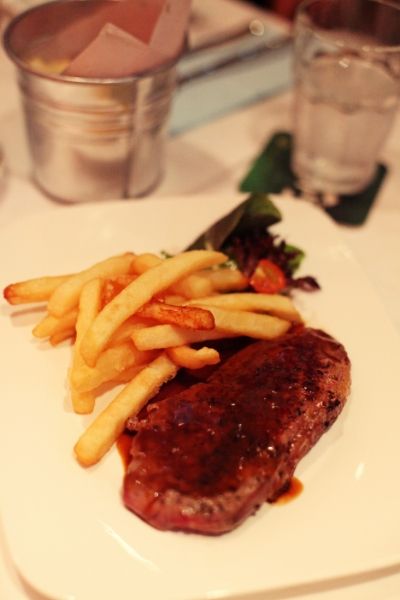 Another perennial favourite of mine was the Steak and Fries($26) which hosted a pan seared marbled striploin. At some point of time, it's over tender texture comes across as a rather strange deal till you understand that their beef has been done sous vide style.



The Hand Chopped Burger ($14), no uniform patties here as each are roughly hand-moulded to produce an almost "steak-like" texture. Though I must vouch for it's juiciness, the lack of seasoning and it's poor meat:bun ratio let the dish down.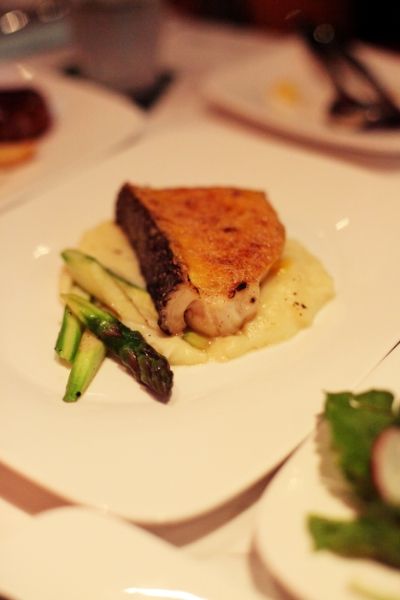 However, amongst all the jovial exchanges and chaotic plate movements around the table that night, the Atlantic Black Cod($30)definitely stole the limelight. Pan seared cod fillet served with salted egg sabayon and served on a bed of mousseline potatoes, this combination was ingenious, the luminous drippings of salted egg yolk combination providing that unique bit of saltiness to the fish. A Must have!



Mis En Place also swigs a couple of pasta dishes. We had the Prawn Pasta($16) and the Carbonara ($14 namely. Don't be fooled by the spaghetti look alike pasta used in the dish, because it ain't, it's Bucatini, a thick spaghetti-like pasta with a hole running through the centre (justified by a successful attempt to drink coke through a single strand of cooked pasta, I know, my dining partners are weird. haha); said to be good for cream based pastas, I found the two dishes to be a bit one dimensional and very jarring at times.



Our last dish came in the form of Duck Crunch($19) - crispy skin confit of ducks leg served with mousseline potatoes and mixed leafs. I completely massacred this dish, much to the horror of my companions who claim to be filled to the brim at this stage. Boasting a lovely crisp skin littered with the shiny prospects of salt and enveloping a rich yet savoury flesh, this dish took my world by storm. The accompanying water apple salad (also served appetiser portion) was a delight to have between mouthfuls of the fatty duck, with a unique blend of tanginess and sweetness, it's no wonder this is touted to be a favourite amongst ladies.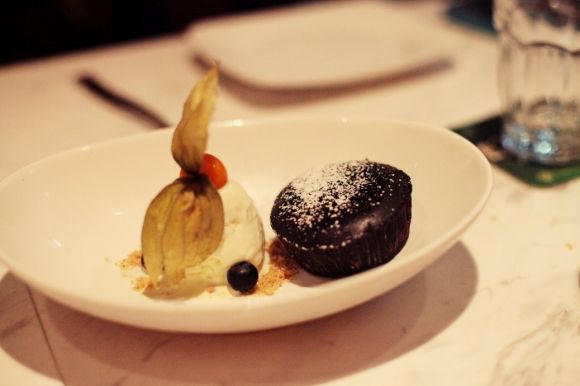 Desserts at Mis En Place aren't it's strong suit, however, I relinquished in the Creme Brulee ($6), digging into the petite ramekin with fervour till it was all gone. The Chocolate Cake ($10) on the other hand, failed to leave an impression with it's slightly bitter innards (probably due to the usage of chocolate with inappropriately high cocoa percentage). Pass me the sugar please!

Situated amongst a gang of well established dining establishments, Mis En Place has to put on a game face to make a name for itself. That being said, it's not impossible given some of it's dishes beautiful execution and value for money prices. Do drop by for it's set lunches to get your dollar's worth too!



Mis En Place
39 East Coast Road
Tel: 63458381