Onaka: conscious eating
Labels: food tasting, health, HGW, labrador park, restaurants
·
Posted by

Sihan
at 5/28/2013 10:33:00 pm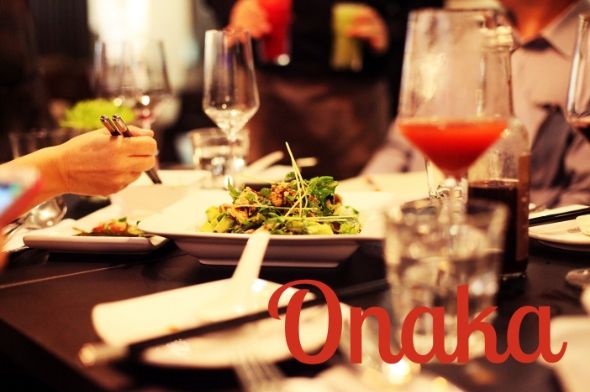 Disclaimer: This is based on a food tasting session organised by Onaka Restaurant Team and HungryGoWhere.

Nestled deep in the western reaches of our island is a quiet refuge for health food lovers and diners with specific food allergies/preferences ranging from gluten intolerance to vegetarianism. Speaking to General Manager, Rosalind Lim, ONAKA, short for Optimum Nutrition and Kitchen Arts, was started in 2008, sparking off from a major lack of choice of foods for children growing up with allergies. Speaking passionately about her efforts to begin a wave of conscious and mindful eating where guests can relinquish in the true flavors of the food though it's aroma, texture, taste and selection of ingredients. Hence here at ONAKA, low glycemic foods are promoted, super foods are prominent and dedication to use all natural ingredients is evident.

Now, I'm going to call it as it is. My experience with Onaka was phenomenal. I came with the least of expectations and walked out of the same door dissolving soul food, my well-being fed by the convictions of the ONAKA team to provide change via mindful and healthy food options. So if you're like me, an unsuspecting individual, and highly doubtful, do give it a try and I'm convinced you'll come to love it as I do.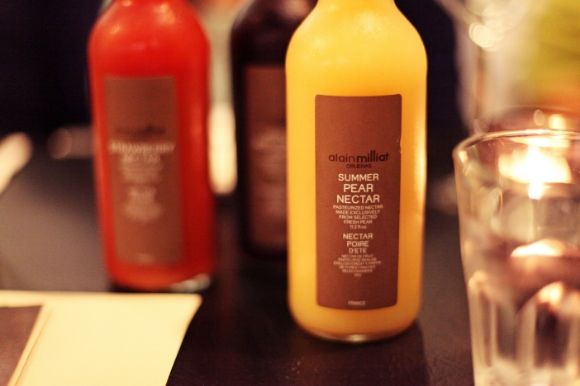 Onaka carries a range of bottled fruit juices which are cleverly used for catering sensibilities. From Alain Milliat, these juices respect the unique characteristics of each fruit and are only harvested at it's peak of maturity hence giving consumers the optimal prospective of consuming the fruit at its best. Sure enough, my heart was stolen by the Strawberry nectar, rich in sediments with the unprocessed flavors of the plumpest wild strawberries you can find; it was akin to encapsulating a thousand berries in a bottle.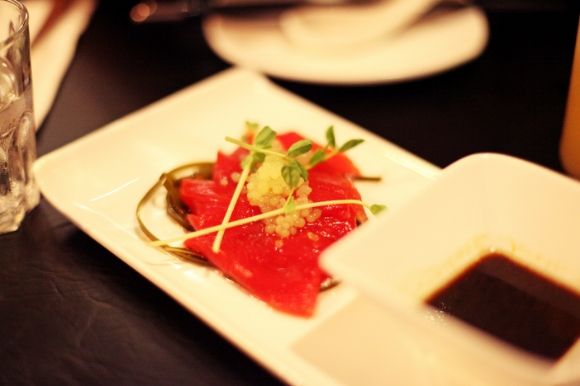 Dinner came off to sceptical start with the signature Watermelon Sashimi, delicate slices of watermelon sous vide with kombu, wasabi roe (set with agar agar), served with a daikon and tamari (gluten free soy sauce) dressing on the side. Employing so many modern molecular gastronomy techniques in this dish, I was impressed by the dish's presentation and fascinated even more by how theses porous slices of sweet melon could resemble tuna so much in terms of appearance, unyielding to the manhandling by my unshaven chopstick skills. Eaten together with the dressing, things made sense.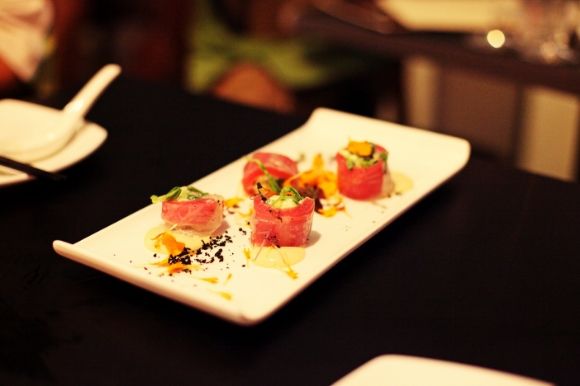 Nicoise Paper Roll: fresh tuna, cucumber, french beans, herbed egg salad, dehydrated olives and aioli. Dressed to impress with some spring themed micro greens and edible flowers strewed on the white empty canvas of a plate, this dish tasted every part the image it portrayed. Teasing the palate especially with dallop of "aioli" on the side, made only from tofu. Honestly, I couldn't tell the difference.



Tofu-Avo Salad Loved the entire Asian inspired salad, the soy brined tofu adding a unusual texture to the mixture. And we all know that avocado does it for me.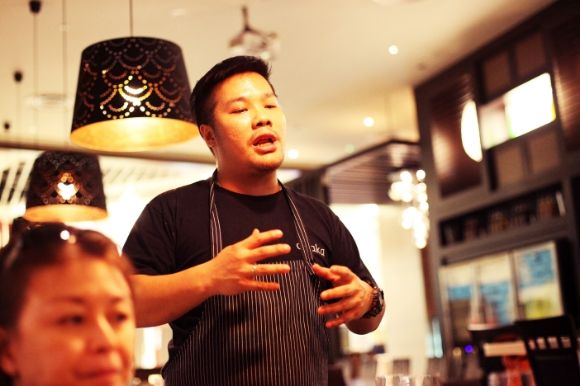 Chef jason Vito giving us an introduction to the "Noodles and Grains" section of the tasting session.

Due to poor pacing and a massive hunger attack towards the forward portion of the evening, I was regretfully stuffed by the time the carbs were served. I tried whatever I could and politely denied the rest (much to my dismay again later that night). Out of the 4 dishes we sampled, the Maritime Barley Risotto was by far my favourite, who would have known that barley could soak up all that flavor of the crustacean broth so well? the barley grains plump and chewy unlike the starchy overcooked mush one would associated with the sediments of homemade barley water. The lime foam (apparently, the onaka kitchen team are big on siphoned foams as inclusions to their dish architecture) adding a sour break to the heavy make-up of the dish. clever...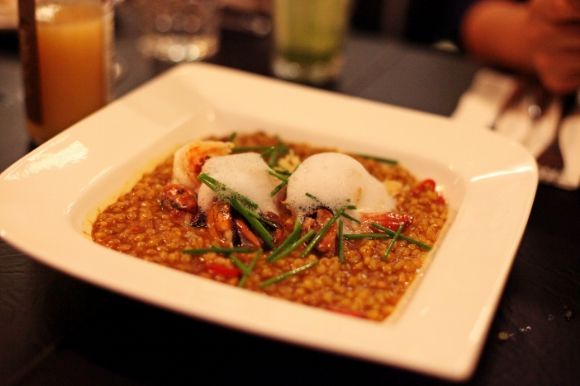 the other carbs for the night: Chilli Crab Capellini, served with crab cake, house-made chilli crab sauce and all this rounded up with a perfectly poached egg on top.



The healthy version of a Pineapple Rice which didn't taste half bad considering that organic brown rice and organic quinoa were wholly used in this dish. The use of carrot juice and roasted pineapples adding moisture to the dish in replacement to the copious amounts of oil used to coat each grain of rice in the usual suspect. A surmountable effort put a regular dish.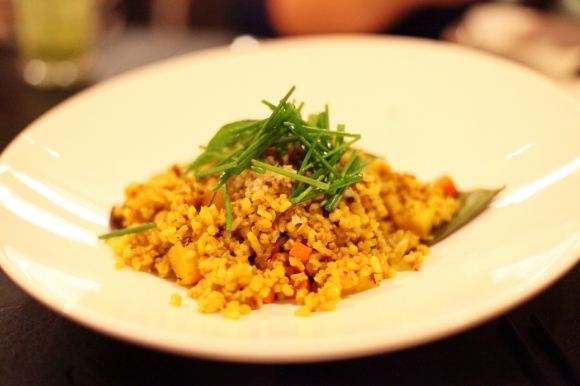 last but not least, the Mushroom Soba, roasted mushroom ragu, buckwheat soba, mushroom dashi. This dish did not float my boat, I guess I'm just prejudiced against soba or perhaps the dish's one-noted deliverance with the lingering woody aroma of chinese mushrooms clinging to the air. Not a big fan.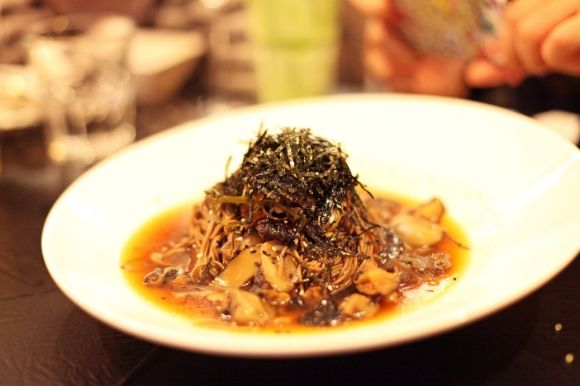 For the carnivores, ONAKA carry a special selection of proteins that would leave you thirsting for more. Let's dive down to details shall we.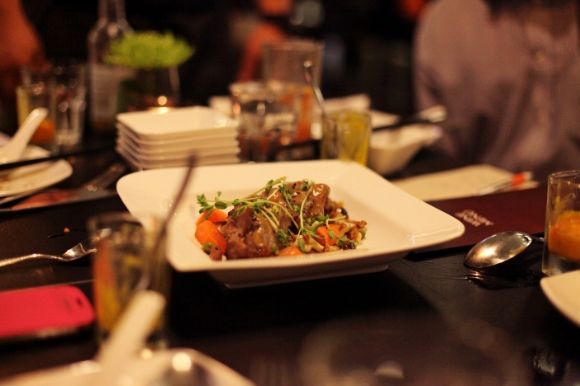 One of the must-orders here is the Miso Lamb, slow cooked for an agonising 24hours, no time is wasted here as the results showcase a perfectly rendered and moist piece of carved lamb with an even marbling of fats thrown in for good measure. The flavors were exactly spot on, but mostly the texture and the lusciousness of the lamb just left me in constant debate as to leap for another piece despite the fierce scrutiny from my fellow diners. I'm sorry if I've offended anyone in the midst.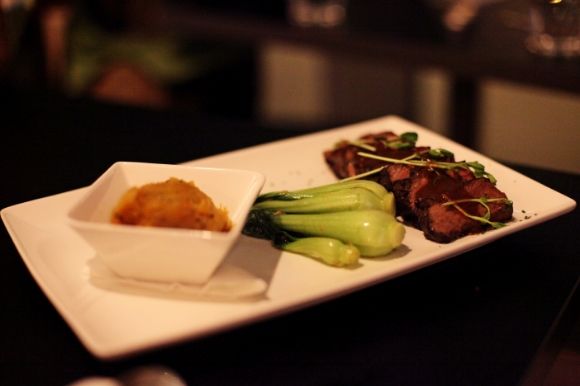 48HR beef with red wine reduction also prepared via means of sous vide. can't remember much about the dish apart from the pumpkin mash which was divine.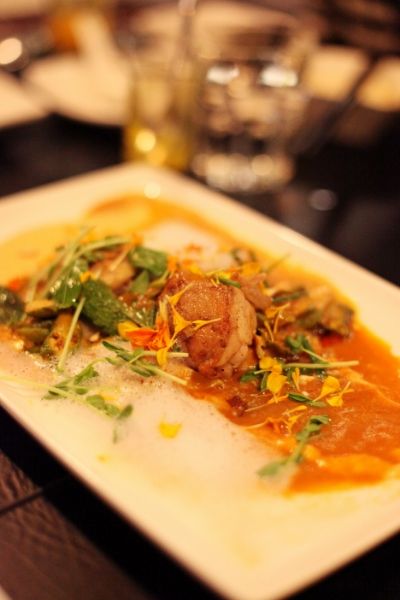 Modernist Chicken Curry v2.0. The emphasis is on how the chicken is


Corn-fed
Free-range = happy chickens
Antibiotic and hormone free

contrary to the comments of my neighbours. I loved this dish. The creamy aerated sweet potatoes blending well with the sour tang of the chicken curry, enhanced only by the thin layer of lime foam suspended over the dish. Not a pretty sight once the liquids start flowing around the surface of the shallow dish but I kept mum and feasted on the lovely bits of green okra and succulent chicken. Not much competition there. *phew*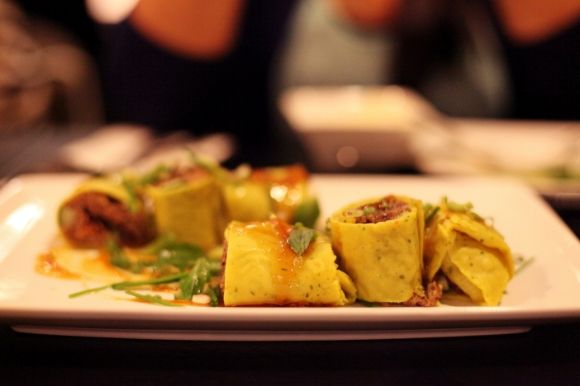 First and last on the agenda (we had an encore for this) is the Duck Pancake, a work of a genius undeniably. turmeric crepes wrapped around warm crispy skin duck confit infused with five spice and drizzle with an orange caramel sauce. Sweet, savoury and crispy, a dynamic interfusion of flavors and textures that led to somewhat a 'mind-blowing' experience. This dish shall and will be on my list of "Best dishes savoured in 2013".



The night came to a close with desserts, the Banana Pastillas was in this context, a mean portion to tackle. But still, me and my partner managed in style. Cinnamon roasted bananas wrapped in phyllo pastry and served with berries, maple syrup, walnuts, banana and the most luscious cardamon ice cream.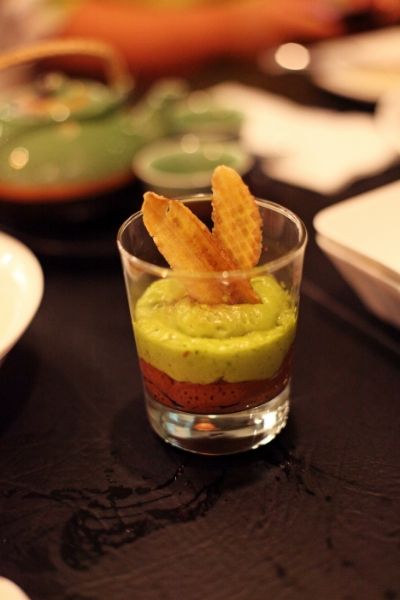 The Avo Choco Emotions is the Onaka's solution to a healthy dessert. And truth be told, it is a near sinless version of a mousse dessert, whereby no eggs yolks are used, neither cream nor gelatine. Instead, Valrhona Equatorial 55% dark chocolate is used in a water-based mousse (things we learn in pastry school.. bah!), poured into a siphon and then charged with NO2 cartridges. Pressurized, the air within the chocolate mousse expands to produce some sort of a aerated structure which is then discharged into glasses and topped up with a light avocado mousse. Surprisingly the combination works out like magic. The acidity of the chocolate used, toned down by the richness of the slightly sweetened avocado mousse.

As I've re-iterated before, Onaka has certainly set the bar high even for itself. With a perseverance for the cause to introduce conscious and mindful eating to the public, workload significantly increases since most sauces have to made from scratch in-house. However, efforts have paid off ten-fold with flavorsome fare and artfully decorated plates. Let's pay homage to theses guys, they sure deserve a pat on the backs.

A gentle reminder to please take part in my first {GIVEAWAY}, details are mentioned in my previous blog post here!



Onaka Restaurant & Wine Bar @ARC
460 Alexandra Road
#01-32. PSA Building
Singapore 119963

Tel: 6270 2012
Website: http://www.onakafoods.com/