Media Tasting: La Brezza @ the St Regis
Labels: food tasting, HGW, italian, orchard, restaurants, special occasion, st regis
·
Posted by

Sihan
at 6/02/2013 06:21:00 pm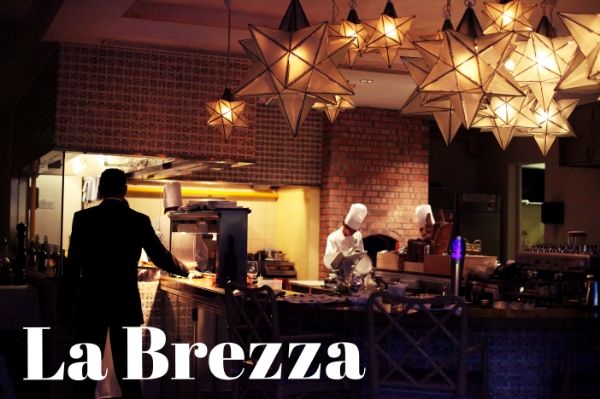 Stashed away beside the picturesque swimming pool of the St Regis Hotel, lies the little charmer La Brezza. All business with an airy ordinance during the day, the trattoria style Italian diner takes on a more romantic and magical aura once the night sets in.

During my last visit, we got to taste the new menu yet to be launched, designed by La Brezza's new chef, Stefano Arrigoni, previously of Ochre at Orchard Central. Gregarious with a slightly cheeky smile at hand, Chef Stefano hosted the table with ease, guiding us through his vision with a delightful Amuse Bouche to start. The Carosello "LaBrezza" Special was a sight for sore eyes and lovely introduction to the night ahead, the langoustine tartare being the most memorable.

Kick starting the night, the Pan Seared Hokkaido Scallops wrapped in Pancetta with Truffled Angel Hair Pasta and Caviar sauce($32). Despite it being a bit uninspiring, it was tell tale signs that it was back to basics with Chef Stefano, his style translating into a well executed scallop dish. The truffled angel hair pasta serving as a dreamy bed to the perfectly seared plump scallop.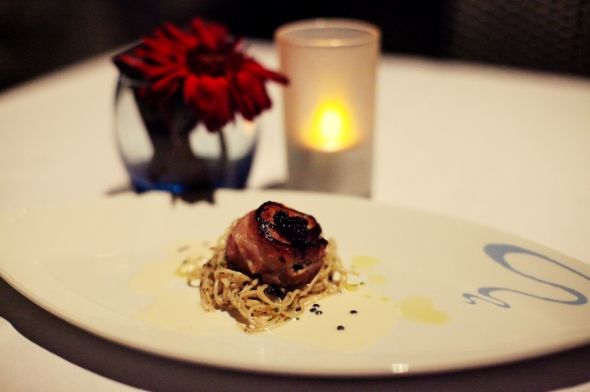 Next up, we dived into the shallow dish of Tuscany style tomato soup with king crab and basil foam($18), check out that generous serving of shredded king crab flesh! Cooked with a light handed amount of dried spices, this version proved to be a little more tangy and aromatic as compared to the usual robust tomato soup I've had, thus serving as an excellent compliment to the delicate crab.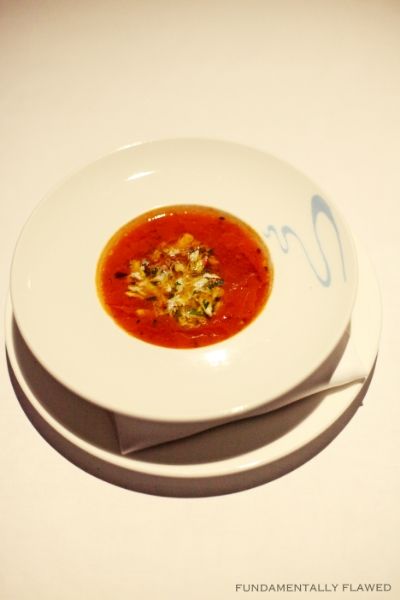 Now what is an Italian joint without a good pizza at hand? La Brezza does a very mean version of the Proscuitto Pizza ($38), topped with caramelised onions, sun dried tomatoes, mozzarella cheese and more cheesy goodness in the form of stracciatella (another soft cheese); it's as if the whole mountain of ingredients in perfect ratio to each other formed a perfect amalgamation of flavors condensed into a compact package, a thin slither of blissful union. The sweetness of the caramelised onion exalting the smoky savouriness of the aged proscuitto used.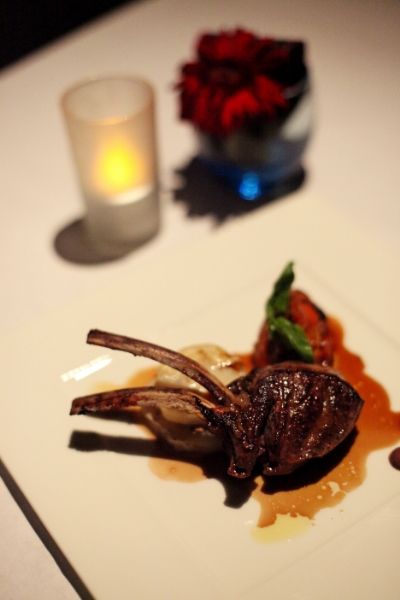 Graduating to the mains, we were served a Slow cooked Australian Lamb Rack ($48) , crusted with Kalamata Olives and served with a vincotto sauce. Firstly, I walloped the Vegetable Caponata with gusto, Sicilian in origins with a delightful mishmash of aubergine and celery, it reminded me so much of ratatouille. The lamb in all honesty was a little too well done for my liking. Despite it's less than pink complexion, it was undeniably tender; probably attributed to the fact that the lamb was slow cooked for long hours on ends using the sous vide technique before seeing the light of the charcoal barbecue.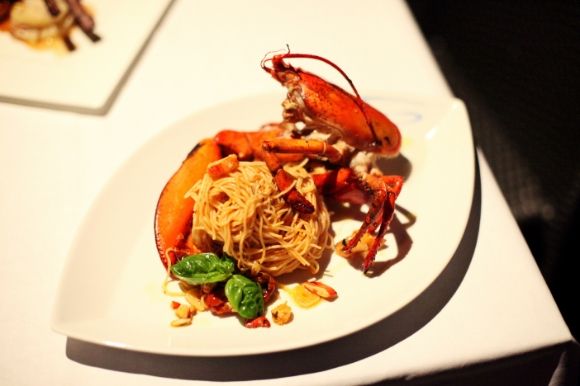 The pasta selection at La Brezza is exceptionally liberal in its use of indulgent ingredients. Take for example the taglionlini with Boston Lobster, Sun-dried tomato, Italian Basil, served with white wine and tomato sauce ($48), you get an entire lobster perched on the side of the plate, one that has decidingly been murdered back in the kitchens and poached with much dignity once your ticket reached the fly. *dang*. Despite it's incredulous expense, I did not fancy the dish. The second pasta however fared a tad better in my books, the Homemade whole grain pappardelle with Ragout of slow cooked Venision and Pecorino ($40), was more robust in flavor, the tender venision ragout coating the pappardelle in a glistening christening of meaty juices.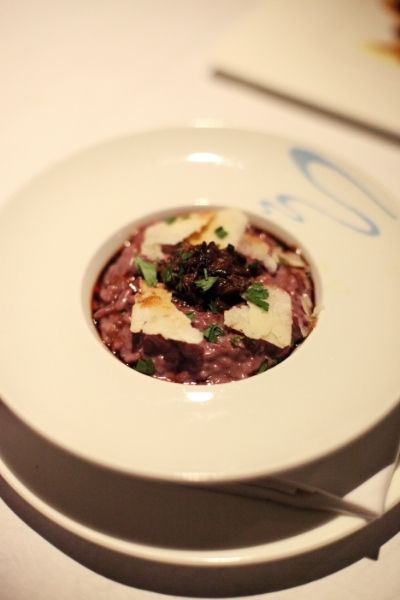 But nothing spoke as loudly to me that night as the Barolo Wine and Pecorino Risotto, sous vide Oxtail and sweet saba reduction ($38). Slightly purplish in tone due to the use of Sweet Saba (grape juices) reduction used to cook the risotto rice in, this perfectly tranquil dish of tender grains combined with the delicate oxtail flesh and finally finished off with paper thin shavings of Pecorino cheese over the top. Blissful gratification with every spoonful.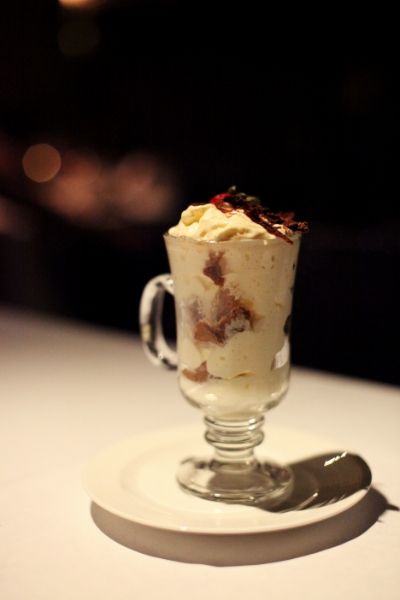 Our mandatory Italian get-away dessert, Tiramisu was a bit of a hustle, the creamy lusciousness of the mascarpone cheese ruined by the large amounts of air incorporated into it's make-up, the use of the siphon largely abused in this case. Disappointing in this case albeit for the good mix of flavors within the soaked sponge fingers.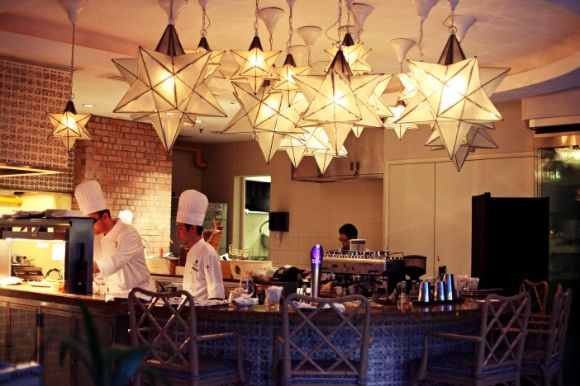 La Brezza offers up a truly Italian gastronomical experience with a variety of dishes spanning across the geographical map of Italy. Despite it's slightly wallet-unfriendly prices, quality made it justifiable. Definitely a place you can consider for a special occasion dinner. For those sussing out a good deal, La Brezza does deliver an extremely value for money Prosecco Brunch available every Sunday from 12noon to 3pm. Read more over here

Thanks to Jesmine, Senior Marketing Communication Manager of St Regis Singapore and the Hungrygowhere team for organising the tasting.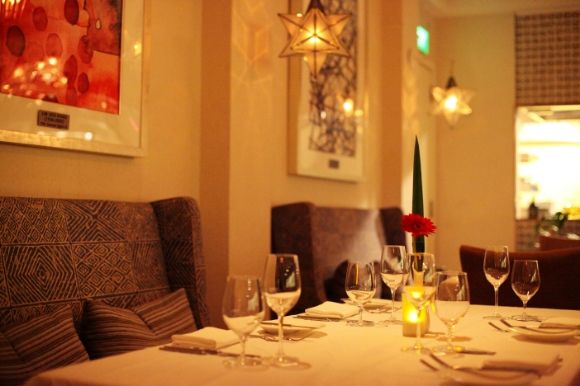 La Brezza
29 Tanglin Road
The St. Regis
Tel: 65066888
Website:http://www.labrezzarestaurant.com/