Crystal Jade: A little bit of home.
Labels: chinese food, circle line, food tasting, HGW, holland village, restaurants
·
Posted by

Sihan
at 6/13/2013 01:35:00 pm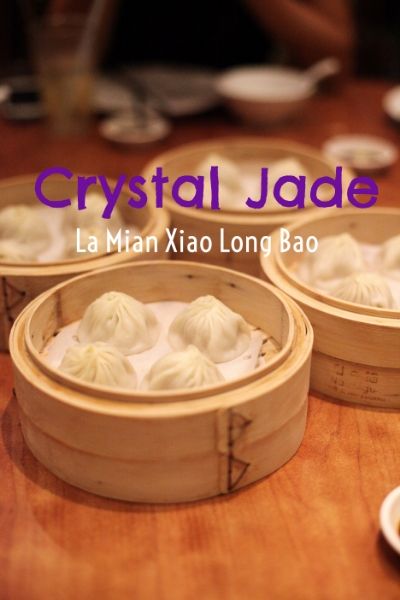 Disclaimer: A major thanks going out to Ms Samantha Yap from Crystal Jade Culinary concepts Holding and Hungrygowhere for organising the tasting.

On a typical weekday night, you'll find Crystal Jade La Mian Xiao Long Bao crawling with people. Throngs of people, groups of hunger driven crowds. Located at the ever-popular Holland Village (made more accessible by the Circle line), the La Mian Xiao Long Bao represetative of the Crystal Jade group is just one of the 21 concepts with over 100 outlets across 18 major cities in the Asia Pacific region; and it's evident that despite it's mass expansion and rolling-in-the-dough expeditions, Crystal Jade's high level of quality control and act of preserving the fine art of Chinese cuisine have kept customers coming back for more.

Arriving at the crest of a balmy afternoon, I was greeted with a flash force of cold air as I entered the premises. All around me, tables were full, comfortably housing diners tucking into their early dinners. Instead of the South Northern Steamboat buffet, the few of us were steered to sample the ala carte menu. But just for your information, the Steamboat buffet is offered daily (at a different price through the weekends and public holidays) with a fixed seating timing (5pm -7.15pm, 7.30pmpm - 9.45pm, 10pm - 12am). Look forward to a good variation of soup bases, an unlimited selection of ingredients from sliced meats to pork dumplings and their famous homemade la mian! Not forgetting the free flow of Xiao Long Baos... yes you heard me right. I see a magical liberation of pants buttons and a loosening of belts occuring.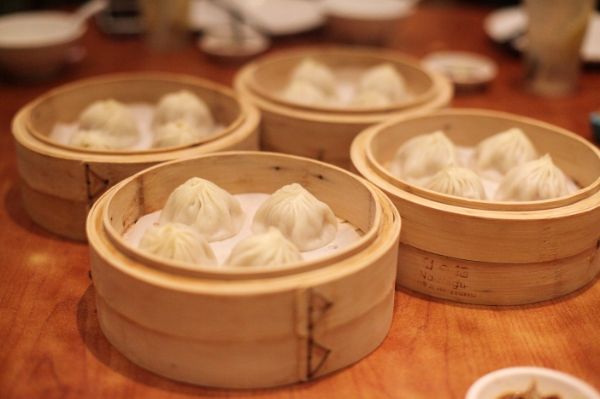 Foodwise, we began with the Steamed Soupy Xiao Long Bao ($5.20 for 4 pieces), a dish that needs little recommendation. Delicate parcels of sweet broth and pork mince, this held up to the chopsticks test pretty well and I adored that the skins weren't so chalky, dry nor thick. The broth inside was well balanced in flavor resulting in a terribly addictive snack of sorts. Now I understood why some were hooked to the steamboat buffet.

Next, we had the Chicken marinated with Chinese Wine and Wolfberry ($9.00), basically a bowlful of health benefits rolled into one smooth and luxurious chicken dish.

The Spicy & Sour Thick Soup in "Sichuan" style ($7.50) made much more of an impression on me. Despite it's devilish hot looks, this soup was neither too sour nor spicy, even without the addition of chili oil or vinegar, the flavors were right up my alley.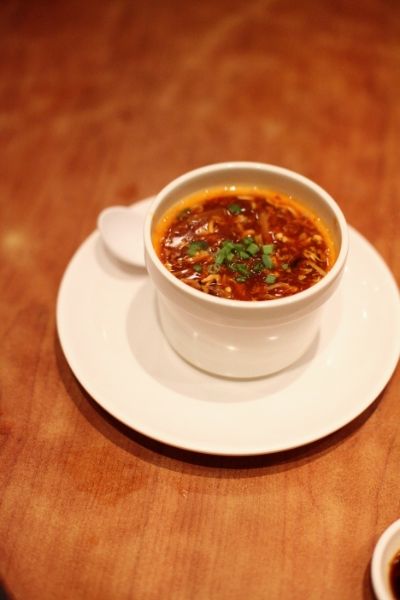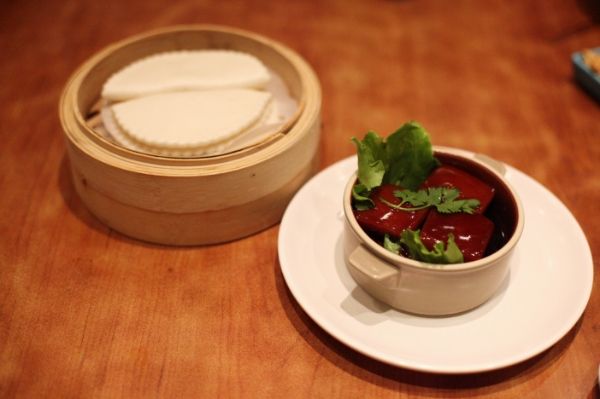 Another favourite here is the Braised Pork Belly served with pancake ($14.80), I was taught to sandwich the gelatinous mass of fatty goodness between the steamed buns but seeing that the buns weren't exactly cut out for the job, I went ahead to devour the proteins first before using the "pancake" to mop up the sauces. I reckon it was a good move since the pork belly wasn't that heavily spiced, leaning towards a more mellow and sweet twang; and hence the plain pancakes would definitely have drowned out the flavors even more.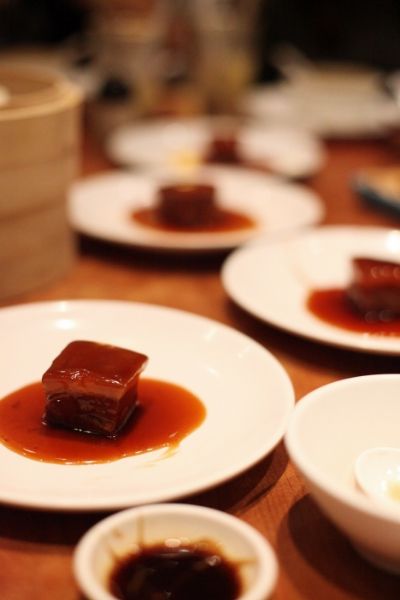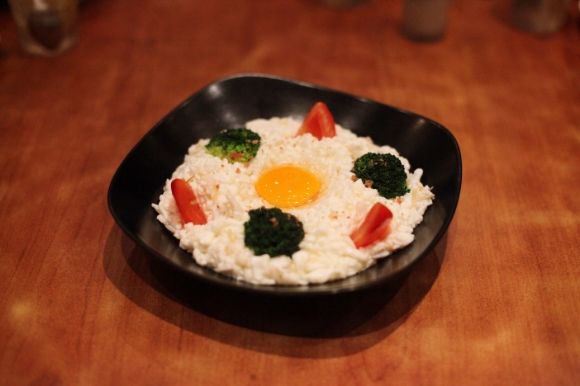 But the show stealer of the night was definitely the Sauteed egg white with fish meat and Conpoy ($13.50), cooked to resemble crabmeat, this dish was best savoured piping hot. Harbouring slithers of chinese ham and conpoy (dried scallops), these injected bursts of savoury chewy goodness to the porridge like dish. Simple yet with an air of secrecy and tight balance, I would have worked through a second bowl with ease.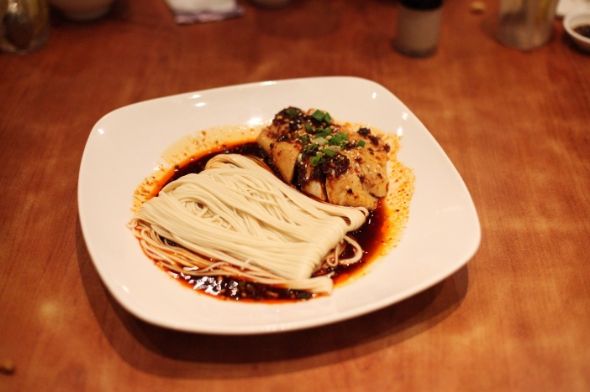 The Spicy Chicken with poached La Mian (9.80) was a mix of fiery heat and tang. Such that the final outcome of this carby dish left me feeling more refreshed than full, very appetite whetting. A great dish for the ladies.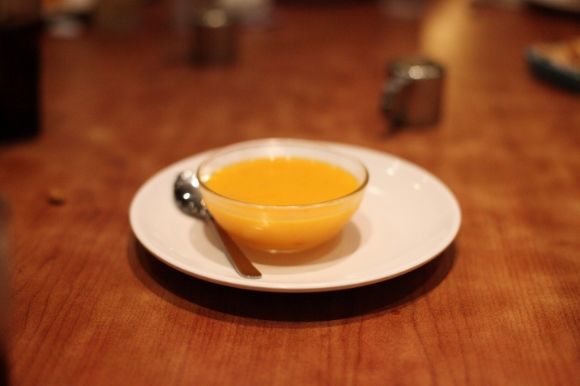 We drew a close to the night with their very famous Mango Pudding ($6.00), it's price justifiable by the fact that two mangoes are used in every single bowl of pudding. One for the custard and the other chopped into bits and strewned through the chilled smooth custard. A luxurious way to end the night.

For me, dining at Crystal Jade has always invoked memories of my childhood, after church lunches, engagement dinners and the list grows long. And with my most limited foresight, I see many more enjoyable dining experiences closely linked with kindred spirits to be built in the future. So stick around Crystal Jade.



Crystal Jade La Mian Xiao Long Bao
Holland Village
241 Holland Avenue
Singapore 278976
Tel: +65 64630968
Website: http://www.crystaljade.com