Lustings for Shashouka : Wild Honey
Labels: all-day-breakfast, Bread, brunch, cafe, orchard, restaurants
·
Posted by

Sihan
at 6/08/2013 11:19:00 pm


It was late night.

I was craving breakfast. No, to be more specific, Shashouka eggs. Lashings of bubbling savoury goodness in earthern claypots, memories of work and all that good food at Hangry Cafe in Balmain, Sydney hits me like a brick. I needed my fix... fast.

Wild Honey was my solution.



Wild Honey has been doing considerably well for itself over the past couple of years. Expanding out from it's hole in the wall venue in Mandarin Gallery to a much more spacious branch in Scotts Square. My past two visits (here and here) have been extremely well recieved by both me (the delighted consumer) and my companion. This time, a mere 2 years later (oh how quickly time zips by); I am once again floored by food presentation, portions sizes and variations of breakfasts served up.

Let's take a quick look at some of the items ordered around the table.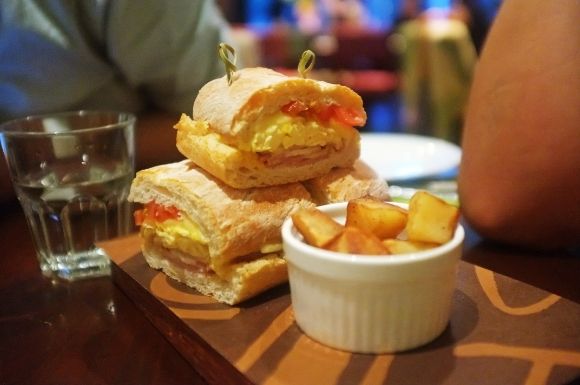 Breakfast Hangover
scrambled eggs, smoked speck, roasted vine ripe tomatoes, swiss cheese and smoked paprika aioli on grilled ciabatta with breakfast potatoes

this hearty dirty dish would definitely aid in some form of recovery. Essentially a made up version of the Golden Arches's Big breakfast; it's a winner for anyone looking for something simple.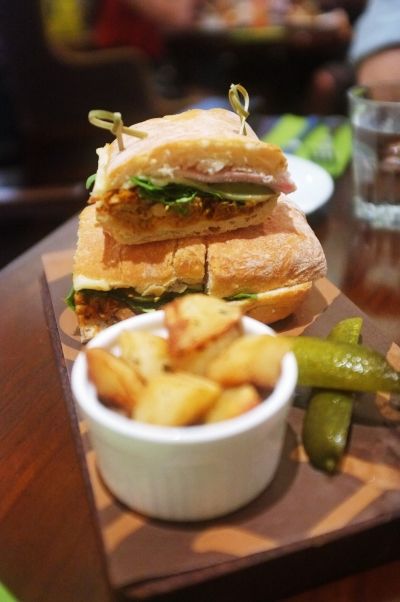 Monte Cubano
pressed toasted foccacia roll with spiced pulled pork, virginia ham, dill pickles, swiss cheese, arugula, coriander mayonnaise and mustard

didn't get to taste this one. But looks wise.. a pretty neat package of delicious stuff.



Last but not least, the straw that broke the camels back. My Shashouka, which I happily dug into along with a glass of house chardonnay. Shashouka is a culinary contribution that traces its provenance to the ancient lands of Tunisia, an egg dish poached in a sauce of tomatoes, chili peppers, onions and spiced with cumin; Wild Honey's version of the classic was studded with chorizo sausage and served with signature brioche and Isreali Salad. Instant gratification. Middle Eastern food cravings, done.



Wild Honey
6 Scotts Road
Level 3 Scotts Square
Tel: 66361816
Website:http://www.wildhoney.com.sg/