A declaration of hazy love: Two Blur Guys
Labels: beer, burgers, cafe, CBD, desserts, hidden finds, restaurants, tanjong pagar
·
Posted by

Sihan
at 6/20/2013 02:09:00 pm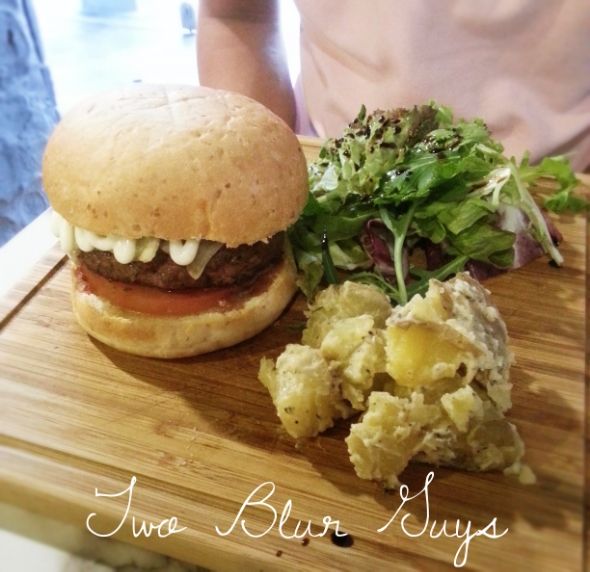 Yes, it's apparent that the the Two Blur Guys will appear a little 'blurer' in light of the recent haze problem which has seen my Facebook feed come to life with up-to-date reports of the current PSI Index. With record high levels that spiked high above the hazardous level 300, it's a cause for major resentment among many disgruntled workers, who on the hindsight get the enjoy the comforts of air-conditioning most of the time. So if you aren't a blue collared worker or a construction worker of sorts, please keep your complaints to yourself. Let's deal with this in a more matured way.

So back to the story of the Two Blur Guys, basically it is what it is. A collaborative act between Anthony, blur guy #1 and Chef Jimmy Chok (from Bistro Soori), blur guy #2. Within the cosy innards of their well packed New York concept cafe comes the likes of good food, beer and pastries. A strange combination that has somewhat garnered lots of attention to its humble abode. After you place your order at the counter, reserve a bit of humility, do not gawk and DO NOT underestimate the power of multi-tasking, this would probably take place as the friendly service staff smiles at you, returns you back your change, and turns his back to cook your burger to a perfect medium rare state.

Here at Two Blur Guys, the Prime Beef Burger($12.50) is kept simple, with just smears of truffle mayonnaise on the pillowy soft buns toasted to a crisp, they don't crowd the palate, allowing the true flavors of the beef patty to shine through. The prime beef grounds mixed with a special blend of spices could have used a little more work as the result was a slightly chewier patty. But the sweet relish and the pungency of the gruyere cheese really helped to pull its weight.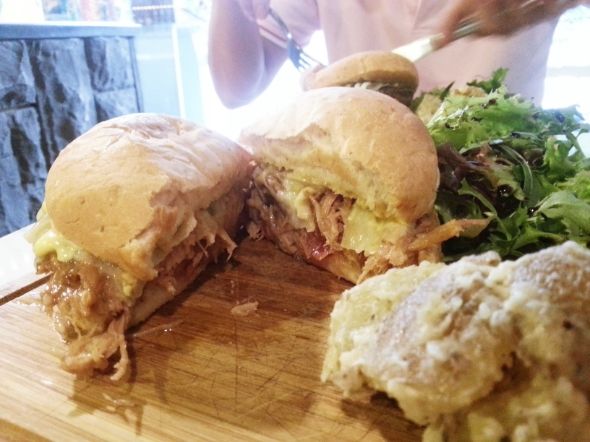 I had the Pulled Pork Burger ($11.50) which came with potato salad and mesclun salad on the side. For those who are super gung-ho about their crunchy truffle fries or thick cut chips... just let it go, this gangster creamy concoction of boiled potatoes, chives and sour cream (may have been a bit too heavy handed with pepper in this instance) may just be hit you in all the right spots.

The pulled pork was soft, tantalising and renders a burst of savoury juices with every bite. Topped off with gruyere cheese and sweet mustard mayonnaise sauce, these worked hand in hand to create some sort of a burgasm in my mouth. I felt... pleasantly dirty. Licking my chops and wiping the grease off the corners of my mouth with an impending weakness at the end of the deal.

Take my word for it and head down to this humble joint for your burger fix right in the heart of town now.



Two Blur Guys
Orchid Hotel
1 Tras Link #01-13
Tel: 6636-4183
Mondays to Saturdays: 11am to 9.30pm