Kome Japanese Dining: a night of pleasant surprises
Labels: circle line, food tasting, HGW, hidden finds, japanese, restaurants
·
Posted by

Sihan
at 6/28/2013 05:06:00 am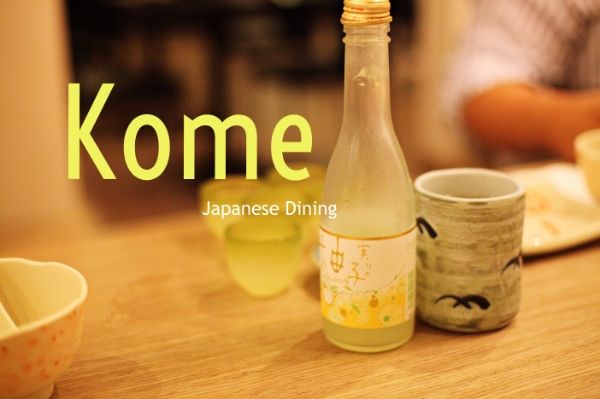 Thanks to Hungrygowhere and Kome Japaneses Dining for the invite.

Some say that the secret to happiness is to have no expectations. In fact, I came with none; and when I say none, I meant zero knowledge of the place; not even knowing the distance from the main road to the inner depths of the country club (my chosen decision to walk in, one that I slowly came to regret as beads of sweat rolled down my spine). Piece of advice for the next adventurous diner, catch a cab in and after you've eaten your fill, roll out; it's a much better way to aid digestion.

We warmed off the night with tiny tipples of Yuzu Shochu, a citrusy blend of sweet liqueur that is popular with the ladies. Undeniably so, since it's deceivingly saccharine image steers people away from it's secretly potent nature that will kick into gear, a little later into the night. I much prefer this over the Blueberry Shochu which has a more medicinal taste to it.

Just a bit of background information before we start off the feasting, Kome Japanese Dining is situated in Keppel Club (nearest MRT being Telok Blangah), helmed by Chef Albert, a whimsical looking, tiny but resolute man and managed by Bobby, of happy go lucky personality, unfazed by pressures of any sort. With such soulful people holding the reigns, you can be sure that Kome serves the absolute best quality Japanese food.



The Sashimi Moriawase was the first testimony to my theory. On the platter were tuna, tuna belly, salmon belly, yellow tail, yellow tail belly and scallops. Chilled down to a perfect temperature, these were a joy to eat, fresh, sweet and ultra smooth on the palate. The yellow tail belly (the one that looks suspiciously like swordfish) stole the show with it's stranger-like appeal and mysterious airs.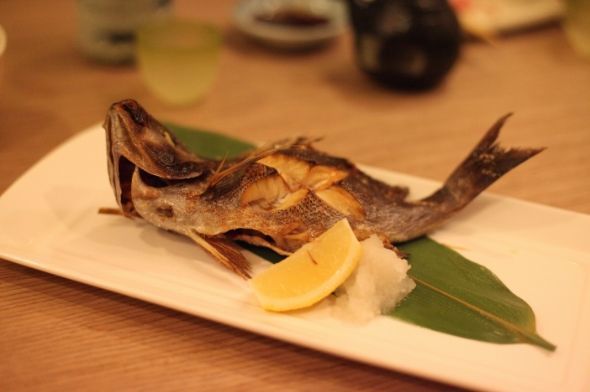 Next, we were hit by a medley of grilled items. Firstly, the Grilled seasonal fish which I single-handedly devoured to the bone. Despite not being too big a fan of fish that hasn't been filleted, the meekness of the flesh and it's milky sweetness was a cause for unseeded temptation for me. I went back for more till there was nothing left.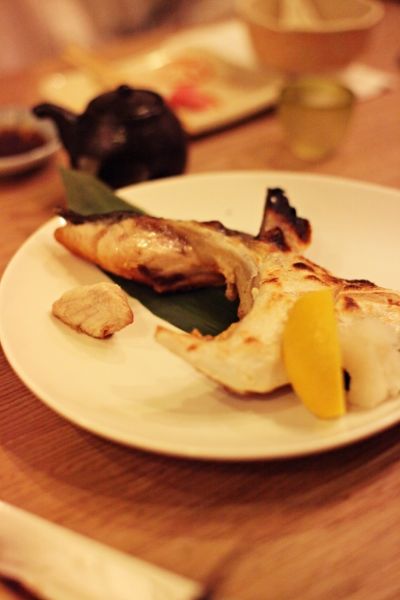 The Grilled Yellow tail cheek, which some raved about; wasn't my favorite. Served with grated daikon and a lemon wedge, this massive chunk took the fans of this prized-cut by surprise. Dang, the fish it hailed from must have been quite a monster.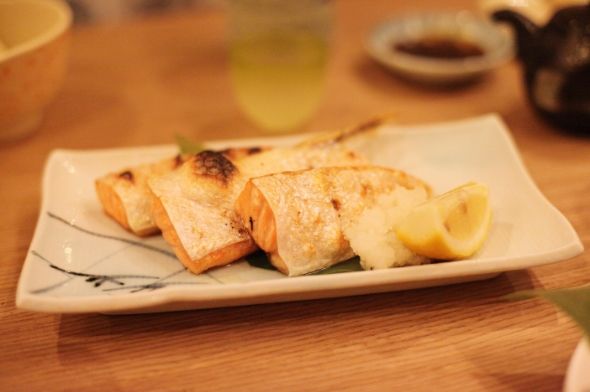 My favorite of the night was the Grilled Salmon Belly, it's glistening fats underneath that crisp skin beckoning to me. The soft flesh yielding quickly to the heat from our mouths, melting to into a pile full of umami goodness.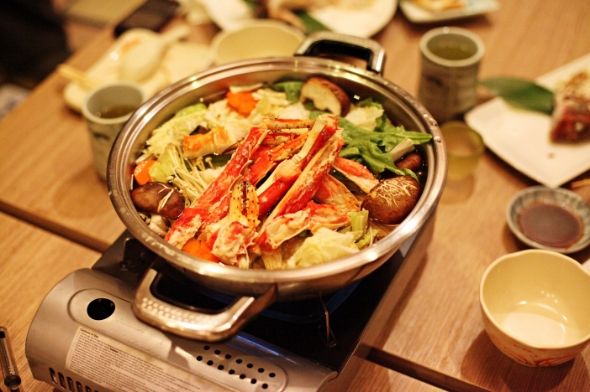 Kome Japaneses Dining is popular for it's buffet Shabu Shabu where monkfish is used as a major ingredient in their stock base. This results in an intense sweetness of the broth with slight hints of the sea well incorporated. Unlimited servings of topside beef are also provided to diners together with a fine selection of vegetables. For our tasting portions, we were given Alaskan Crab as well, a delicacy that was well enjoyed by my fellow companions after being poached in the delicious soup-base. I must have had two bowlfuls of this liquid gold, because apparently I was stuffed there after. Yes, it was that good.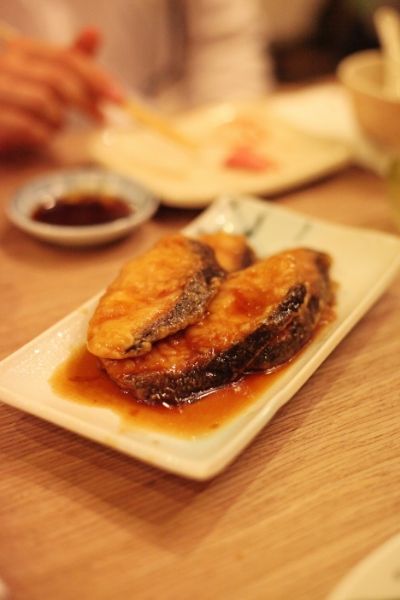 A sizable portion of Grilled Cod Fish greeted us next. Presented with a sweet teriyaki like sauce, I found this dish underwhelming, the beauty of the cod fish weighed down by the one-dimensional sauce it was plonked it.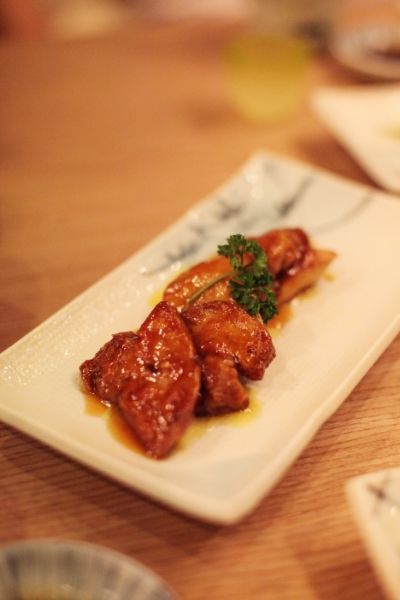 If melt in your mouth, uncomplicated fattiness is your thing, go for the sublime Foie Gras off the ala carte menu. Each mouthful garnering swoons of satisfaction and lust around the table as it delivered desired bursts of fats with a more complex flavor complimented by it's gentle tossing in a sweet sauce.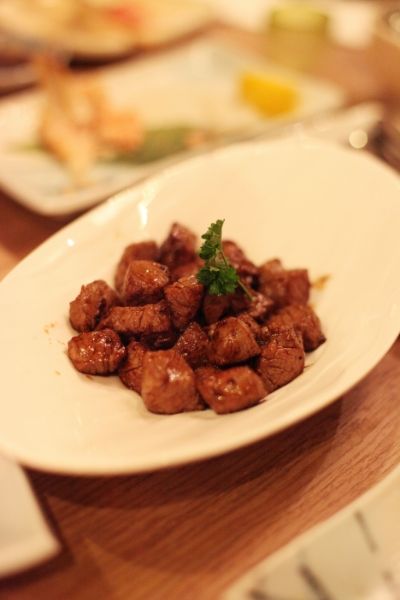 Last savory dish to grace our visit was the Beef cubes which didn't cut it for me. It's artificial softness suggesting a heavy use of tenderisers and again it's sauce, very one dimensional and one-noted.

On the dessert front, we were treated to a refreshing number to conclude the night of over-indulgent feasting. The Yuzu Sorbet was delicately sweet and mildly creamy, it's assertive sourness, bothering on a tinge of bitterness refreshing the fat-laden palate. A great finale to this meal.

Overall, Kome Japanese Dining proves to be quite a treasure trove, a hidden find which blew me out of the water with it's simple unadulterated food paying homage to the quality of the ingredients with a quiet reverence. Though it's location may be a bit daunting for some, it's food still serves as a major draw factor, a fact blatantly observed from the room packed full of regulars on a usually quiet Tuesday night.



Kome Japanese Dining
10 Bukit Chermin Road
The Keppel Club
Singapore 109918
Tel: 6273 0118