World Street Food Congress 2013: The Food Jamboree
Labels: events, festivals, special occasion, street food
·
Posted by

Sihan
at 6/06/2013 01:45:00 pm


1 Venue
10 Countries
37 Street Food Masters



For the first time ever, the World Street Food Congress is held in Singapore and is a recent cause for thrills and excitement stirred up amongst the overspilling throngs of locals that call themselves foodies.

In a bid to give street food more credit whilst preserving old traditions at the same time, the congress put together by Mankansutra (a local food enthusiast company); have gathered 37 stalls from all over the world (mainly inspiration drawn from founder, K F Seetoh's travels) and placed them on common grounds for the general public to feast and make merry. Sounds like a dream, yes it is!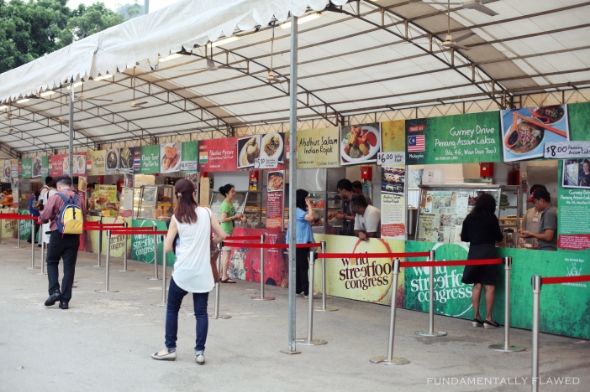 Located at the F1 Pit Building and Paddock, the World Street Food Congress is easily accessible via public transport. Take a MRT to promenade station and walk on over from Milennia Walk shopping center. Or you could easily find a lot at the Singapore Flyer carpark or the Esplanade should you be driving on down. Whatever it may be, make sure to work up an appetite before this as the Jamboree can prove to be a mind-boggling oasis for the fussy eater.



When done right, dining alone radiates confidence and both defiance of constricting social norms. But in this very instance, screw being single! Grab a partner, maybe two, or even a group of wranglers, the more the merrier cause the larger your group, the more food you get to sample. And with so many mouthwatering options being dangled like carrots in front of a ravenous donkey, it doesn't take more than a second to decide on your favourites.

Here are some of mine...



Shrimp and Grits from The Swamp Shack. Despite it being my very time sampling the ever so popular grits, I was surely taken by it's gritty cornmeal like texture. savoured with the sweet and slightly acidic tomato sauce on the top, it sure hit the comfort food status quo. The Shrimps were well battered and fried, resulting in a thoroughly crisp texture, unfortunately the use of salt was quite overwhelming.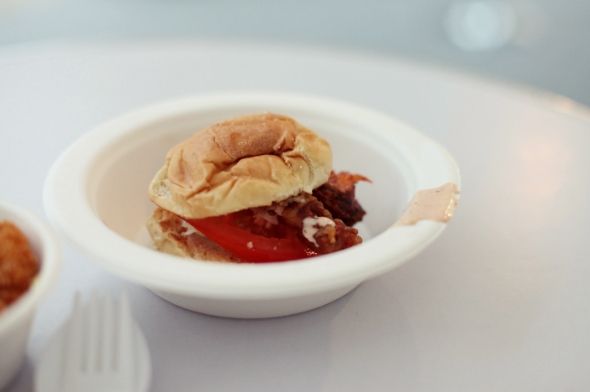 The Soft Shell Crab Burger from the EuroTrash Food Cart. Object of desire created by Charles Thomas from Portland, Oregon. Mainly devoured by my friend, this burger with light-crispy soft shell crab served with spicy mayo-yogurt sauce was A-M-A-Z-I-N-G. oh yes, I sure wished the burger was 10 times it's usual size. Look forward to this one.



We moved on the Asian delights after the two. Strangely, we notice a lack of representation of the Korean and Japanese street foods. Where were the Korean rice cakes and chicken BBQ Skewers, the sticks of yakitori or even the sweet taiyaki? Maybe we'll leave that to the next time. Presenting to you the Hoy Tord from Hoy Tord Chao Lay. Essentially a crispy griddle fried seafood/oyster omelette pancake; this was a work of art. ephermeral in texture, the eggy, starchy omelette with gorgeously crisp sides ( derivant from skills that can only described as 'a flick of the wrists')lay on a bed of lightly seared beansprouts. I'm not being a tease over here, but this was good, no, to-die-for.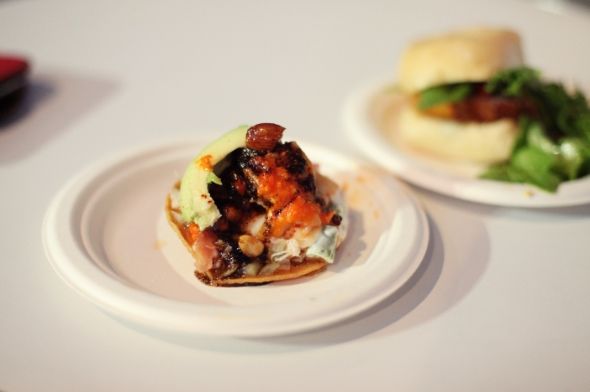 the Seafood Toastadas from La Guerrerense was next on my agenda. Braving the snaking queues, I locked my order in and let my anticipation grow like a balloon about to burst. With the words "make it spicy", I invite a small cheer from the kitchen. Okay, now I'm starting to regret this. Their tostada with sea urchin, pisto clam, salsa and avocado was an epic adventure rolled into one small and expensive package. Sabina Banderas Gonzalez and her legendary toastada food card from Ensenada in Mexico has quite a big following; from the media, to food giants, such as Anthony Bourdain voting it one of the '101 Best Places to Eat in The World'. And spicy it was.. my mouth inevitably bursting into a mountain of flames as the spoonfuls of homemade salsas from the many colourful jars perched on display, took its toil. Heed my advice and just go with a medium spicy level to enjoy the freshness of the seafood.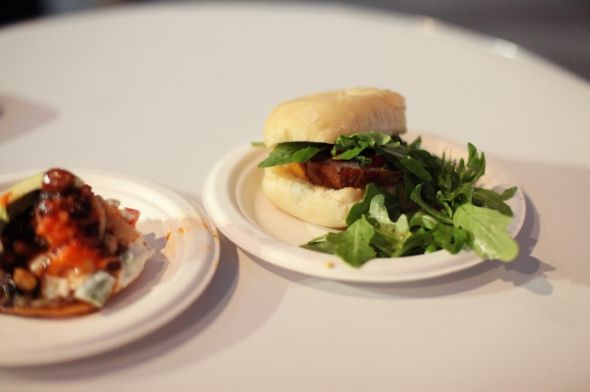 The Porchetta Burger from the People's Pig, also from Portland, is another crowd favourite. The melt-in-your-mouth pork belly lending no resistance to one's bite. Surprisingly light in the spice department as well, with only fennel and garlic lending to the flavors, this dish gives full credit to the pork. The handful of peppery arugula providing that bit of leverage from the overwhelming fattiness.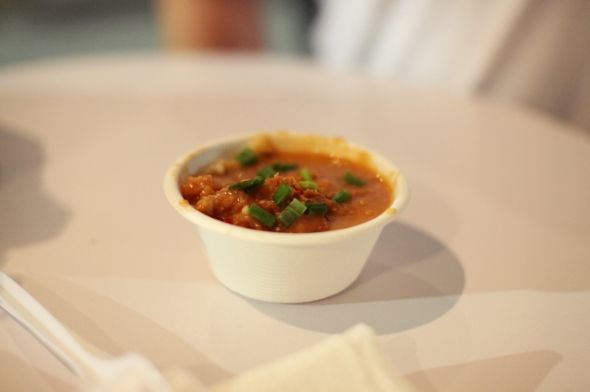 last but not least, we headed to The Swamp Shack for more creole inspired soul food. The Smothered Chicken features chunks of stewed meats sitting on a fluffy bed of spicy mash. Well seasoned. Hearty. Stuff that makes you want to roll around and sleep in it. I'm such a tease.

The World Street Food Congress Jamboree will end this Sunday the 9th June. So if you're planning a visit any time soon, make it quick as I reckon the procrastinators will surely choke up the area. Bring an empty stomach as well, and if in the case, you're lacking one, plan your food adventure, it doesn't take that long (look through the instagram feeds with the hashtag #wsfc for some drool-worthy photos)... My must tries would be the soft shell crab burger and the seafood toastadas.



World Street Food Congress 2013
Date: 31 May 2013 to 09 June 2013
Venue: F1 Pit Building and Paddock, 1 Republic Blvd, Singapore 038975
Opening Hours: 11am - 10pm daily
Website: http://www.wsfcongress.