East 8, New York Fusion Tapas + Bar : Let's get cosy
Labels: bar, beer, cityhall, drinks, hidden finds, restaurants, tapas
·
Posted by

Sihan
at 6/24/2013 06:40:00 am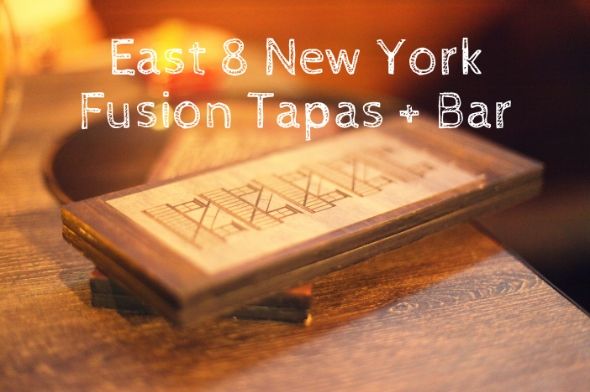 Looking for a quiet and intimate venue for drinks in the city hall region. Look no further than East 8 New York. Tucked away near the entrance of Grand Park Hotel on Hill Street. We've got a bonus in tow as well... they've got tapas style food for creative sharing as well. And if you take your food seriously, this tight knit menu, offering some really unique dishes really appeals the more discerning diners. Serving a diverse menu of Asian fusion tapas dishes, chopsticks are provided to establish it's Asian inspiration (don't worry they have forks and knives too if requested for).

In fact, everything in East 8 looks deliberately planned, the details in the fabric all works of 2 talented graphic designers, Emil and Steven, who resided in New York for about 5 years. From the tiny patches of green astro turf installed amidst concrete grounds to the clever use of height juxtaposition within its small indoor seating area (kind of resembles a loft apartment), to the tastefully designed menus, it seems as though the owners neurotic efforts to translate New York living into the restaurant design was seamless; creatively constructed and artfully presented.



We settled in on a quiet Thursday night for a couple of drinks and just one Tapas dish to feed the hungry companion. On the drinks menu, there were plenty of sake and shochu-based cocktails, tying in with the Asian representation of New York being used as pivotal point. The East 8′s signature espresso tiramisu whisky cocktail, was delicious, like having a dessert in a cup. Whereas my Soho Noho ($18) was a well balanced circus act of citrus flavors hailing from the pink grapefruit and lime spotted with refreshing bursts from the fresh mint. With the cocktails nailed, the prospects of this young establishment were looking good.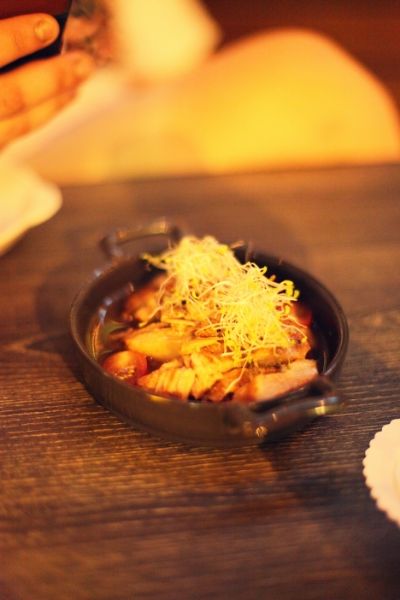 Then came our one and only dish of US Pork Cheek braised in Asian Style reduction was a comforting dish to have for the night. Tender, the rich flavors of porky goodness melding together with the gentle sweetness of the simmered down soy reduction. We were happy campers nibbling down on this dish. The usage of chopsticks for that informal sharing session with a few bouts of sticks over the delectable meat injecting a bit of playfulness. Again, well played...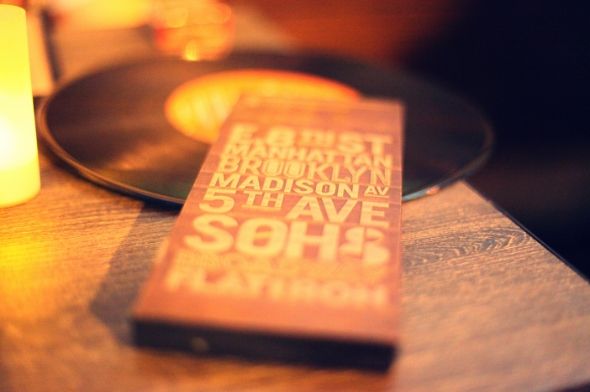 East 8 New York is not cheap, having small dishes and bespoke cocktails, the figures add up slowly but surely. Is it worth it? Yes, definitely. A haven for those seeking a little private space boosting some mean design, compelling menu and sophisticated drinks to match, this is pretty much a go-to place. I'll be sticking around for more.
East 8 New York Fusion Tapas + Bar
10 Coleman Street
#01-21/22 Grand Park City Hall
Tel: 63388289
Website: http://east-8.com