Day 2: Cake Rush
Labels: cakes, desserts, japanese, restaurants
·
Posted by

Sihan
at 6/26/2010 07:05:00 am


Tampopo Deli, located in the heart of Liang Court, has been helmed by the Japanese community as a go to place for affordable and authentic japanese cuisine. But what drew me to place in contrary to its savoury cuisine, was its array of fresh cream chiffon cakes sprawled ever so sexily across the refrigerated counter displays.

With so many good reviews of the scoop cake circulating the net, it was my primal instincts for cake sustenance versus my swollen belly resulting from a weekend of non-stop feasting. And obviously the former emerged victorious.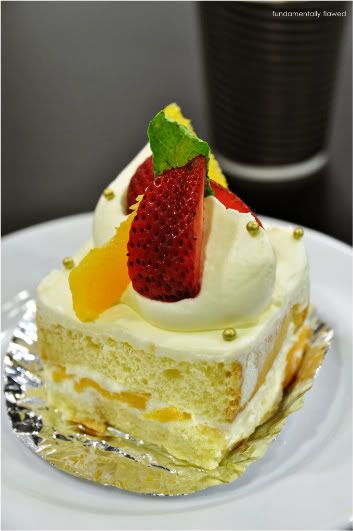 The macha green tea chiffon was a joy to eat. With a incredibly light yet dubiously moist sponge, the buttery nature of the freshly whipped cream was accentuated by the stark grass-like flavor of the chiffon sponge. Lightly sweetened to within the thresholds that separates 'all-goodness' from the 'artificial tasting'. I was hooked on the cream, constantly digging my spoon through the portions without the presence of lingering greens.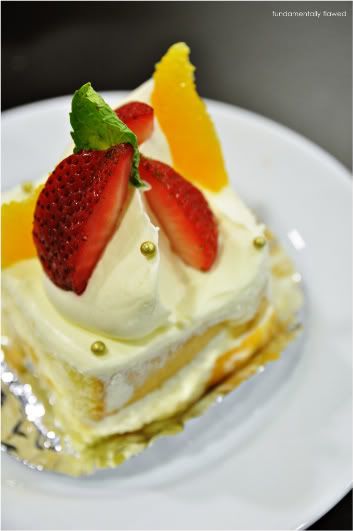 The Scoop cake on the other hand had slightly more cream then the macha green tea chiffon; with a medley of fruits arranged within the layers as well as over the top, the result was an even moister dessert with MORE cream to enjoy. Gosh, pardon my tunnel vision, the cream drives me a little around the bend sometimes. By this point, I was riding on cloud nine, and with another dashful of sacharrine madness, my balancing act came crashing down. I began nit-picking on the sweetness of the cream; the fact that I hated apricots in between my cake... So much for fair judgement. *gulps*. All in all, the scoop cake is still a memorable cake, one of the dreamiest short cakes you can get around town without a doubt.


Tampopo Deli



177 River Valley Road
#B1-16 Liang Court Shopping Centre

Tel: +65 6338 7386