a tale of magic eggs and rich broth
Labels: food, japanese, restaurants
·
Posted by

Sihan
at 6/17/2010 02:14:00 pm


After our mini oggling session inspired by talks of an episode of ramen,I decided to do some in depth research on the techniques of hanjuku eggs.

Essentially soft-boiled eggs done japanese style. These beauties are thrown into a malted vinegar ice bath after a hot tub session to aid the albumen in the egg whites to set gently whilst the yolk remains runny. Then later, they are placed gently into the marinade composed of a mixture of mirin and japanese soya sauce, where their prolonged immersion resulted in a lovely caramel colored coating.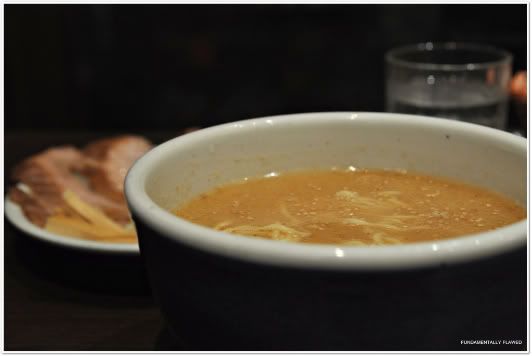 Upon hearing that Santouka Ramen @ Central served up these amazing eggs alongside one of the best ramens as proclaimed by many die hard ramen fans. My tongue tingled for a bit of the action. At Santouka ramen, the sight of queue at 9 15 pm reaffirmed the notion that this dish was good, drawing in the crowds even at such an odd hour. I happily tucked into Pork Cheek Ramen Set w Miso Soup,and in the midst of all the soul churning, nodded in unison with all the other agreeable diners. I indulged myself in the lavishness of the rich pork broth combined with the lethal combination of braised pork cheek silvers that yielded to the heat of my tongue in a slow dissolution. Amazing.




My only qualm... the hefty price tag. But still... amazing pork cheek in exchange.. that's a no-brainer.

Ramen Santouka
The Central
#02-86
Open 11am to 9.30pm daily