eat, drink and socialize
Labels: dubai, food, restaurants, travelling
·
Posted by

Sihan
at 7/05/2010 08:20:00 am


It's not often that I get a strong hint as to which restaurant I want to dine in. Blame it on my easy-going nature and lack of decisiveness, it can truly be such a frustrating event with friends sometimes. However, due to my building anticipation that resulted ever since seeing the construction panels surrounding the mystery space opposite our usual haunt Eric Kayser in Dubai Mall; I was itching to try Social House.

And upon my return from my short trip back to Singapore, I had the opportunity to pick out the lunch venue for the afternoon. "I want to go to Social House", I blurted; these words carrying an odd ring to it with a tinge of authoritativeness usually not present in my voice. *shrugs* Even I scared myself.

So.. social house it was.

All was in perfect order and I relished in the photo opportunity having fallen immediately in love with the high open ceilings and drop lights complete with the high shelving showcasing brilliantly marketed products meant to promote the fun-loving nature of Social House. Until.. I got a warning from the manager that other customers were not pleased with my spam of photography. I was deeply shocked since I did make a conscious effort to leave these people out of my shots, still I abide by the rules and placed my camera down like a docile little lamb, not without a silent resentment in my heart nonetheless.

The food on a whole was excellent and my bibimbap was gorgeously flavored with a tinge of curry powder (non conventional but still a good twist on the usual), extremely flavorful and addictive even to the last bite. The cappuccino on the other hand was disappointing despite my suspects of a joint venture with provision of coffee from Brunetti.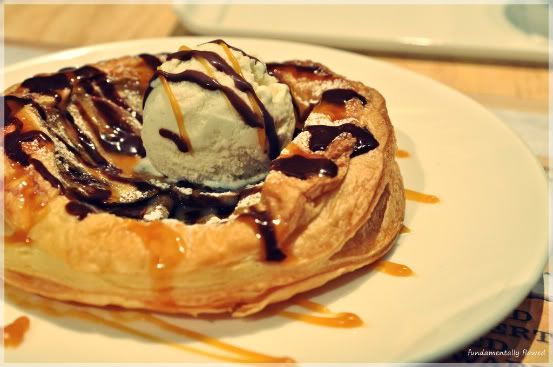 Special mentions goes out to the dessert. A warm banana tart with chocolate and caramel drizzle served with a scoop of vanilla bean ice cream. Delicious in all ways given the crisp buttery puff pastry, the caramelised bananas in the center accentuated by the coolness of an accompanying bite of ice cream.

All in all, Social House is definitely not a fad and with its unique blend of cuisines from all over the world delivered in an appetising fashion. I'm pretty sure that the large crowds that have gathered in the restaurant are here to stay, at least for some time to come.



Social House


Dubai Mall

Opening Hours
Sun – Wed: 8am – 11pm
Thu – Sat: 8am – 12am
Call : +971 4 339 8640
Fax : +971 4 330 8185
Email : enquiries@socialhouse.com