oodles of noodles
Labels: dubai, food, restaurants
·
Posted by

Sihan
at 7/13/2010 06:13:00 am


Welcome to the Madinat Souk - Madinat Jumeirah, where the vibrancy of an authentic Arabian market comes to life with bazaar like shopfronts featuring all kinds of knick knacks and precious finds.

Oh give me a break... have you even seen a REAL Souk before? Trust me.. it never looks as manicured as this, with outrageous furniture shops selling the most intricately designed stools with price-blinding spells to match? The heat and the bustle generated from buyers seeking a good bargain expelled only by the strong waves of cool air generated from the nearby air con generator. Sorry to burst your bubble fellas.. but if you want to see a genuine souk, you're in the wrong place. Unless of course you're relatively aware of the extent of this con job and are solely there for the purpose of filling your empty belly. Then this place does have its charm over its diners.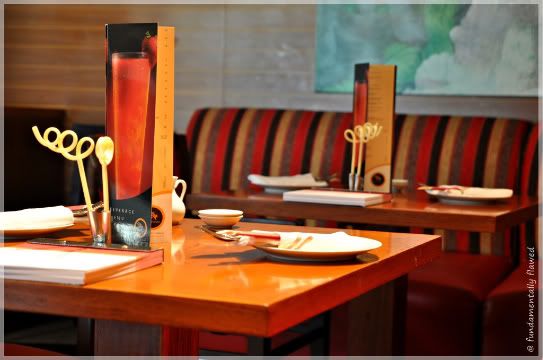 Today, let's talk about the noodle house. Introduced as a casual dining place cooking up a storm with it's fiery rendition of South East Asian dishes. The noodle house offers diners an unpretentious and comfortable yet chic atmosphere to dine in whilst keeping their eyes on the grill through the open kitchen concept.






Firstly, the quarter roast duck. Arrived in measly portions with glistening crisp skin nonetheless. No qualms that this duck was roasted perfectly, I just wish the staff were a little more heavy-handed with the pancakes though.






We decided to give the Wasabi Prawns a try as well given that it was sold as a new recipe contributed by our very own Sam Leong (maestro behind restaurants such as Jade and My humble house) during his short visit as guest chef to Dubai.
We were sorely disappointed with it's lack of finesse given that the prawns lack the same firmness and freshness as the ones served in Duck King. Presentation left much to be desired for as well.






Moving on, the salt and pepper calamari was acceptable with the sweet chili dip providing some high ground for the dish.

and finally the laksa... the highlight of my mundane week. A spoonful of creamy coconut richness and a good measure of good spirit thrown into the mixture. It's miraculous how some foods just evoke a happy feeling in your heart yes?

What is your happy food then?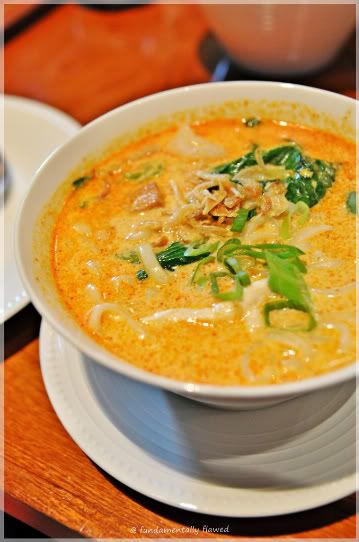 The noodle house
Souk Madinat Jumeirah, Al Sufouh Road
Timings: Daily: 12.00pm to 12.00am
Normal operating hours during Ramadan
Tel: +971 4 3666730