Season for Chocolate
Labels: desserts, pancakes, recipes
·
Posted by

Sihan
at 7/15/2010 12:52:00 am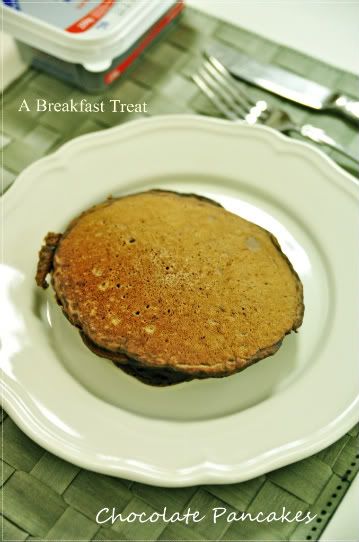 Third time in a row. I surprise myself with my dedication to the whole chocolate therapy idea. People who think they know me very well would deny my abilities to stick to a plan or ambition for very long. Well, I guess we've an exception here since chocolate being full of phenylethylamines convinces the brain that its happy doing all the extra work.

This time my shifty chocolate cravings manifested in the shape of... chocolate pancakes! And I was sent on a wild goose chase for a perfect recipe constrained by my meagre pantry stock and blurry eyed hunger pangs in the morning. Throwing in a tblspoon or two of rolled oats into the mixture, it gave me reason to believe that this morning indulgence was a tad healthier.

I couldn't be happier.

Chocolate Pancakes for one lonely girl


makes 3 pancakes
7 tblspoon all purpose flour
1 tblspoon unsweetened cocoa powder
1 tblspoon sugar
1/4 tsp baking soda
pinch of salt
1 tblspoon rolled oats (optional)
1/2 cup buttermilk
1/4 egg lightly beaten
2/3 tblspoon cooking oil
Whisk all the dry ingredients in one bowl
Pour the buttermilk, egg and cooking oil into the dry ingredients and stir till dry ingredients are no longer visible.
Leave mixture for 5mins on the counter to thicken.
Heat up the well-oiled griddle. Cook 1/4 cup batter. Cooking 2-3 mins on one side before flipping and cooking for another 2 mins.
Enjoy your pancakes any style you like. Think BIG!!! whipped cream, strawberry preserves, chocolate syrup, maple syrup, fresh berries and clotted cream or just a simple knob of butter.