my web of red liquer
Labels: China, food, restaurants, travelling
·
Posted by

Sihan
at 2/16/2011 09:00:00 am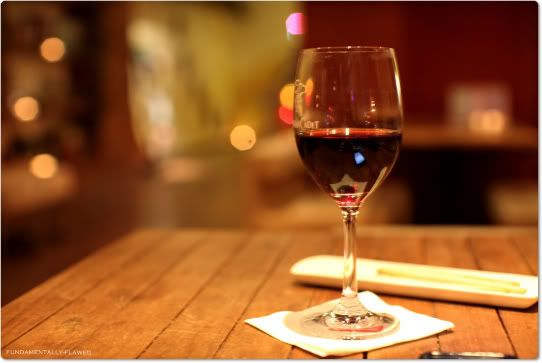 It was cold. The bookstore which I had intended to visit didn't exist apparently. Screw the Shanghai portals. Someone should set up an updated site for expatriates.

I shuffled my frozen toes in my brown boots and looked around apprehensively down the street for a tinge of light. Hope. A wine store. Done.

Heading into the warmth interior of it's wooden realms, I ignored the rows of wine lining the walls and followed a trail of staircase leading up to it's deck. A dining area and an open kitchen with the cutest little island placed right smack in the middle. Enthralled and feeling slightly dejected from the whole experience of reaching a black hole after trudging 5km in the cold. I ordered myself a glass of red wine (from their rather extensive house wine list offered by the glass). A Chateu la grande la chapel, Bordeaux France, Cabernet Savignon Merlot. It wasn't soon before long that I had finished up my glass. The waitress shyly approached the table to inform me that before 7, they had a special deal whereby I get a glass free for every 2 glasses I ordered. *speculates in head* That's about S$21 for 3 glasses of wine? Sold.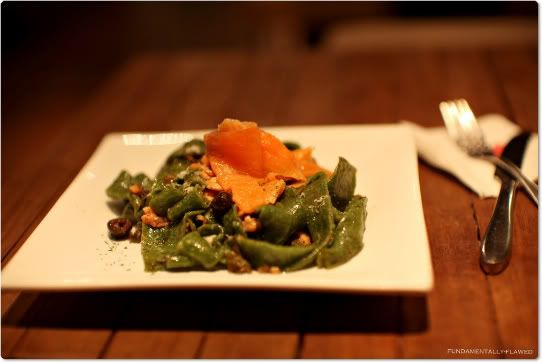 Halfway through, I figured out that I should order something to eat before I raped my poor empty stomach with alcohol. Hence the salmon in white wine sauce with handmade tagliatelle. Lovely should you ask me with a aromatic flavor of spinach mixed throughout the sheets of pasta.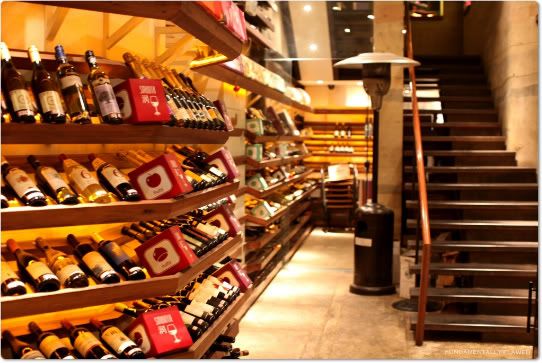 Following the arrival of my dining companion, shortly after I had hungrily sipped the last drop of ruby red liquor out of my glass; we ventured to the world of wine below... and got ourselves a bottle to share. Lovely. That's what I call intoxication.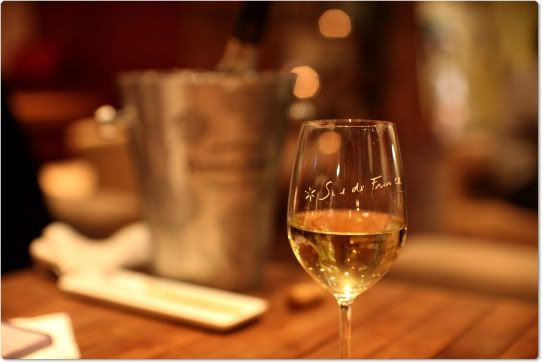 Last of all, a country style cheesecake to draw a conclusion to the fantastic meal. Dense, rich and absolutely smooth on the palate, it took surmountable self control (kind of tough after you have had more than 3 glasses of wine) to abstain from ungracefully scrapping the remains off the plate.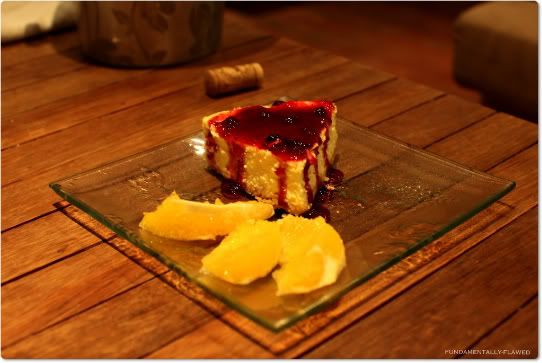 Just Grapes
462 Dagu Lu, Nanjing Xi Lu , Shanghai
Telephone: + 86 21-3311-320