A meal to remember
Labels: food, restaurants
·
Posted by

Sihan
at 2/03/2011 10:23:00 am


complimentary rose champagne courtesy of Daisuke, sommelier of Les Amis

A photolog of my recent dining experience at Les Amis. Unfortunately I do not have the food descriptions to back this gallery. Please bear with me as I chip in random commentaries from my backdated memory logs...

Here's a flashback for some of you guys who do not have clue of my work situation nor whereabouts. Yes, so whilst working at the cavern as a table queen (nicer term for hostess); I met Daisuke San, a Japanese sommelier from Les Amis eager for some food for fuel after a tough game of tennis in the afternoon. After a friendly bout of conversation and recommendations, his hunger was appeased, and the friendly gentleman went on to suggest a meal at Les Amis with my birthday the following week as reason sufficient to burn a few extra pounds at the stake. And so i did.

Entering the tall doors of Les Amis, I was greeted by none other than by the enthusiastic smile of Daisuke who led me straight to my private table at the corner, in good view of the rest of the restaurant proceedings. Appealing to my love for people watching. Champagne was then introduced to our table by Daisuke as a means of titillating the appetite, evidently it worked wonders as the rest of the afternoon was a smooth flow of courses and spot-on service.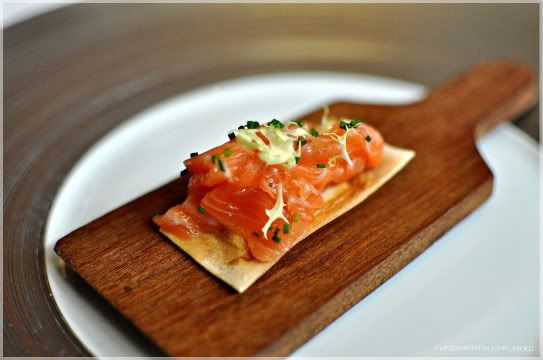 our amuse bouche - marinated gravlax on wafer biscuit and micro greens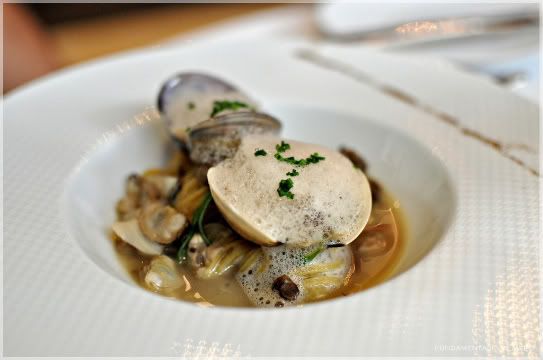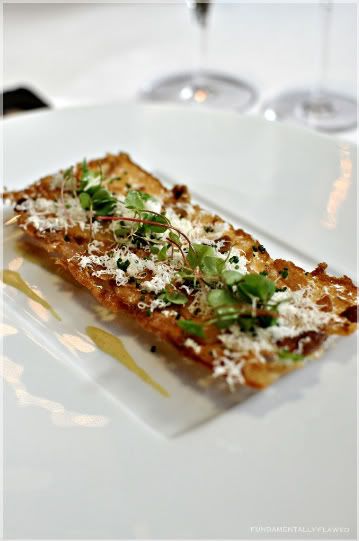 appetisers! The latter being the smoked eel on crisp kurobuta crouton and microgreens. Just 'lovely' is an understatement of this dish with the strong flavors of top-notch pork strangely littered throughout the crispy crouton mounted on top of the smoked eel which was a perfect texture, perfumed with the slight taste of the ocean. Definitely made for one happy camper.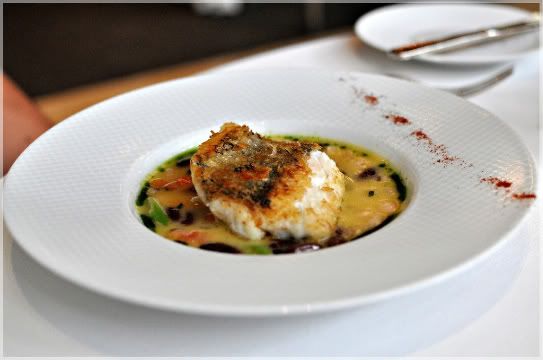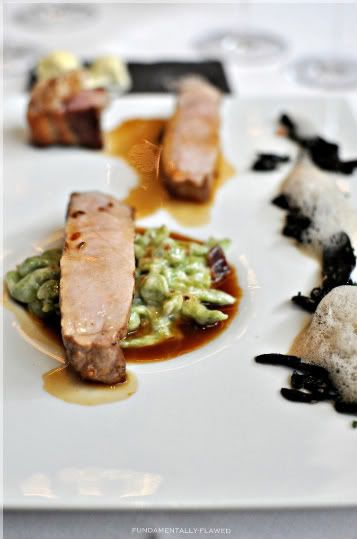 My mains arrived swiftly on the white linen tables; after an arduous (pardon my lack of a better word, I was just dying to sink my teeth into the gorgeous looking plate of food!) explanation by Daisuke of the various components (which i then again conveniently forgotten once I had experienced the adrenaline rush from the phenomenal dish.). Therefore, in my briefest and most impoverished memory, let me illustrate this lovely composition, the kurobuta pork loin and crispy belly, presented separately on the platter introduced differing textures and visual effect to the dish. However, the component that stole my heart was the handmade spinach Pappardelle tucked safely away under the bridge of loin. I shifted, dipped and savored, oops I forgot the inevitable swoon. I wish I had a bowful of that gorgeous pasta.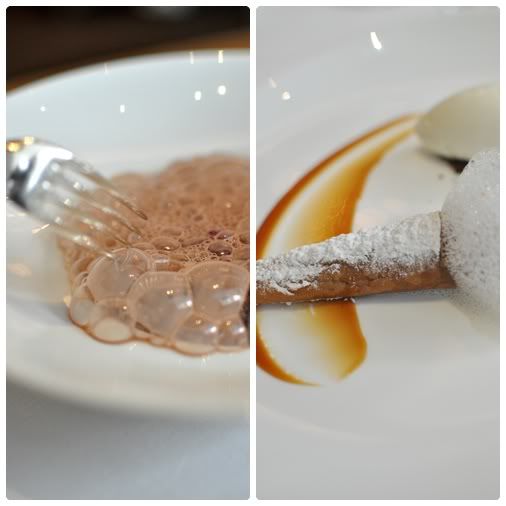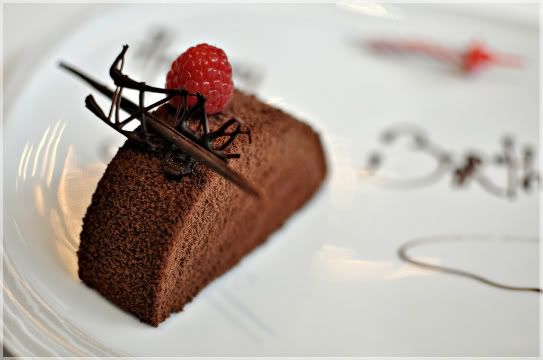 Desserts followed up a surprise birthday cake again courtesy of Daisuke San; an interesting raspberry mousse cake showered with a chocolate spray.



Les Amis
1 Scotts Road
6733 2225

Open Weekdays 12pm-2pm, 7pm-9:30pm; Sat 7pm-9:30pm