some malay lovin
Labels: China, coffee, restaurants, travelling
·
Posted by

Sihan
at 2/17/2011 11:56:00 am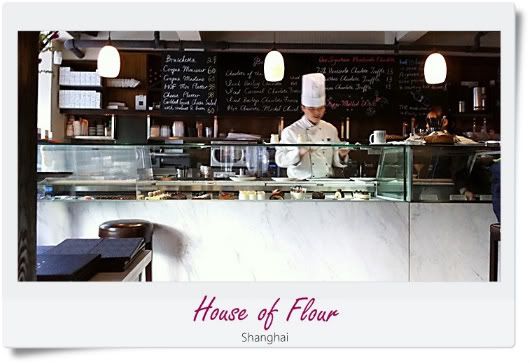 Eager to proceed on my search for the best cakes Shanghai has to offered, I groveled my way to House of flour.

To those who haven't had a meal by yourself before, you should really do. There's just something special about the whole experience. Slowly perusing the menu without succumbing to the pressures of your dining companions, placing your order and then indulging in some 'me' time leisurely awaiting the arrival of your order at the table. Here, I spent mine observing the crowds flirting with the glass cabinets housing those perfectly lush desserts. Not looking the part of a typical chinese does have it's benefits, judging from the many private conversations I had managed to overhear and analyse whilst glued to my seat.

My croque madame came in a glorious circlet of melted cheese. And trust me, I couldn't keep my eyes nor insatiable appetite away from this delicious assemble. With the gently whiff of mustard scattered in every mouthful, I was brought on a rollercoaster of emotive scoffing.

The dessert I had in the end, testifies for my greed. Death by chocolate. Definitely one of the best chocolate cakes I've had by far. Rich mousse highlighted by the layer of crunchy layer of dacquoise sandiwched between it's addictive premises. I clearly walked out of the restaurant in a slight food coma after, only to be stunned once more by the impending frost lingering in the winter air. Brrr...