Darling don't be afraid, I have loved you for a thousand years.
Labels: cafe, sydney
·
Posted by

Sihan
at 12/14/2011 09:49:00 pm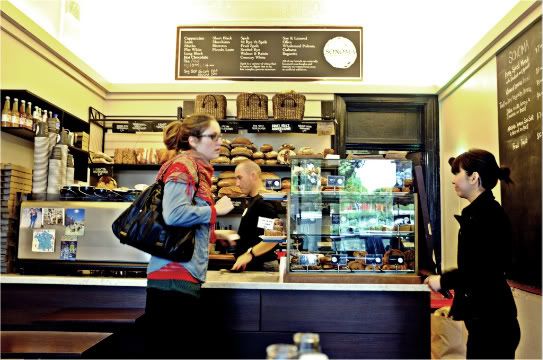 It's 7 in the morning. I gather up my skirts and plop myself down on a stool facing the opposite side of the road, my heart beating in trepidation as I await the arrival of the bus to work. We all recognize the sinking feeling as one misses his/her coffee order by just seconds whilst scuttling after the incoming bus. Maybe it's just me who's all too familiar with that.

The welcomed approach of morning greetings in the form of a mug of coffee soothed me, easing out the knots in my aching muscles.

And if there's one thing that raised the suspicion that you were still dreaming. It would have to be the ham and cheese croissant at Sonoma Bakery Cafe (Glebe). Indeed, their sourdoughs are incredibly good, but don't discount their croissants. Buttered to perfection with the poofed up layers interrupted slightly by the thin shavings of smoked ham and cheddar cheese, this breakfast item turns up the notch with a bonus trip to the panini grill hence developing even more of a crunch on the exterior. This has to be one of the best versions I've tried so far.




I spend the next few seconds of my dream, perched on the stool. Savoring my breakfast treat with deliberate lingering. Heart skips a beat. Frantic grabbing. I'm on the bus a few seconds later.

Sonoma Bakery Cafe Glebe
215a Glebe Point Rd
Glebe NSW 2037
Opening times:
Weekdays 7am-4pm
Saturday 7am-3pm
Sunday 7:30am-2pm
website: http://www.sonoma.com.au